English version below

Goedemorgen beste lezers,
Hoe gaat het met jullie? Waar zijn jullie mee bezig? Altijd leuk om te horen wat anderen boeit en waar hun passie ligt.
Jullie kennen me. Ik geef eerlijk toe dat ik niet zo'n goede planner ben. Eerder iemand die van het ene in het andere tuimelt, intuïtief. En dat vind ik goed, ik volg mijn hart.
Mijn laatste project, de jobbeurs
Twee jaar geleden had ik de beurs al voorbereid, samen met een team enthousiaste medewerkers uit verschillende sectoren. Toen hebben we het de dag voordien moeten uitstellen omwille van Covid.
Maar kijk, eind vorig jaar ging het locale asielcentrum 'Het Parelstrand' terug open en niet lang daarna staken we de koppen  weer bijeen. De voorbereiding was intensief: regelmatig aftoetsen met de verschillende partijen en bijspringen waar de (soms bureaucratische instanties) het zelf niet verwerkt kregen. We wilden zoveel mogelijk nieuwkomers voorbereiden op de kennismaking met de bedrijven. Dus hadden ze een CV nodig.  We kregen hulp van de VDAB maar ons team van 'jobcoaches' heeft heel wat mensen zelf helpen inschrijven en hun CV opmaken. Samen met vriendinnen heb ik honderd zeventig goodie bags gevuld voor de werkzoekenden. We staken er een persoonlijk kaartje bij, om hen welkom te heten en geluk te wensen op hun pad hier in België.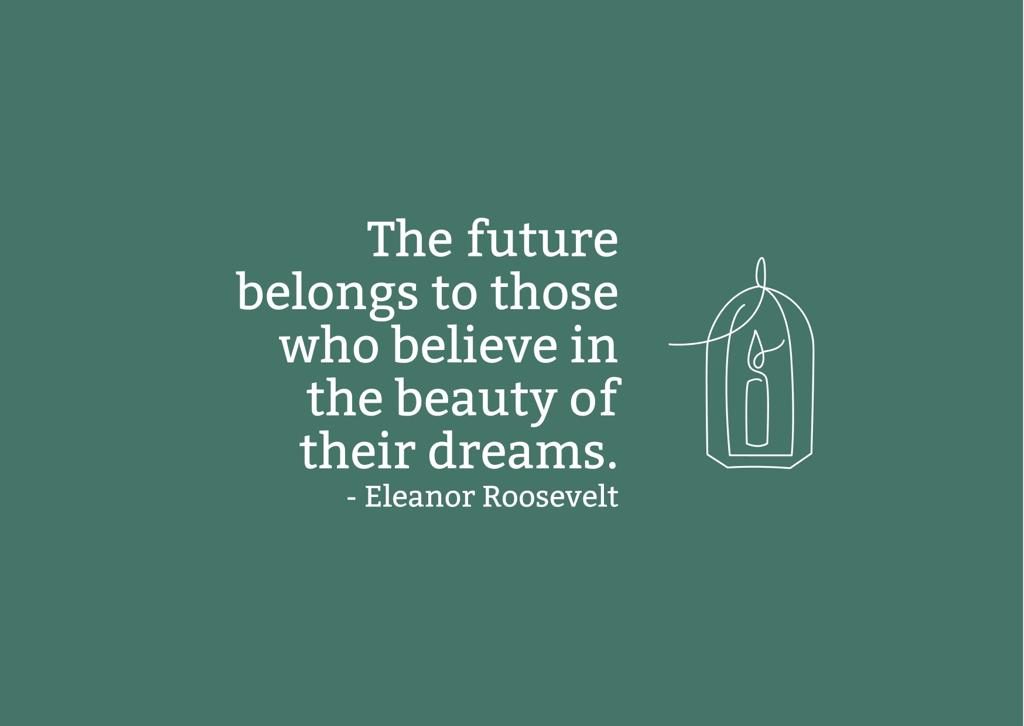 Twee weken geleden vond de jobbeurs plaats hier in Lommel. Een dertigtal bedrijven en interimkantoren nam deel. Het was een  bijzondere dag. Hier zie je het verslag door TV Limburg.
Prachtig om zoveel nieuwsgierige blikken te zien vanuit de twee groepen: de nieuwkomers en de ondernemingen. Een kleine clash van culturen. Het was bij tijden chaotisch en ik heb al heel wat werkpunten voor de volgende keer. Maar het was vooral mooi om te zien hoe onze kantoren en ondernemingen creatief omgingen met de taalbarrière en de culturele diversiteit.
Intussen zijn er al nieuwkomers gaan solliciteren en de eerste contracten zijn getekend. De berichtjes die ik krijg van de werkzoekenden zijn hartverwarmend. Ik plak er enkele hier onderaan 😉
Mijn doel en drijfveer 
Voor de bewoners in het opvangcentrum is het erg zwaar om niets te kunnen doen, en steeds maar te moeten wachten op een antwoord van de Dienst Vreemdelingenzaken.
De mensen die hier toekomen vanuit een vluchtsituatie hebben geen materiële goederen meegebracht, maar wel hun talenten, hun ervaring, hun karakter, hun verleden. Hun beroep is hun identiteit. Door een job uit te oefenen voelen ze terug de trots, de eigenwaarde. Ze kunnen zich terug nuttig voelen.
Hierin wil ik graag faciliteren, de nieuwkomers helpen de stap te maken naar de jobmarkt. Dit is niet evident. Maar ik geloof er sterk in dat we samen met  ondernemingen en interimkantoren, het verschil kunnen maken. Dat we flexibel en creatief gaan denken. Dat we  deze nieuwkomers die deel uit willen maken van de maatschappij, ondersteunen en begeleiden. Dat we hen respecteren in hun eigenheid, hun cultuur en capaciteiten. Dat we samenwerken en de brug maken tussen culturen. Want een job is een eerste stap naar integratie. We willen deze kans niet missen, en deze generatie nieuwkomers niet verliezen.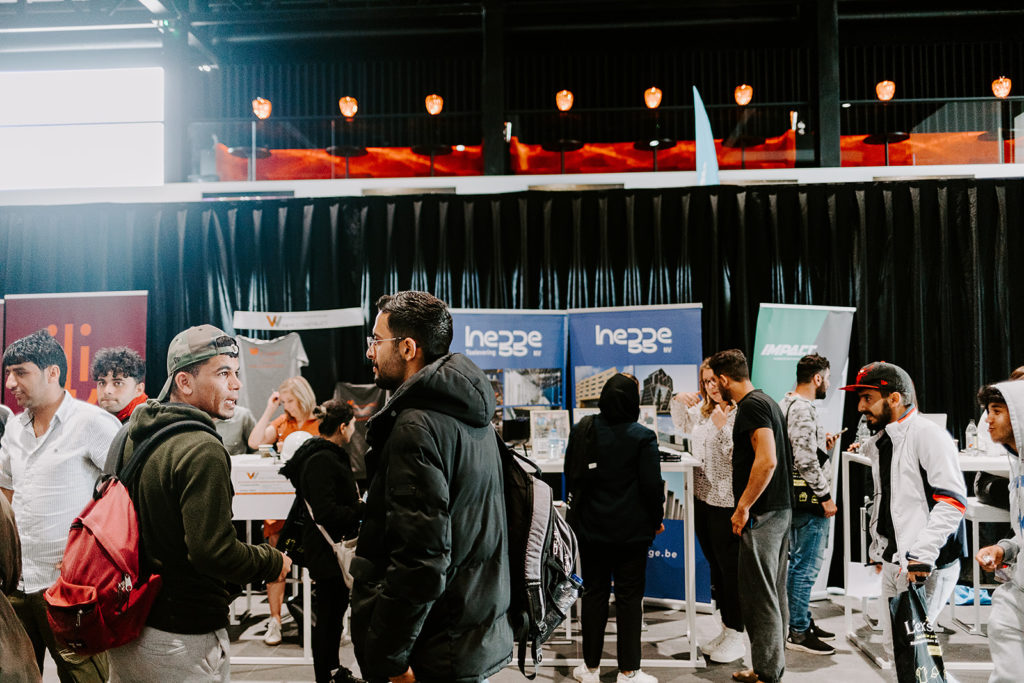 Toekomst

Er komen veel vragen, wat goed is. Ondernemingen staan te popelen om mensen in dienst te nemen. En hier schuilt een enorme uitdaging.
Ik wil hier graag aan verder bouwen, samen met Yousra Rifi. Zij is de oprichtster van NIYA
NIYA is een cross cultural communication research firm die zich heeft gespecialiseerd in het geven van workshops, HR ondersteuning voor bedrijven die mensen met andere culturen tewerkstellen of willen te werk stellen.
Wordt vervolgd 😉
Dan wens ik jullie nog een heerlijke dag toe en laat me weten indien je ook iets kan betekenen in dit verhaal.
Tot snel,
Sophie

Hello Everyone,
How are you?
I'm happy to talk about the jobfair I organized a few weeks ago. It was a special event. I already organized this two years ago – here you can read more – but we had to cancel the event because of Covid.
My goal is to connect the newcomers and the local companies. But one of the newcomers described it perfectly, here are his inspiring words:
"I want to admit this project amazed me.  And I want to thank the people behind it for their feelings towards us and for giving me the honor to be one of them.
I want to highlight this idea: we want to build bridges, not walls. Many of the new refugees – or as Sophie likes to say, newcomers – want to be active people in this society and do what they can to show their gratitude to Belgium and its people. As soon as we get the opportunity to prove ourselves in a job, a sport or a study, we will do our best to return the favor.
But there are some problems. Employers might not want to give us a chance if we are not perfect, or don't speak the Dutch language perfectly, but maybe they can give us a chance anyway.
I want to say one more thing. To be an active person and to do something good, no matter how small, it may be a volunteer job, will make you more positive, stable and aware. We all experienced this ourselves one time.
Thanks again for everyone trying to build bridges."
A job is so important. It is the first step into integration.
The day of the jobfair was amazing. So much interaction. So much creativity and flexibility from the companies. They worked with google translate and icons to communicate with the newcomers. Companies are looking desperately for new people to fill in the vacancies.  So can there be a better plan than bringing those two groups together?
This is just a beginning, but I am so happy we organized this. All these warm and grateful reactions (a few I copy below) give me such a boost to continue.
Have a lovely day, Sophie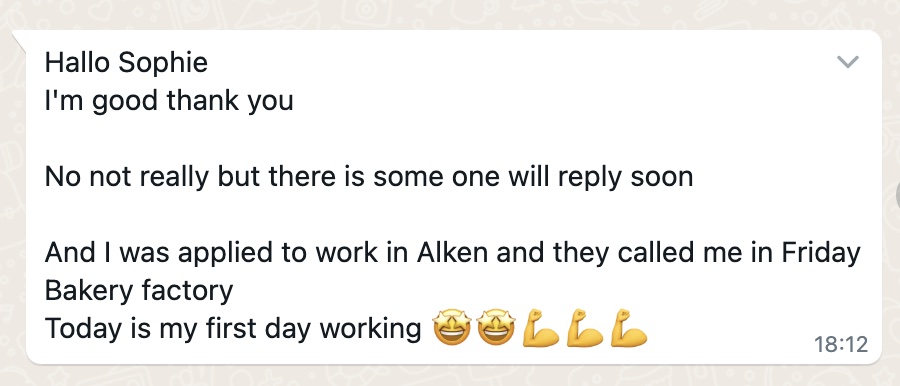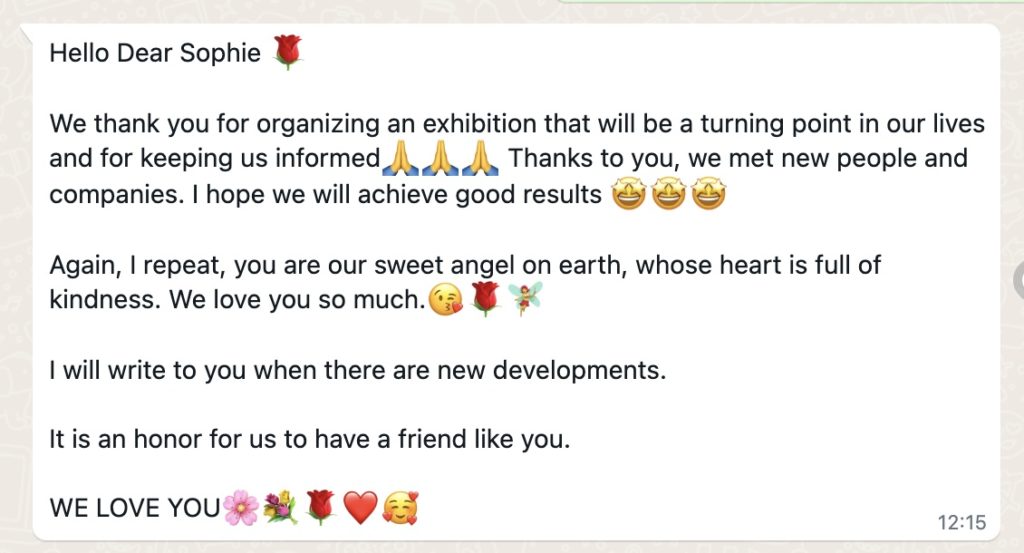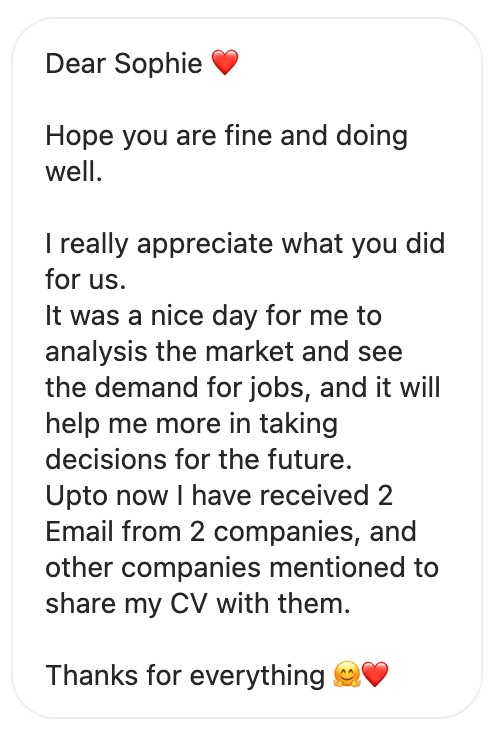 Photo on top: Yousra and I
Photos and card by Marie Bouly Photography