Hi Everyone,
How are you? How important is food to you?
I admit that it is pretty important to me. When we bought Casa Vita, I envisioned a big table with all our kids and their partners, and lots of delicious Italian food.
Honestly, I cannot name one Italian dish I do not like – a disaster for my weight yes, but not for my mood!
The photo on top is my own homemade food: a salad with arugula, fresh figs from the yard, lettuce, small tomatoes, ricotta cubes and a dressing with olive oil, balsamic vinegar and crushed figs. The other plate has grilled veggies: zucchini, zucchini flowers, eggplant and fresh mozzarella. Photo by Mable Photography.
Guests traveling to Casa Vita often ask me for recommendations for good restaurants. So I will make up a list below, but you should not refrain from discovering new restaurants … There is so much good food in Puglia. If you are visiting a town, try to wander of the main paths and piazzas and find your way into the smaller alleys. Who knows what you will discover.
Here are some delicious ideas
Carovigno:

Carovigno is a small but lovely town near Ostuni, with a beautiful piazza.
Martina Franca:

Martina Franca is a fair-sized town in the heart of Puglia. It has some ugly modern areas, but the town's jewel is its lovely historic center, a memorable maze of winding alleys, where whitewashed simplicity sits side by side with baroque extravagance. The town is built on a hill in the green Valle d'Itria, the trulli area of Puglia. It is about a twenty minute drive from Casa Vita. Martina Franca is an incredibly photogenic town, and it has some beautiful clothing stores too.
Ostuni:

Casa Vita is officially located in Ostuni, but in fact, in distance it is between the two beautiful towns, Ostuni ànd Ceglie. Ostuni is called la città bianca, it is a white town on a hill. I cannot visit Ostuni enough, it has so many beautiful alleys, piazzas, stairways… Each time you discover something new. If you find your way (it took me some time to figure out how to get to a certain restaurant) to the top, you'll be rewarded with a beautiful view on the sea.
Ceglie Messapica:

Casa Vita is situated between Ceglie and Ostuni. Ostuni is beautiful and magical, but also touristic. While Ceglie is more of a hidden treasure. It's not as big as Ostuni, but here you find more local people. I love the piazza with the bell tower.  You can sit here all evening, watching the men hang around in groups, the elderly men with three on a bench, families gathering, kids playing on the square till midnight. This is still the real Puglia. And you can eat very well for less money than in Ostuni.
Locorotondo

Locorotondo doesn't really have any specific tourist attractions; the town itself is the main sight. It is also a small town on the top of a hill. It's just a pleasant place to spend an hour or two wandering, taking photographs and sitting at cafe tables.
Alberobello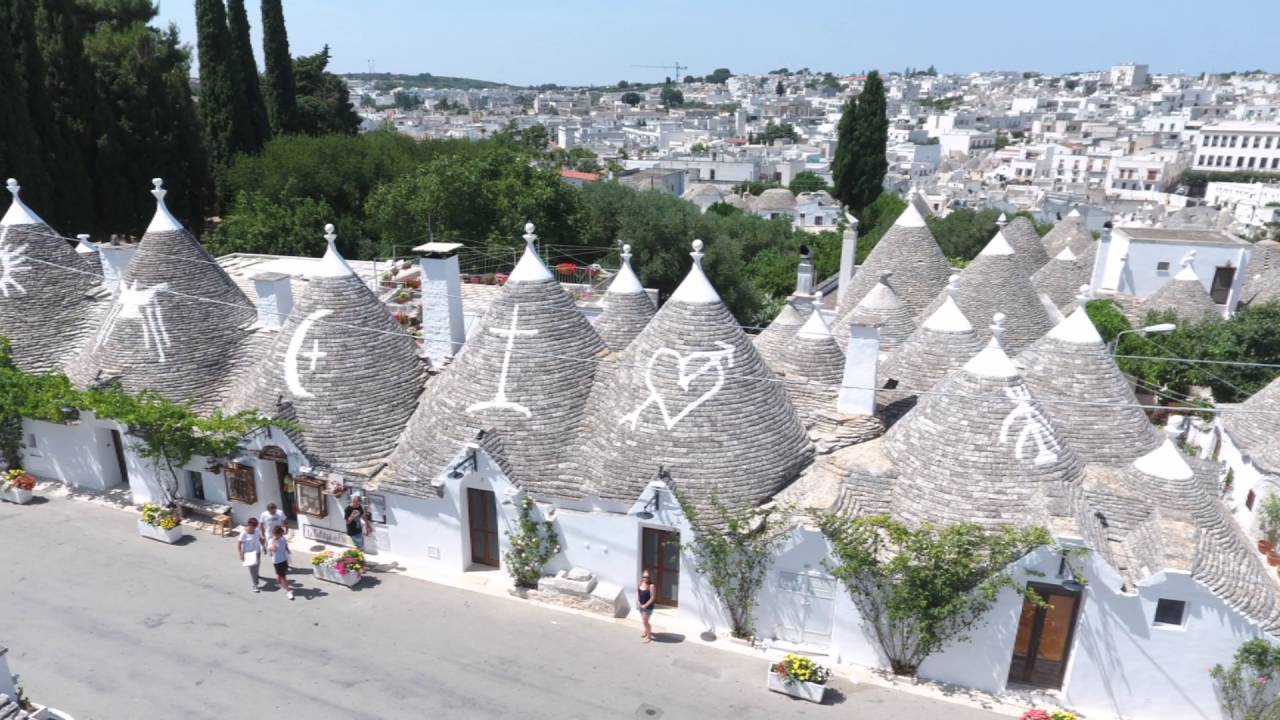 Alberobello is thé trulli-town and Unesco world heritage site. It is also terribly touristic, a visit during the summertime is a challenge. But I can recommend a very good restaurant just outside the center.
Polignano a Mare

This magical town at the rocky cliffs sure is worth a visit. It has many touristic restaurants (not all with a good price-quality balance), but I want to quote these two.
Brindisi

Lecce

Lecce is one hour drive from Ostuni, and it is often called the Florence of the South. Lecce has a lovely historic center (centro storico), and travelers can easily spend a day or two exploring picturesque little lanes and finding the more far-flung Baroque churches. The town's great artistic treasure is its architecture.
Buon appetito! Sophia