Do you like being guided in a museum or an exhibition?
I usually do.  I like to hear about the background of an artist or how she/he got inspired to make this specific artwork. But sometimes too much information can also limit the way you look at art.
Last week we – my dear friend Leen and I – visited the exhibition "Man in the Mirror" at the Vanhaerents Art Collection in Brussels. Vanhaerents is a private collection of temporary art.  Worth a visit! Here are a few impressions: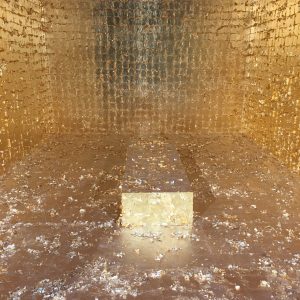 This work is a big box, totally covered with gold foil inside. The artist, James Lee Byars, put his own memorial in the scene. It originally was set up in 1994 as a performance in which Byars reclined in a gold-covered room, wearing his signature black hat. He referred to the performance as "practicing death."
The view changes depending how the light reflects. When you walk by, the thousands of thin foils move.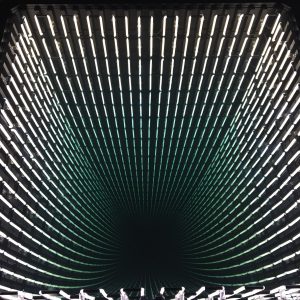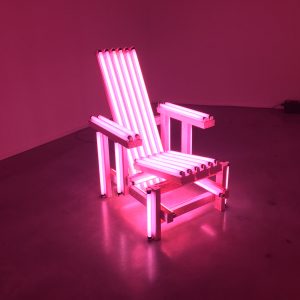 These pieces are by Iván Navarro: the twins (two similar installations referring to the towers) and the electric chair. He works with light, mirrors and reflection and this way creates depth. Really impressive! Continue Reading