Do you like being guided in a museum or an exhibition?
I usually do.  I like to hear about the background of an artist or how she/he got inspired to make this specific artwork. But sometimes too much information can also limit the way you look at art.
Last week we – my dear friend Leen and I – visited the exhibition "Man in the Mirror" at the Vanhaerents Art Collection in Brussels. Vanhaerents is a private collection of temporary art.  Worth a visit! Here are a few impressions: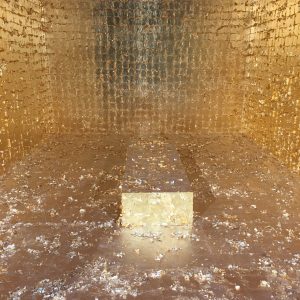 This work is a big box, totally covered with gold foil inside. The artist, James Lee Byars, put his own memorial in the scene. It originally was set up in 1994 as a performance in which Byars reclined in a gold-covered room, wearing his signature black hat. He referred to the performance as "practicing death."
The view changes depending how the light reflects. When you walk by, the thousands of thin foils move.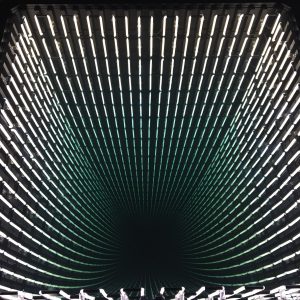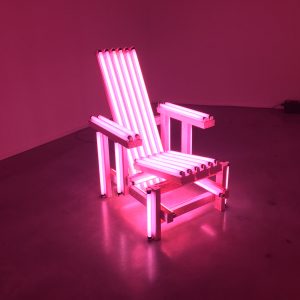 These pieces are by Iván Navarro: the twins (two similar installations referring to the towers) and the electric chair. He works with light, mirrors and reflection and this way creates depth. Really impressive!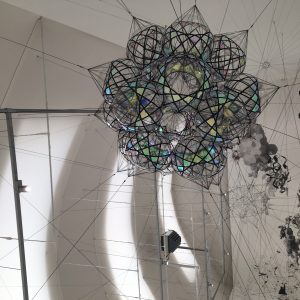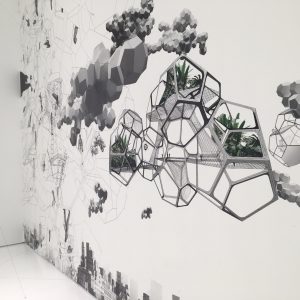 Quite overwhelming is 'Many suns and worlds', a whole room constructed by artist Tomás Saraceno. He had an obsessive admiration for spiders and their webs and considers them pieces of art themselves. This creation shows a future city, with cloud cities connected by an enormous web of threads. His work tries to bridge the gap between art and science.
The visit was organized by my friend Reinhilde, working under the name 24 Bubble.  She arranges visits to museums, exhibitions and cultural events, and even manages to get you behind the scenes or bring you to a place you haven't heard of or wouldn't think of going.
If you ask me what I find inspiring or what can lighten up my days, I'll certainly mention art and friends!
This week I celebrated a special birthday! Wasn't looking forward to it, no, no… But I made it! And I am so grateful. I was spoiled with sweet attention, surprises, original and personal gifts and many, many flowers.
I do realize I have many things to be grateful for, my family,  a humorous and aspiring husband,  children who are – for the moment, fingers crossed! – happy and doing well. And many friends. All kind of friends who make my life funny, exciting, and bearable in difficult times. One of my closest friends was looking forward to this special birthday last year. She was already imagining her big party, in the house she was renovating. She didn't make it. No day passes without my thinking of her or wanting to tell her things happening in my life that she is no longer part of.
My definition of friend? Someone who puts a mirror in front of you, without judging, who pushes you to make the best of life.  Someone who can sympathize with your troubles but then after a while can turn your crying into laughter. The lyrics of the song 'Friend' by Daan are a beautiful description of what a friend can be.
I all wish you a sunny weekend, surrounded by family and lots of friends.