Maybe I should change the title to Wallpaper Worries. And maybe the category "interior happiness" doesn't apply perfectly. Interior nightmare would be more honest. But after a long trek through the jungle mess, I am finally happy with my banana leaf wall, and this is what counts.
The wallpaper addiction came from many magazines, one of them Vogue Living, and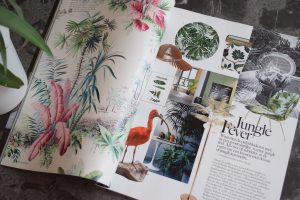 I got infected by tropical vibes as I walked through our lovely yard in Puglia. There was one wall in our living room that seemed perfectly fit for a new look. I took my time, comparing, checking prices and colors … Through an interior designer I got a few samples and I finally decided to go for a chic–expensive yes–but marvelous well known French brand. Our own painter would hang the paper, as he had done so before. The thick and not so flexible (but beautiful!) wallpaper arrived with many instructions.
And then, after it was attached to the wall it looked beautiful–but only from afar.  Close up, many, many wrinkles were disturbing the vision. They will fade slowly, our dear painter promised, wait till tomorrow morning. With high hopes, I entered the living room the next morning.  All wrinkles were laughing in my face.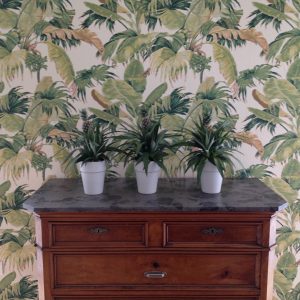 I will spare you all the accusations between painter, interior designer (I couldn't order directly from the French company) and the French manufacturer. They wouldn't return any money on the huge bill already paid. Two choices were left: I had to live with the wrinkles or remove this wallpaper and order something new (no way I was taking the risk of ordering the same brand once more). Luckily daughter found another much cheaper version of banana leaf wallpaper on Etsy–I chose the non-woven. The service by Michelle was excellent. And our painter fixed it in an hour. A happy ending indeed. Though hubbie still says we must own the most expensive wall ever.
In between we had no problems at all in our hallway. We chose a stretchy paper on sale by Westwing. It is a more simple design but it looks great. What do you think?