How are you today?
Look at this beautiful artwork above. Do you recognize the painter? Any clue where you can see this masterpiece now? In Philadelphia, of all places, yes.
When we woke up at Debbie's, in Philadelphia, in her gorgeous old Victorian House, rain poured out of a grey sky. Biking into the city was crossed from our list. Visiting a museum popped up as an obvious alternative. But not any kind of museum: the Barnes Foundation! While savoring many cups of coffee in Debbie's living room, we watched a documentary about it first. An intriguing story!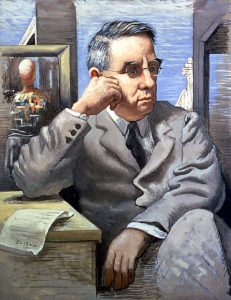 Albert C Barnes was born in Philadelphia in 1872. He studied medicine and chemistry and co-invented the antiseptic medication Argyrol. The proceeds of this gave him the freedom to focus on his passion: art. From the beginning of the twentieth century he began collecting art. At first he sent his friend and painter William Glackens to Paris to buy modern art on his behalf. But when his friend came back, Barnes was so overwhelmed by these oeuvres that he really wanted to understand and get more information on modern art. He decided to travel to Paris himself and soon immersed within the art scene of that era.

Painting of Albert C Barnes by Giorgio de Chiroco
Continue Reading