Do  you like throwing a party?
I certainly do! I always love to organize, plan ahead and of course: decorate!
No, I won't go into the details unless you ask, but I just want to give you ideas if you are thinking of giving a party. Let me know if you want more info or just need a hand with the decorations. I love to do this.
It all starts with the invitation! I always make invitations (and X-mas cards – more on this by the end of the year) myself in Photoshop. If you use your own pictures, it becomes so much more personal. Nothing wrong with sending an email, but I adore real cards. Since it has become quite exceptional to receive one, it  is so much more appreciated.
I think it is important that you decide upfront what you want to do yourself: what you like to do, what you are good at and what doesn't give you too much stress. I wanted someone else to do the music.  A friend from a friend was DJ and he got half of the guests on the dance floor till 3:30 am, so no need to say we were satisfied.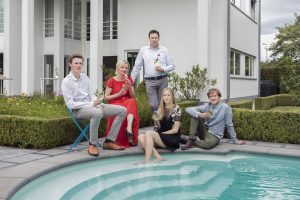 I was also very happy to have found a good photographer. Asking a family member or a guest to take photos is not a good idea, because they want to party! It is such a shame if you don't have good quality pictures, they are such precious memories. And ask your photographer to come a little earlier, so you can have some nice family pictures, while everyone is there and dressed up. I am so happy we now have some recent photos from all of us together. Continue Reading