Good morning all!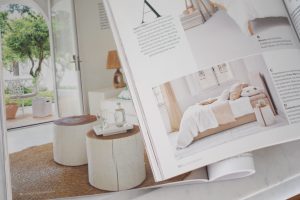 Do you like being busy with your hands? I do. I don't find it hard to admit I am not a handy-woman, but I loved this project. Again, I got the inspiration from interior magazines such as Vogue Living and from strolling through stores. I saw one of these nice painted rough blocks in a store in Antwerp, asking price was 150 Euros.  I thought, well, this is easy to do for less if you have the time. I was totally wrong. It cost me, and Oldest – he just found a job, so I'll have to do without my little servant from now on – a lot of energy.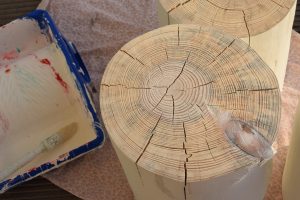 It was trial and error. I had the luck of getting my hands on some pine-tree cut blocks. They were left out to dry for a couple of months. We pulled off the bark and greased (smeared?) them with a product against termites. I bought a small sanding machine and sanded the surfaces with two kinds of sanding paper (one rough and one a bit finer). It took forever before they were smooth enough, but it was also kind of relaxing. Oldest painted the sides with a kind of matte white paint, and then I put some oily white paint on the top and bottom, so you still can see the grain of the wood, but it becomes a little lighter and better protected.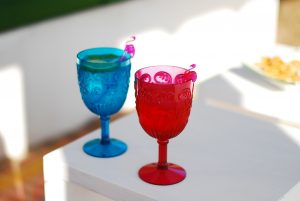 I put three in our living room, as small tables. And four of them got the luck to be transported to Southern Italy. They got an extra varnish coat, because they will end up under the white patio. Can't wait to put my Aperol-Spritz on it.
Cheers and have a great weekend!