Do you have any charactaristics you're a bit embarrassed about? I do. I am a groupie–a huge fan!–of a big writer. Now, some of you might not understand. But just compare it to being a fan of a major rock star. How would you feel spending time with him in person?
I worked for an organization and had the glorious task of inviting the great worldwide admired writer to speak to us. He would be given an award from us. Writing the invitation (signed by someone else) was a challenge all by itself. But he answered yes!
It has been two years since this all happened–when I met him, the great writer, at the Brussels airport at 7 am on a sunny Monday morning, still cold for the middle of March.
I had read all his books by then, trying to get an idea of the man behind the words. This vision didn't coincide with the high or rather weird demands his assistant required for his stay in our country and the very stringent specifications for the speech he had to give as acknowledgement for his award. He wanted to stay in a boat. No filming during his speech. He preferred not to see the audience while speeching. I had to send a picture of myself a few weeks before his visit, with the clothes I would wear then, so he would certainly recognize me.
But I had seen his picture, so with sleepy eyes I was staring at the sliding doors, scanning every human being as they arrived. I was wearing a black leather jacket, jeans and sneakers and a long woolen scarf–the same outfit in the picture. No way I was going to stand there with a banner with his name on it. I was leaning on the railing, a brown bag with a granola bar in my hand. That was what he preferred, should he be hungry.
All of a sudden I felt eyes gazing at my back. I turned around and saw him looking at me, in the middle of the big hall, one small suitcase in his hand, a bag over his shoulder and a baseball cap almost covering his eyes. I walked over to him (almost ran into his arms, I admit) and called his name, as if to check it were really him. And I started my nervous, over concerned babbling:
How are you?
Were you able to sleep on the plane?
Are you hungry?
Do you need to use the bathroom before we leave?
He answered calmly and without mocking me.
As we walked to the car, I became more nervous by the minute. When we stepped into the black Volvo I thought: how the hell am I going to drive to Ghent, with him sitting next to me? I had prepared everything to make it run smoothly. I had already put the address into the navigation system, and I had made a nice playlist on my phone, some not too commercial background music. But after alt-J's edgy's voice 'triangles are my favorite shape, three points and two lines', the connection broke off, and a noisy Radio station spoiled the atmosphere. So much for preparation.
I told him how he could recline his seat if he wanted to take a nap. That would have been the less stressful solution for me. But no, he chose to stay awake and started to ask me questions. Had I worked a long time for this organisation? What were my kids studying? I told him about Oldest, at that moment doing an internship in an African country for four months. It was the same country he wrote about in one of his books. I asked him if he really went there, since the description brought you right into the atmosphere: the uncontrolled traffic, corrupt police officers, the humid heat, friendly chattering people, local bars in the capital city… Sure he visited this country! He needed to go wherever he was writing about. The summer before he travelled to Australia and visited a detention center for refugees. We discussed how our countries reacted to this and shared our worries for the future, with the western world and its growing anxiety and protective measures. He told me how wonderful it was that most of us spoke different languages in our country. He wasn't good at this, he learned Spanish at one point, but found it hard to pronounce.
The thought of how exclusive this all was kept bouncing in my mind. How lucky I was to get to know him so well. While preparing for his visit, I was stalked by the press to interview him. Again, his assistant drew a strict line: just one interview from a newspaper journalist, one on the radio, and no filming or TV-appearance.
We reached the city of Ghent too quickly. He told me he wanted to admire the big Flemish paintings in the Saint Baafs Cathedral. He is not just a writer, but also a visual artist. But after that, I had to find the address where he was staying. The organization would have paid for a five star hotel in the historic city center, but he chose to stay on a boat on one of the canals. Finding it wasn't easy. We entered a roundabout with many exits, and the voice on my navigation was not helpful, so I ended up gonig around twice. He didn't flinch. How polite he was! He finally took a big paper out of his backpack with a large photo of the boat, and while we were driving through the maze of canals, he kept compairing it to the boats we were seeing. We finally made it.
The boatowner was waiting for us, and wanted to give us a tour inside – "no, I am not staying." I politely waited in the main room, while the owner showed the writer the bed and bathrooms. My fruitbasket and box of Belgian chocolates I placed at the countertop of the open kitchen. When they returned, I explained, and handed over, the agenda of the coming days: interviews, visit at the local bookstore with signature session, the very strict timing of the evening of the ceremony itself, but the author seemed distracted by a pile of vinyl records. On top was our local hero "Urbanus van Anus." It was about time to say goodbye and head home.
My colleague drove the next day. Also with us was the director of one of Great Writer's organizations, who placed herself next to my colleague (she had arrived by train from another location and stayed at another boat). So I ended up at the backseat of the car, next to Great Writer, my fancy high heel shoes next to his outdoor laced boots. I felt overdressed. We chatted a while, and then he grabbed for some single papers in his backpack, his speech!
He took a pen and looked sheepishly at me.
"I have a question."
"Sure!" Bounce, bounce, nervous. What would it be?
"How do you say 'Good evening, everyone' in Flemish?"
I took his pencil and wrote it down on top of the paper and read it out loud. "Goede avond allemaal!"
He tried to repeat.
I corrected him, saying the words again, slowly. "It is the soft 'G'!"
He observed the moving of my mouth attentively and tried a few times more, his soft and deep voice trembling in my ears.
A few hours later he stepped on stage and started his speech with these words. You could tell he was nervous, nevertheless he spoke eloquently. I was in the middle of the audience and nervous as well, because I had a stake in his success. One night a few weeks before, at ten pm, I got several messages (in my private and work email-inbox) from his assistant to please check his speech and give feedback the same day. To me it meant the same evening, since we were nine hours apart. Even if the feedback was meant to see if his writing corresponded to the goals and objectives of the award, how was I simply going to ameliorate words put down by this Great Writer? Mission Impossible. But I obeyed his request, read the fifteen pages and made some minor modest comments and motherly encouragement that it would work out well! And it did.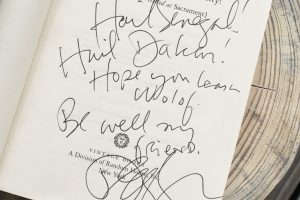 I think he was as relieved as I was, when it was all over. He drank Belgian beer at the reception afterwards, as he was beseiged by his many admirers. In the end, it was my turn, and I put two books under his nose. One was meant for Oldest, since it was the book he wrote about the African country where Oldest was working. And for his latest book, I politely begged him to put his signature. He wrote:
To Sophie: With immeasurable gratitude for all you've done for me (and the organization). I am glad to know you and to call you my friend!
The End.
Or almost. One month after his unforgettable visit, I got an email from his assistant with another urgent request. If I could please give her my private home address, as soon as possible, because the Great Writer was going to send me a letter. I simply answered with my address, as if it were the most common thing on earth. But. Oh My God. A letter! A personal letter, since it would come through the regular mail. The days and weeks following this request, I cheerfully headed to the mailbox each morning, wondering what he would write (and believe me, I am good at fantasizing). A month passed and my mood changed into frustration. No letter came. Ever.
Then I received one more mail, on the horrific day of March 22nd, just one year ago. His assistant and he were wondering if my family and I were ok, after the attacks at the airport. We were, luckily!
Last fall, I read an interview of the Great Writer in one of our national newspapers. He was joking that he would ask asylum in our country (Yes! But why here?) after the depressing outcome of the elections in his country. 
Always welcome, My Dear Great Writer!
Looking forward to reading your next book.
 So long, Sophie