Hello everyone!
Have you ever been to Scotland? We hadn't. Hubbie and I both had a bad cold when we left, but we managed 😉
First on our list was Edinburgh. We had a direct flight from Eindhoven to Edinburgh, which made it quite easy. In the airport we took a tram to the city. Our hotel was on Princes Street, in the center of town. What a lovely surprise when we looked through the window of our hotel room – it was dark by then.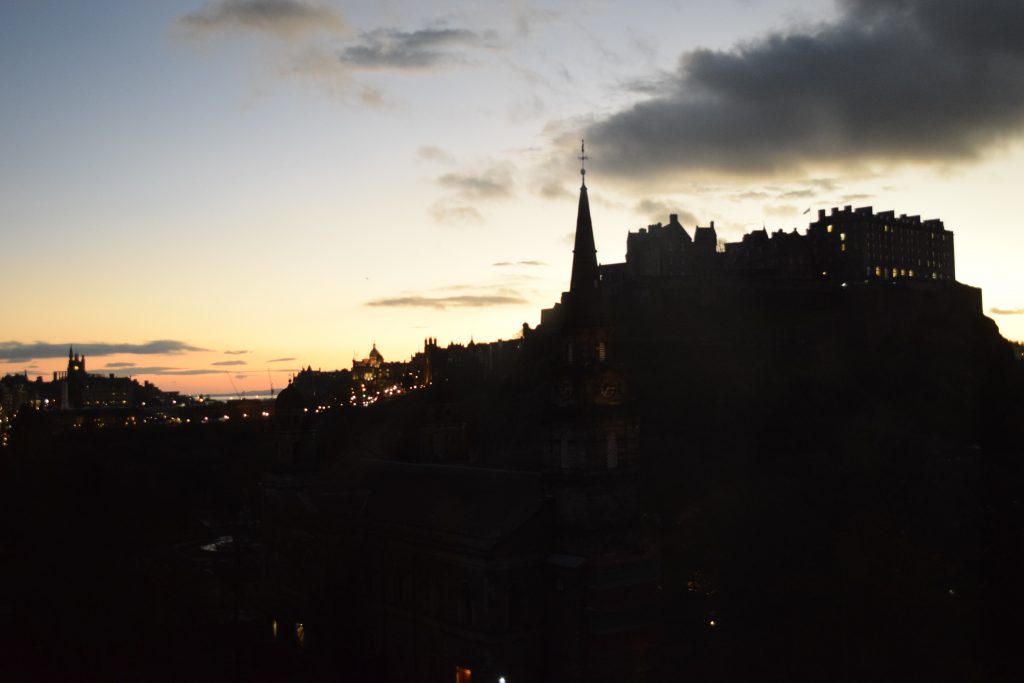 With advice from the hotel manager we went to the Kilted Lobster, just a small, cozy but not glamorous, restaurant. They use only sustainable, organic and local ingredients, and part of the proceeds go to social projects. On top of all this, the food (mainly fish) and wine were delicious!
The next morning we both weren't feeling too well, but the clear blue sky made us feel better soon. We decided to start the walk on the famous Royal Mile. This mile-long road in the center of the old city earned its nickname when it was used by the king to travel between the castle and the Palace of Holyroodhouse.  In between, on the cobbled stone road, you still find a lot of worthwhile historical places to visit.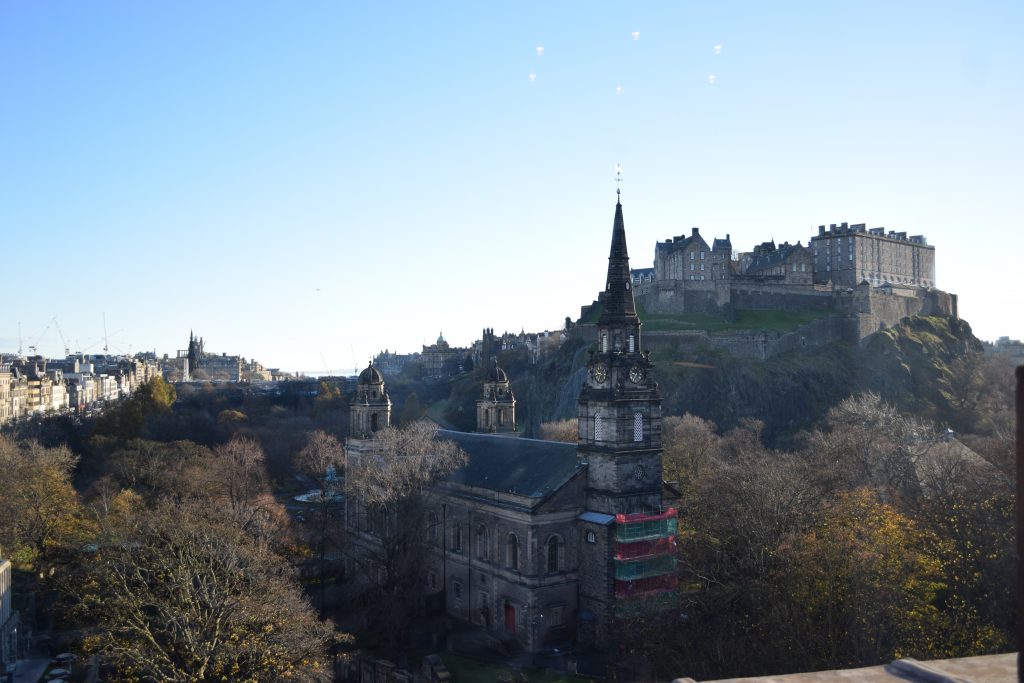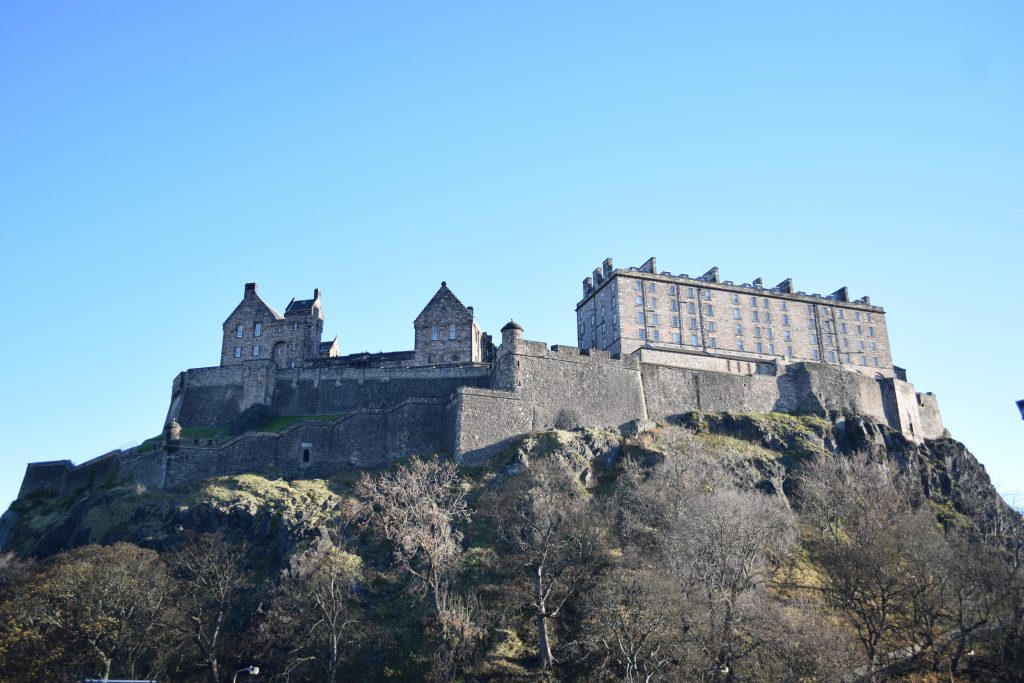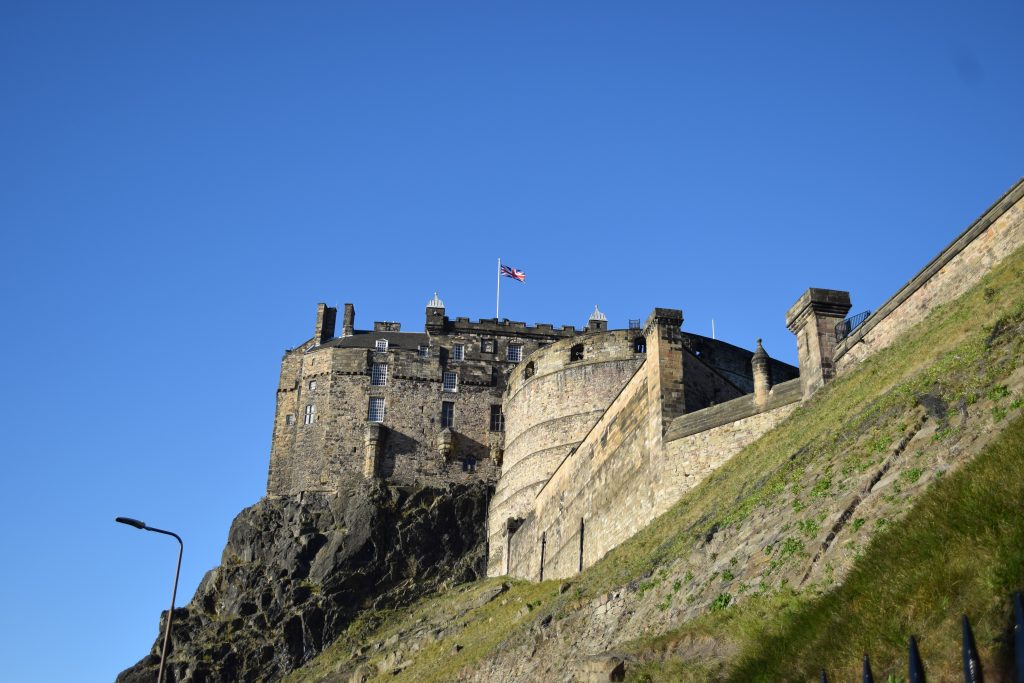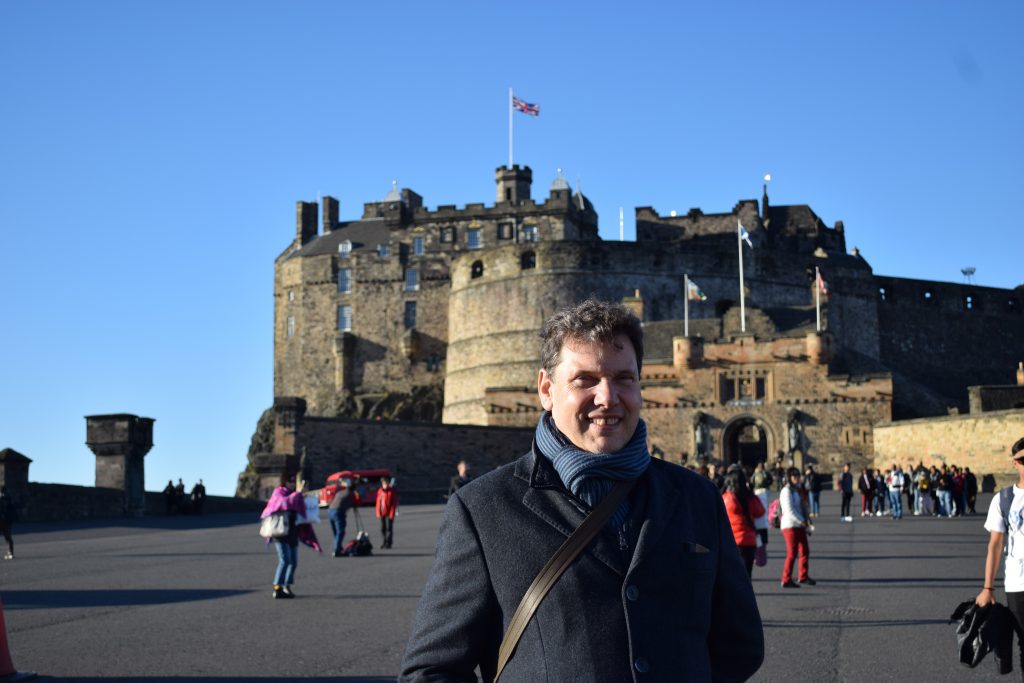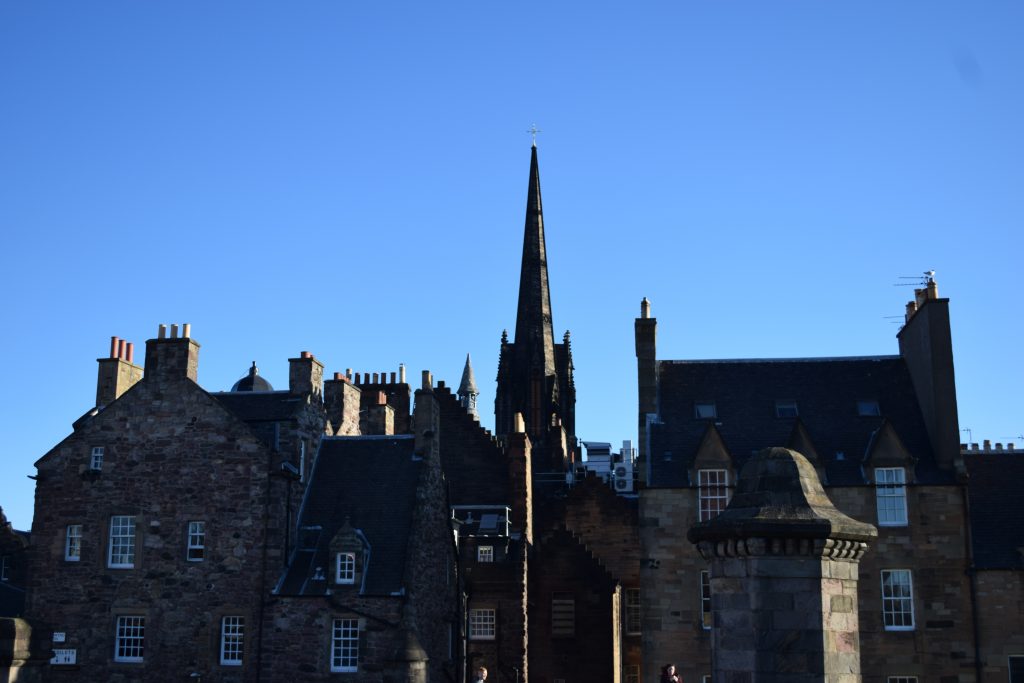 The castle is situated on Castle Rock, a reddish rock from a long extinct volcano. It played an important role in Scottish history, as a royal residence, military stronghold and as the British army base in Scotland. What can you see here? It is just wonderful to walk around, enjoy the magnificent view of the city. In the 16th century Great Hall with beautiful carved wooden paneling there is a display of armor and weapons from over the centuries. In the tower (no pictures allowed) the crown jewels are displayed. What I found interesting too were the Castle Vaults, to witness how prisoners over the centuries were treated.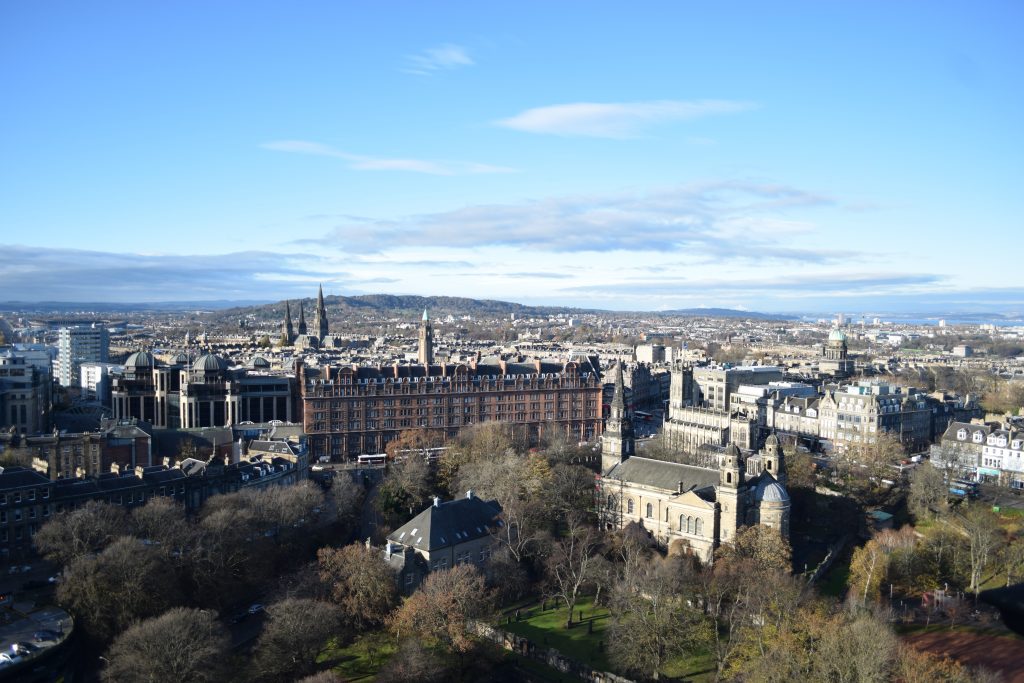 Saint Margaret's chapel,  the oldest remaining building in Edinburgh from 1130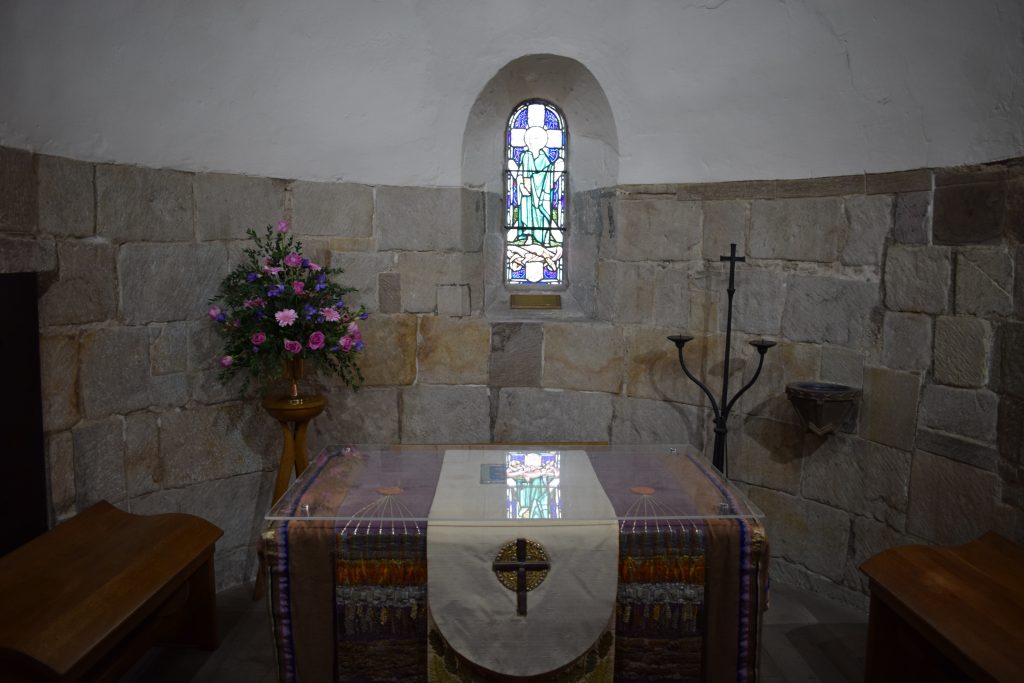 I hate tourists with selfie-sticks, they always get in my way 😉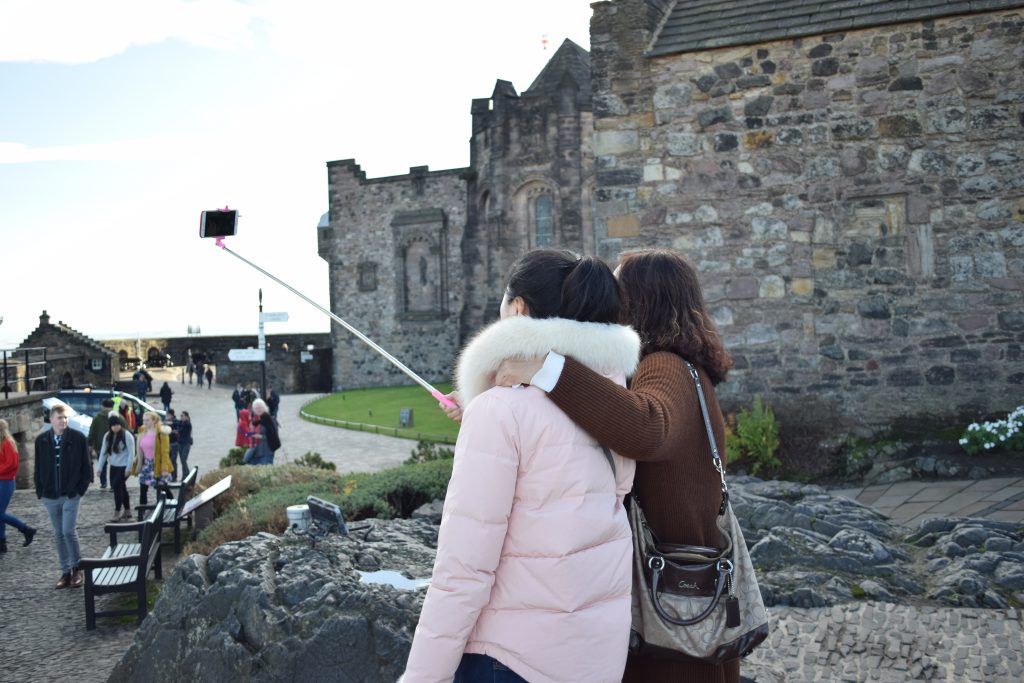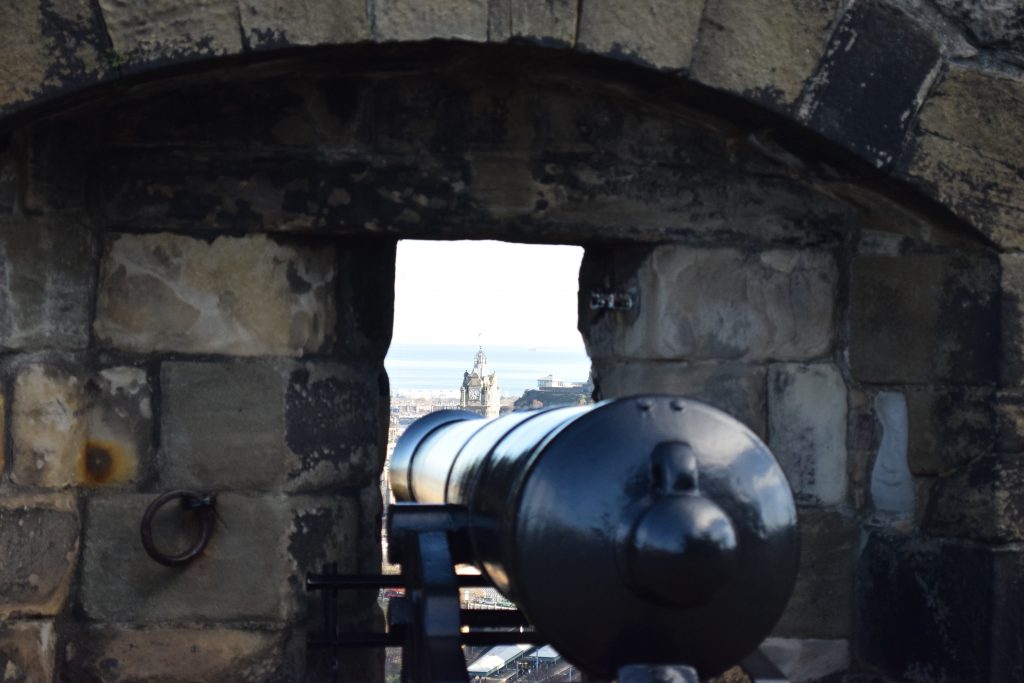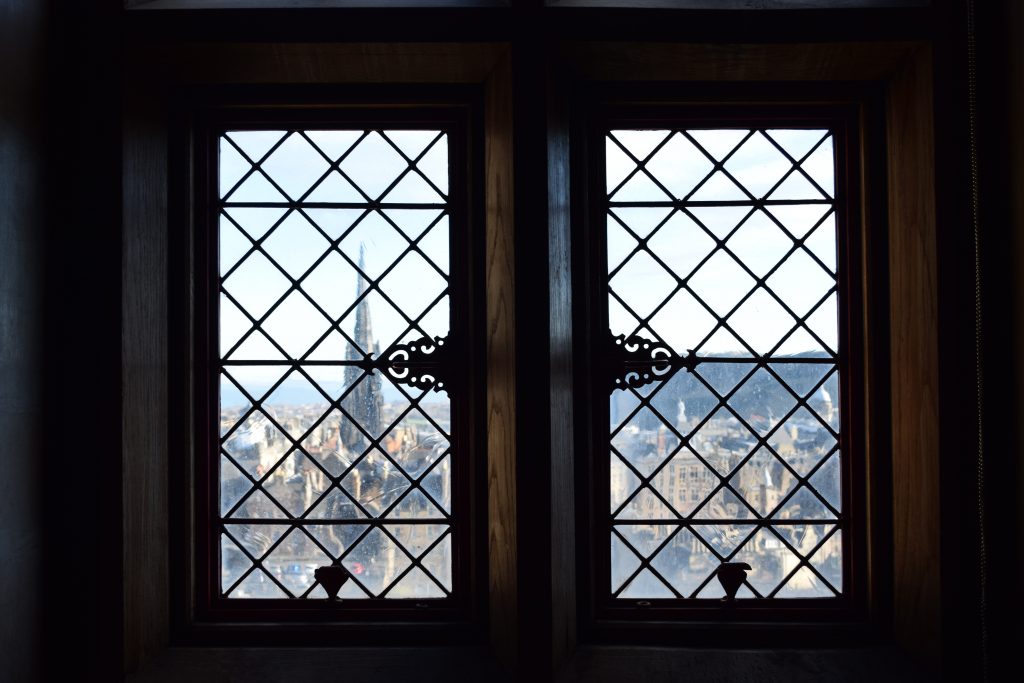 Prisoners chambers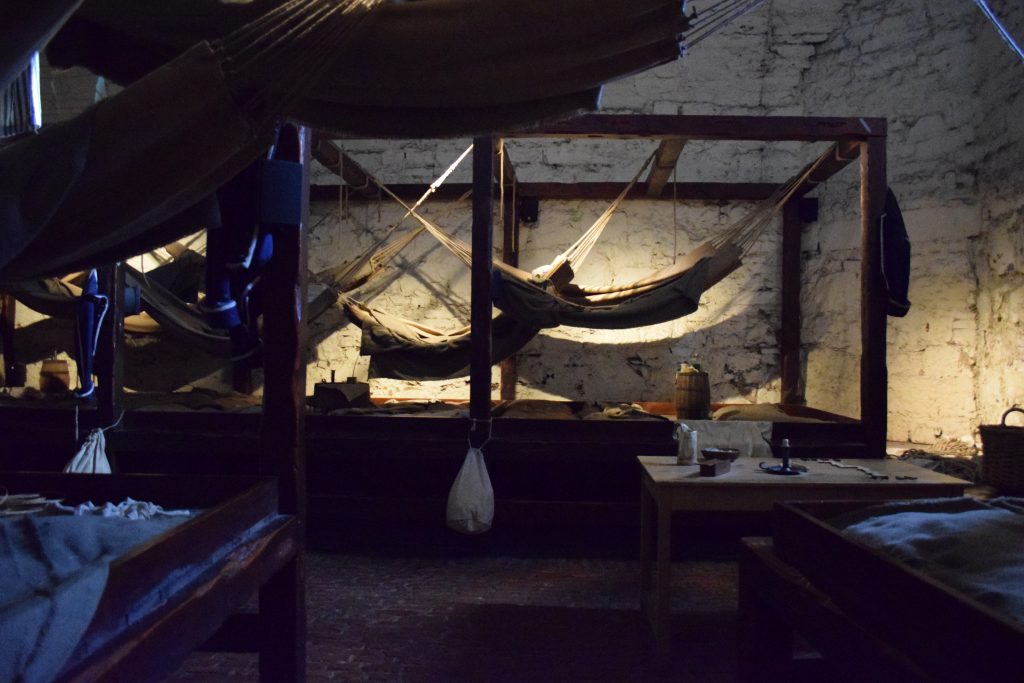 We slowly walked down the cobbled stones of the Royal Mile and stopped for lunch at a idyllic tea-house.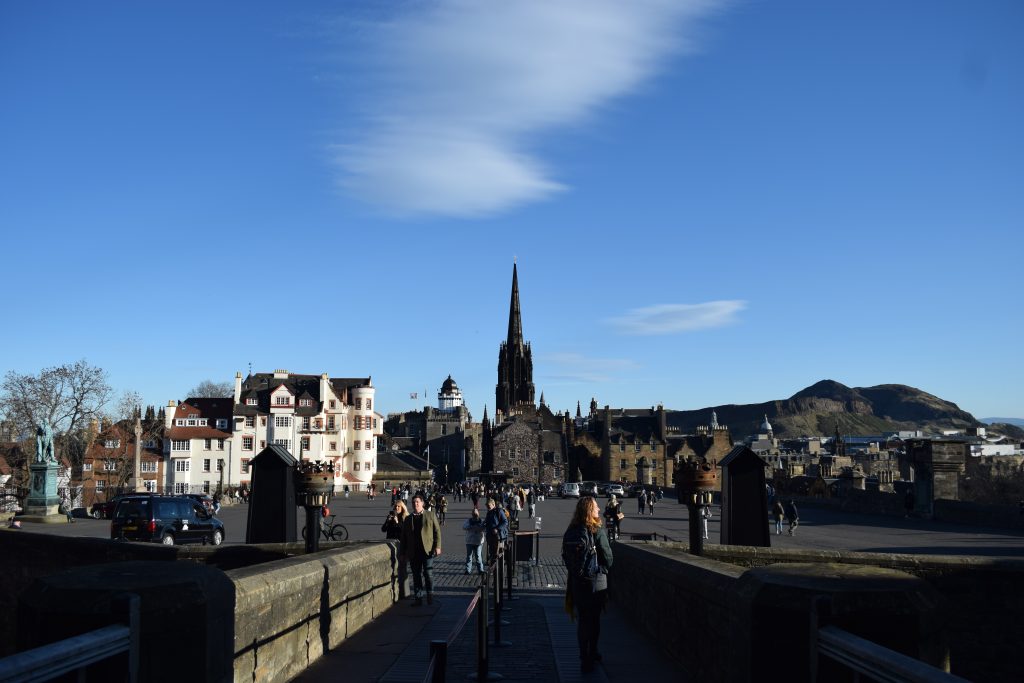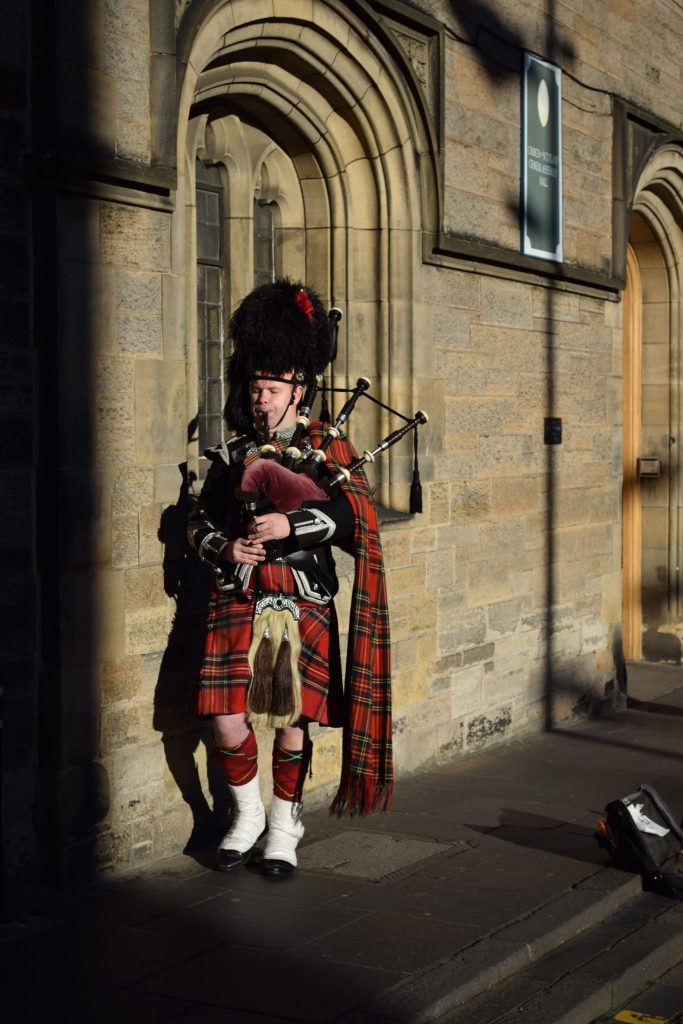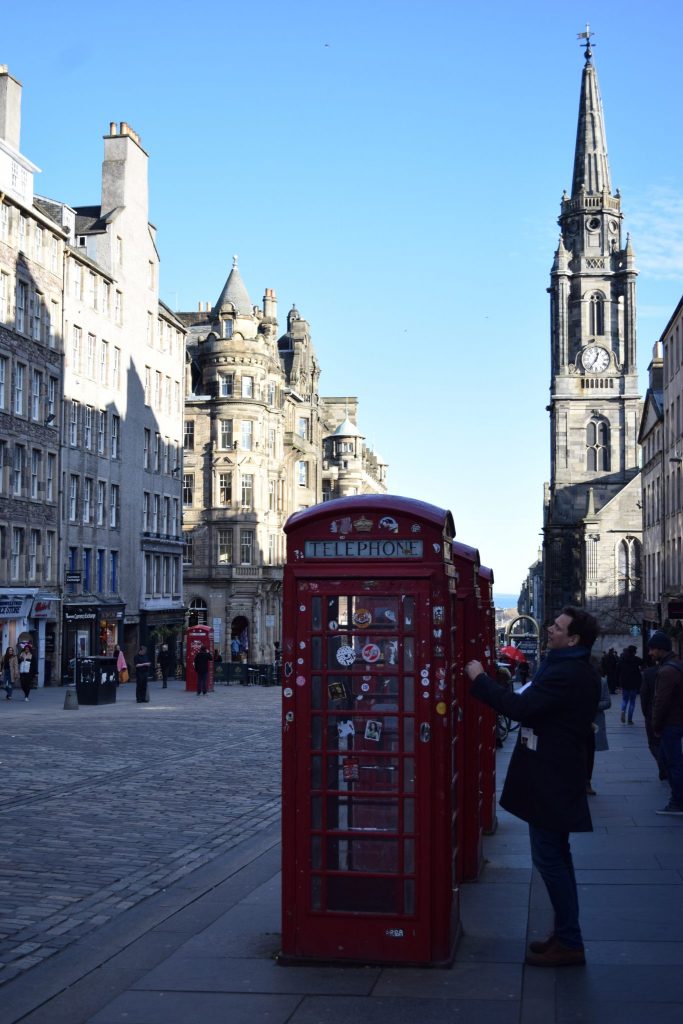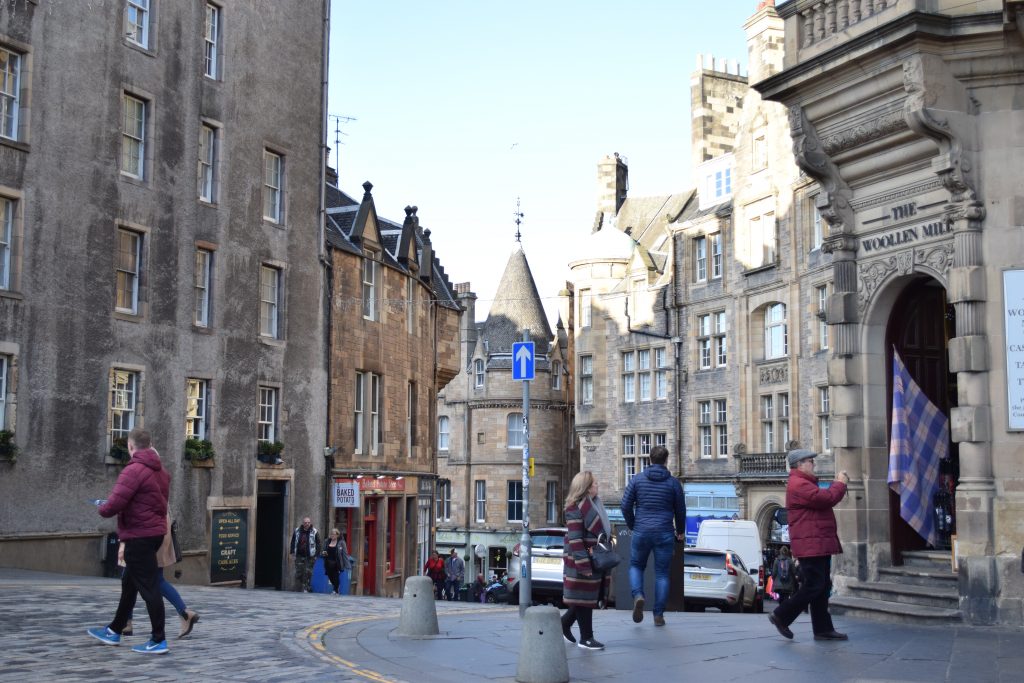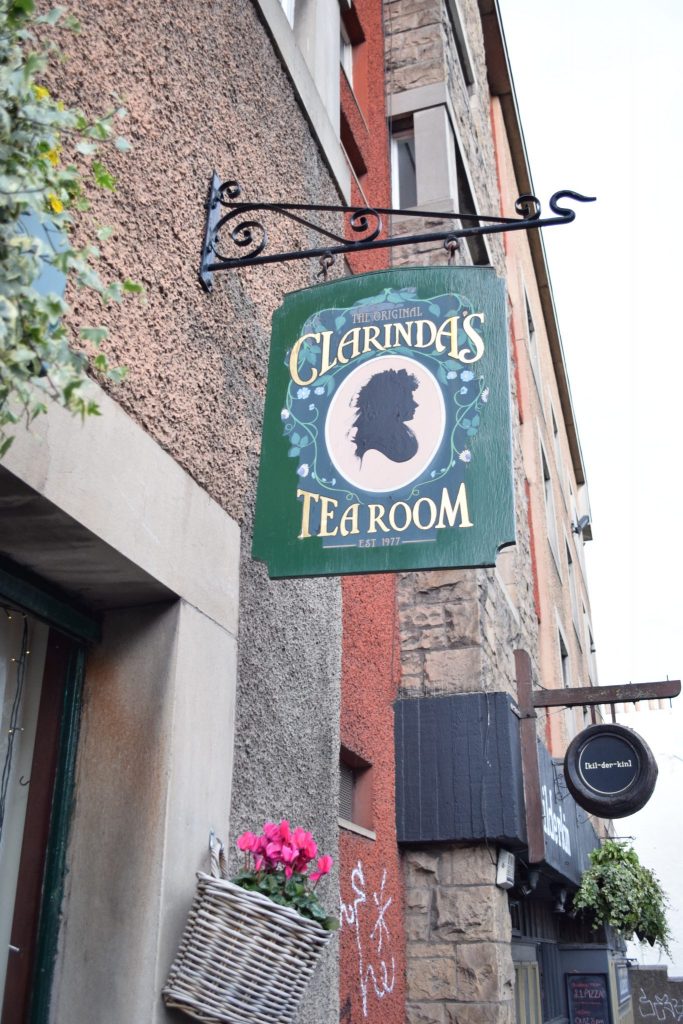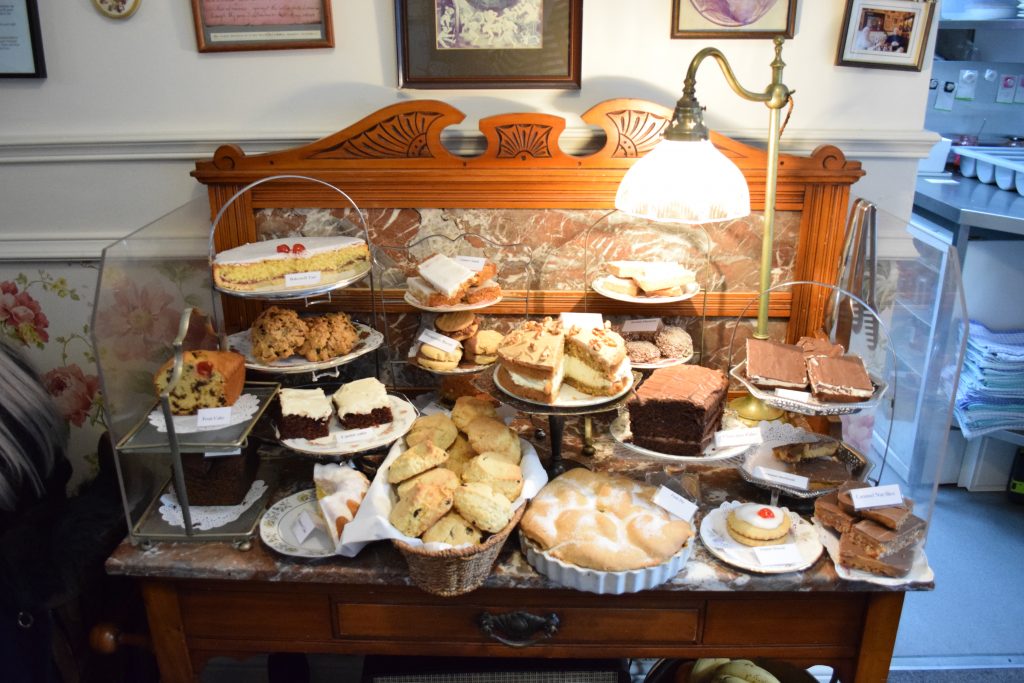 We walked further up to Holyrood Palace, residence of the Kings and Queens of Scotland. Really a must-see, you get an audio-guide with all the interesting stories. Unfortunately no photos were allowed. It is beautifully preserved, and since a much of the furniture from over the centuries remained there, you feel as if you are catapulted back to medieval history. But I was happy not to be back there; Queen Mary's life story was not the most pleasant one.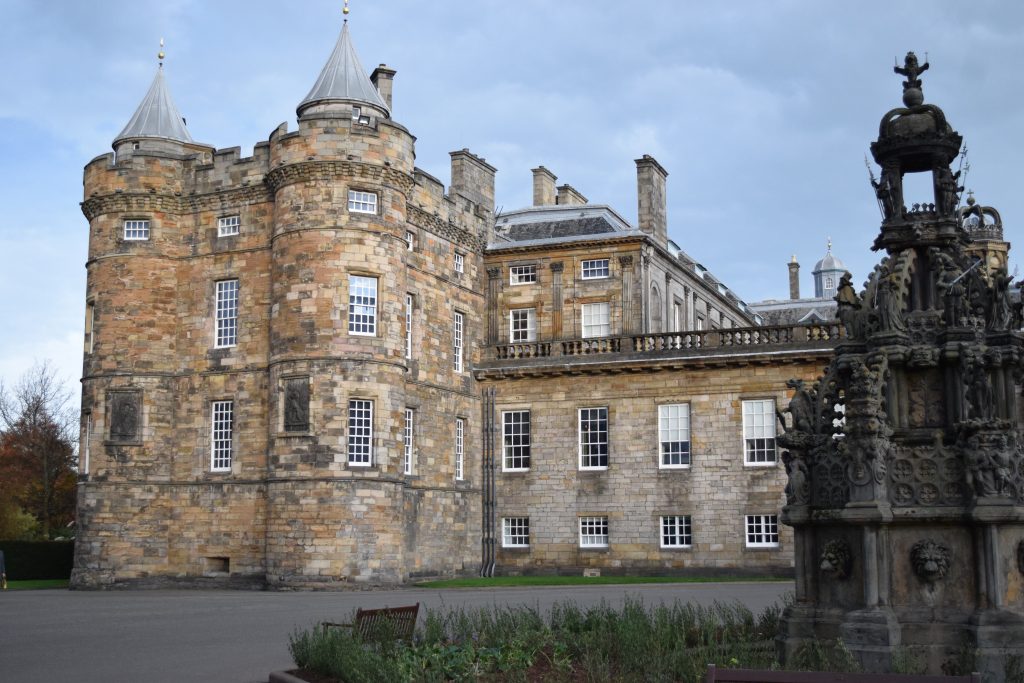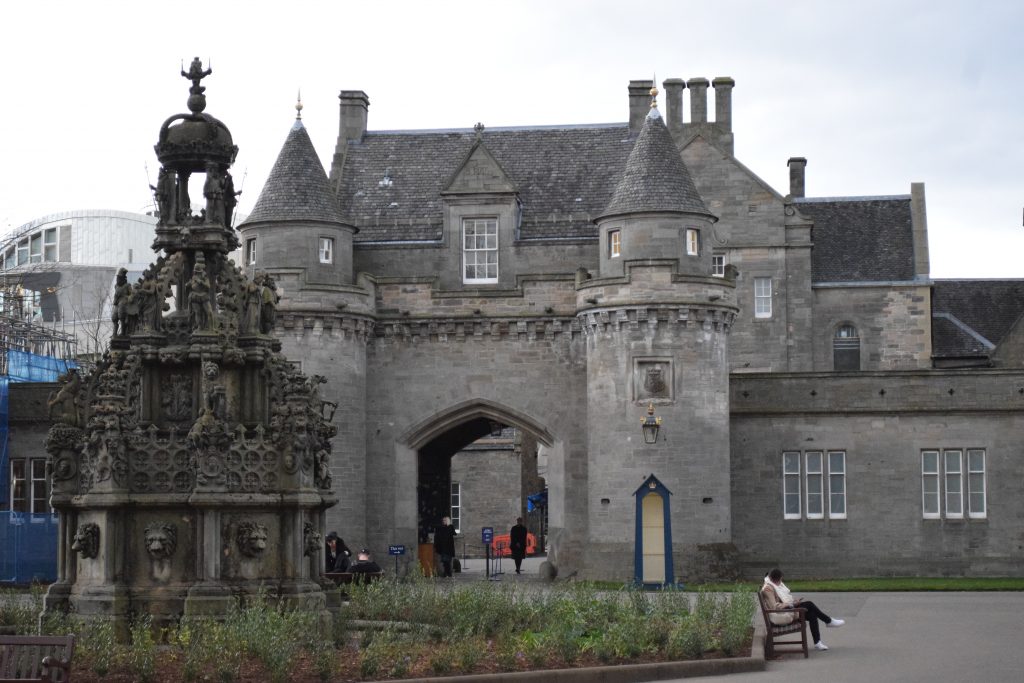 In 1542, while just six days old, Mary ascended to the Scottish throne upon the death of her father, King James V. Her mother sent her to be raised in the French court, and in 1558 she married the French dauphin, who became King Francis II of France in 1559 but died the following year. After Francis' death, Mary returned to Scotland to assume her designated role as the country's monarch.
In 1565, she married her English cousin Lord Darnley in order to reinforce her claim of succession to the English throne after Elizabeth's death. Her jealous husband restrained the pregnant queen while his henchmen murdered her Italian secretary, and favorite. In 1567, Darnley was mysteriously killed in an explosion at Kirk o' Field, and Mary's lover, the Earl of Bothwell, was the key suspect. Although Bothwell was acquitted of the charge, his marriage to Mary in the same year enraged the nobility. Mary brought an army against the nobles, but was defeated and imprisoned at Lochleven, Scotland, and forced to abdicate in favor of her son by Darnley, James.
In 1568, Mary escaped from captivity and raised a substantial army but was defeated and fled to England. Queen Elizabeth initially welcomed Mary but was soon forced to put her friend under house arrest after Mary became the focus of various English Catholic and Spanish plots to overthrow Elizabeth. Nineteen years later, in 1586, a major plot to murder Elizabeth was reported, and Mary was brought to trial. She was convicted for complicity and sentenced to death.
Next to the Holyrood Palace is the Abbey, where you can only see the remains, but still, an impressive view.