Do you see these wires spoiling the view of our lovely front yard? Any idea what their purpose is? Right. Electricity. Conclusion: it is a pity that they're in the middle of the trees, but at least we have electricity.
This is what you would logically think. But not in Puglia. Electricity is being delivered by the one and only Enel! Or, put differently, electricity is being delivered when Enel is in the mood.
Let me explain. We signed a new contract with Enel soon after buying our house. Since we don't have a house number, we had the bills sent to Francesca, who tends to the house with her husband William. The two other options we suggested, sending the bills via email or even sending them the old-fashioned way through the regular mail to our home address, were refused.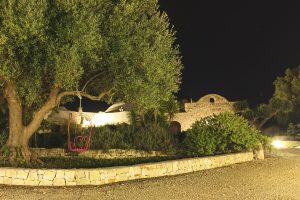 This worked pretty well for a while. As soon as Francesca received a new bill, she would scan it and e-mail it to us. Until December. The contractor was in the middle of building our kitchen when the electricity stopped. Simply stopped. After inquiry Enel answered they blocked us off because we didn't pay the last two bills. We didn't receive any! Reply: it is your responsibility when the invoices get lost, you should have guessed there were bills somewhere.
So I paid those bills (all of a sudden they could e-mail me these invoices) the moment I received them. This was end of December. Problem solved, I assumed. Not in Puglia. The bureaucratic rollercoaster jumpstarted:
I had to fax the proof of the payment: who still uses a fax? The only Enel e-mail address I had was a "noreply" one.
But still, after a week, no electricity. The payment had to have arrived by now. Francesca called them to check. Reply: Since the contract had been interrupted (WE hadn't interrupted anything!), we needed to sign a new contract.
Oddly, the new contract was much more elaborate than the previous one. I tormented my brain trying to understand everything, and then scanned it and mailed it to Francesca. She faxed it to Enel.
Still no electricity.  Francesca called Enel repeatedly, and they always managed to drum up excuses, but the one at the of January was the most outrageous: we hadn't paid the bill of January. WE HAD NOT RECEIVED THE BILL! And how could there even be an invoice, we hadn't had electricity!  Apparently there was still a little part from the beginning of December included in this new invoice.
So I paid this bill. Francesca went to their office (we tried to avoid this because their opening hours are so random and they have terribly long waiting lines) with all the paperwork. Now they told her they needed our passports and Italian inscription numbers. This wasn't required when we sent the contract.
Yesterday morning I received a message from Francesca: Electricity is back again.
Finalmente. Mille grazie maffiosi (more examples of their way of working later on)!!!