A few weeks ago we – three friends and I – hopped on a train to Brussels. It was an exceptional (for Belgium) clear blue day. We had tons of time to catch up on the train, thanks to the perfectly organized railroad system in our tiny country. It gives you so much more time than you need to go from A to B.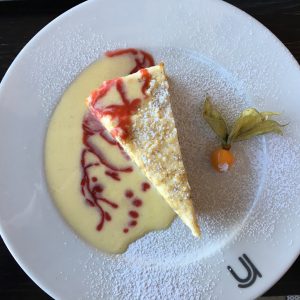 More than ready for our first coffee after arriving at Central Station. My friend knew the perfect spot: the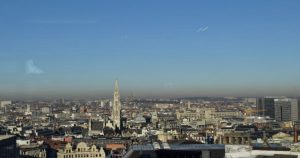 instrument museum at the Kunstberg. The beautifully restored Art Nouveau building is a masterpiece by itself.
We took the old elevator to the top floor.  While nibbling our carrot cake (I admit, first goal was coffee, but we couldn't resist the cake), we enjoyed the view over our capital.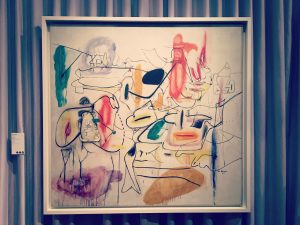 Then off to the exhibition, only a few blocks further, in the buildings of ING bank: Guggenheim, Full Abstraction. It shows the evolution of the art scene from surrealism to abstract art on both sides of the ocean, with pieces Solomon R. Guggenheim and Peggy Guggenheim collected. Unfortunately, this is a temporary exhibition, it ends this weekend (February 12th). So rush, or if you get a chance to see this collection elsewhere, or can visit one of the Guggenheim museums (Bilbao, Venice and of course New-York), don't hesitate.
The painting you see here is one of my favorites: "Summer" by A. Gorky. A few other artists of this exhibition: Mark Rothko, Jackson Pollock, Willem de Kooning, Alexander Calder.
Of course I had heard about Peggy Guggenheim. But when we watched an half hour movie on her life, I really became by her passion for modern art,  how she had this special eye for discovering young artists and how she managed to ship major artworks from Paris to NY during World War II. She was such a strong and unique woman, far ahead of her time. Without her patronage many artists wouldn't have conquered the art scene. You also learn about her other passion, collecting lovers – among them obviously many artists. This irritates me, because it wouldn't be an issue if she were a man. Well, we can only be grateful for her amazing art legacy. Visiting her palace in Venice sure is on my wish-list. On yours too?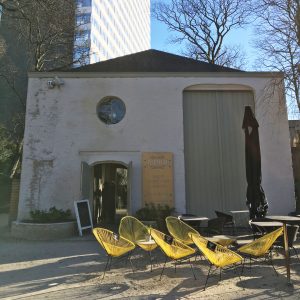 I still want to add a fancy address for lunch: La Fabrique, where they serve good food and you can stare at colorful wallpaper (more on my wallpaper addiction later!).
I ordered a marinated chicken salad with curcuma and grilled veggies, delicious!
PS: these yellow (you find them in all colors) Acapulco chairs are hot again (originally designed in the fifties).