I woke up a little later today. Still in my pajamas, I went outside to see how the cactus was doing. There were a few flowers yesterday, and it looked as though a few new ones were about to bloom.  I noticed two beautiful yellow ones. While moving closer to take the perfect picture, I impaled my knee on a lower leaf.  Ouch! That hurt! I pulled the needles out, one by one, but some broke off under the skin, so I still feel them.  I guess all artists must suffer for their art.
We returned late yesterday, after a fabulous dinner at Bros' in Lecce. One of my friends had seen a recommendation in Forbes Magazine ("The 10 Coolest Places to Eat in 2017"), and I can tell you, it was worth it.  We had a five course tasting menu, which seemed to be about ten courses and somehow included four desserts.  It's a favorite restaurant of Thomas Siffer's (a well known  journalist from home), so a lot of Belgians have already discovered this unique and tasty dining experience.  If you go there, don't be put off by the terrible exterior.  It is so unappealing, we almost didn't go in.
My three friends love it here.  They have never been to the South of Italy, and every day has been a new and wonderful treat for them. On Tuesday we visited the Sassi of Matera, a place that was new for me too.  It is about an hour and a half drive from here, but a beautiful drive! First you pass through the Valle d'Itria, with all the Trulli and and stone walls and fields of poppies and olive trees.  And then you come into Basilicata, the county west of Puglia, which you see first from above in expansive views of wide open farmland, a completely different look and feel.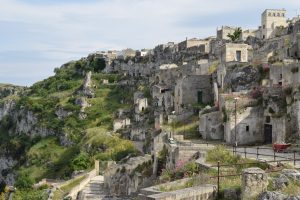 Matera is said to be one of the world's oldest towns. The simple natural grottoes that dotted the gorge were adapted to become homes. The prosperous town was the capital of Basilicata in 1663 till the early 1900s, when the unsustainable increase of population led to the habitation of unsuitable caves, originally intended as animal stalls – all lacking running water.  By the fifties over half of Matera's population lived in the caves – the sassi – sheltering an average of six children. The infant mortality rate was 50%. When this became more publicized, it was the shame of Italy! The Italian government forced the inhabitants to relocate to new government built houses, so the sassi were abandoned.  Our guide, Brunella, told us her parents had lived in the caves as children.  She told us that in the worst times, when they were near starvation, parents would feed their children poppies, to keep them asleep for days, both to shut down their bodies' needs and to give them time to find food.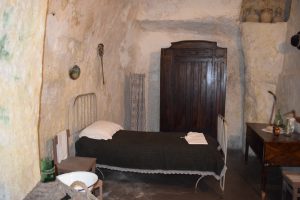 In 1993 the sassi were declared a Unesco World Heritage Site, and many of the caves have been restored and remodeled with electricity and plumbing and ironically are now homes to Matera's wealthiest residents. But the beauty and feel of the original caves has been preserved, and that, combined with the town's history of outrageous misery, has transformed it into Basilicata's leading tourist attraction.
Since it looks like old Jerusalem, it is the scenery of many movies. One of them is Mel Gibson's controversial film 'The Passion of Christ' which shows how Matera has barely changed throughout the centuries.
What's on our list today? Polignano a Mare and Monopoli, two beautiful cities half an hour up North.
Till next week!
Sophia