Under the Puglian Sun.  This is the name of the whats-app-group for my American friends and me. We created this to make it easy to communicate before, during and after our stay in Casa Vita. Before it didn't really work because I was the only one who had installed whats-app, during wasn't much use either, because in the house we were without internet most of the time (remember the broken wifi-antenna in the area?) and outside were the high roaming costs.  But now we're all back home and chatting about how lovely our vacation was. And how hard we are struggling to get back to reality…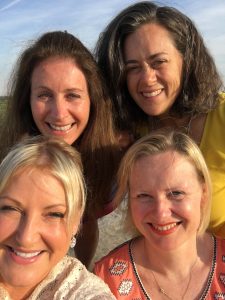 It's seems a little odd to use the word "friends" for people I only see once every few years or so.   We live on another continent, speak a different language and there are many cultural differences.  The last time I saw Jenny and Debbie was almost three years ago, and then merely for one evening.  But nonetheless we are good friends.  We have had some wonderful vacations together over the years, and I believe this is the best time to catch up, when you have time for endless conversations.  We have time to discover that there are so many items that unite us: remembering those days when we met at Washington school, waiting for our sons, who were friends back then, full of endless energy and mischief.  Being proud of the grown-up men they have become – something we were a little afraid of at some point, I honestly admit 😉 Discussing relationships, the ones that lasted and the ones that didn't make it, and putting all possible reasons under the psychological microscope. Analyzing our own characters, why some try to avoid confrontation and others are straightforward. We agreed upon the fact that the main reason lies in our different childhoods. Well, we aren't the first to come up with this theory, right? None of us has a psychology degree, but we can all be therapists. Do you remember the quote: Friends are the best therapists? Wine is too… and we tasted plenty of excellent local wines during our week.  In fact it's possible we tried almost all of the wines in Puglia…
Laughter is a big part of friendship too, just continuing the silly jokes we laughed about so many years ago. Hilarious!
And we all had our job. Jenny is a perfect cook, she made such a delicious salad: arugula, crumbled goat cheese, watermelon, red onion and shrimp topped with a delicious dressing of local olive oil and balsamic vinegar. Denise was the best translator, her parents are from Florence and Torino. Although she grew up in the US, her first language was Italian. Debbie drove between the olive trees and poppy fields as if she lived in Puglia for ages. Happy me was the organizer.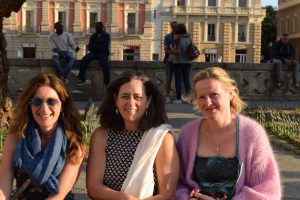 We saw so much of Puglia in those six days: Ostuni, several times–in the morning, at noon and at night. Ceglie for dinner, where we feasted all evening on an endless antipasto order and some delicious pasta.  We had a lunch in Cisternino, which is a pretty little town on a hill and about a twenty minute drive from our house, and made day trips to Matera and Lecce, both of which I wrote about last week.
Polignano a Mare was beautiful–all the narrow streets with the mint green iron balcony railings, overgrown by a cascade of hanging flowers–and a huge success. The girls saw an advertisement for a restaurant in a cave. Awesome!!! We MUST have dinner there, they all exclaimed like three small two year olds throwing a tantrum. I was afraid it would be a big disappointment.  I had seen the advertisement last summer, but we didn't go in there because it was crowded and you could only chose a prix fixe menu over a hundred Euros.   There are so many wonderful restaurants serving delicious food for practically nothing that this seemed ridiculous.  And hadn't we seen enough caves in Matera? It was one to three. My European down-to-earth thinking couldn't compete with their passionate stubbornness. They won. Debbie even bought a dress, as shorts were not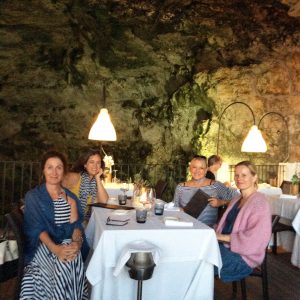 allowed. We had a late lunch and then went to the rocky beach, where you can bathe between the steep cliffs. Red Bull organizes the cliff diving here! There  was still time for a few cocktails on the other side of the cliff before heading down to our fancy, slippery cave, four flights down from street level! We sat towards the back of the cave, where we could see and hear the waves passing underneath to the other opening. Birds were flying in circles in the dimly lit, giant greenish grotto. Magical was the right word! Since it was not high season, we were allowed to just order one dish, which we washed down with some local white chardonnay, called Edda from the Salento area. I am not stubborn, and I can easily admit: the wonderful scenery made it worthwhile!
On Friday, our last day together, Denise and I enjoyed our swimming pool and made a walk through our yard, where, in between the eighty olive trees, everything is blossoming: the cactus, the bougainvillea, several succulent plants on the rocky floor, and the orange blossom who spread its fresh scent over the pool… Debbie and Jenny drove to Alberobello, where a lot of trulli are united. It is also a Unesco World Heritage site.
Our last evening together we spent in the marvelous restaurant in Ostuni: Taverna della Gelosia, located on the side of the hill of Ostuni, hidden between beautiful plants. A small paradise.
I'm already looking forward to going back.
Did you ever visit Puglia? How did you like it? Let me know!
Have a great weekend, Sophia
Picture on top made by Marie Bouly Photography