Hi Everyone,
How are you? Enjoying summer?
Due to a ton of different reasons we drove down – 2000 km's yes – unexpectedly to Puglia, the car loaded with some small furniture. This week was the only one still available and I was eager to redecorate Casa Vita.
Just some small things I added, but for me interior design is about details and colors. Want to see what we brought?
This étalagère and two old antique plates (with garland with roses) I bought at the garage sale at the Yvestownshop. And it matches perfectly with the kitchen tiles and cactus bowl and jug.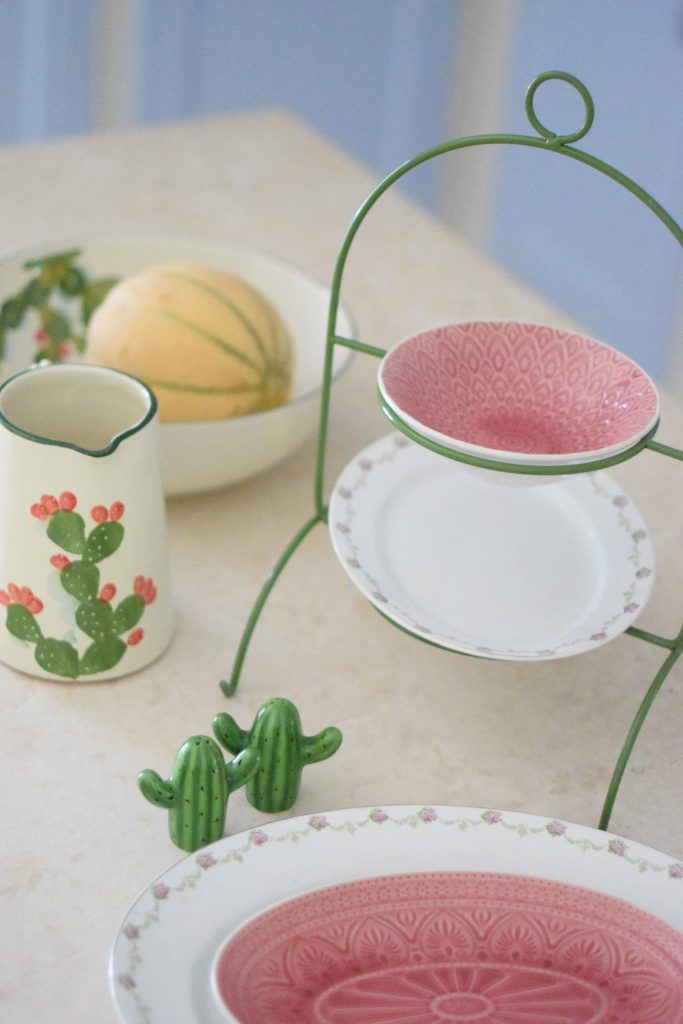 Then this cute little 'cloud table' from Sissy Boy and two raspberry colored stools from Westwing.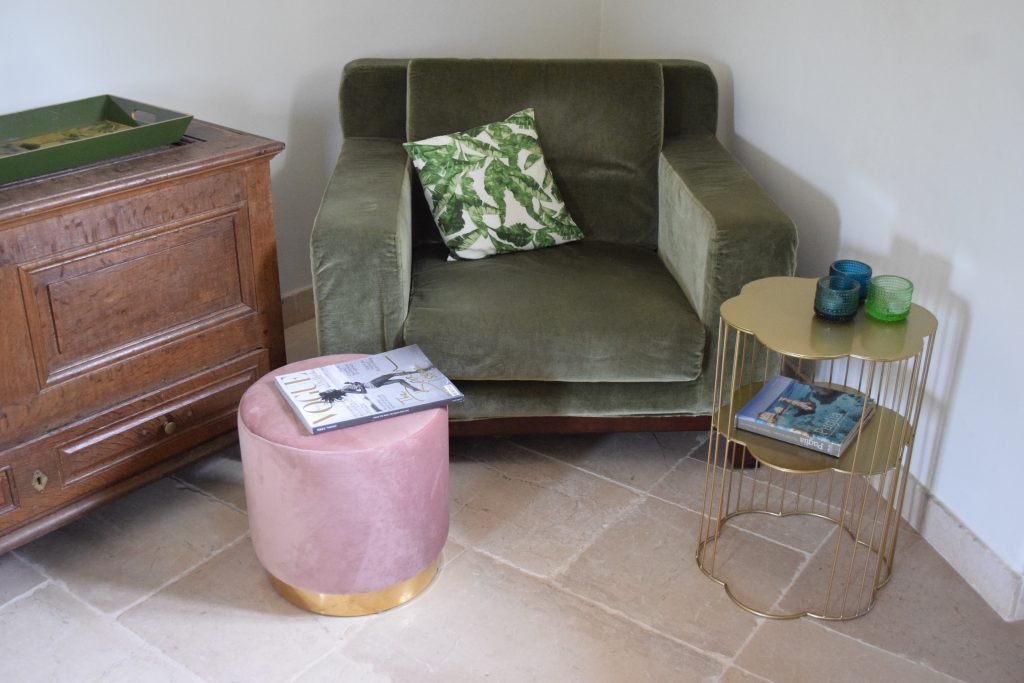 Two light weight white tables for the white patio.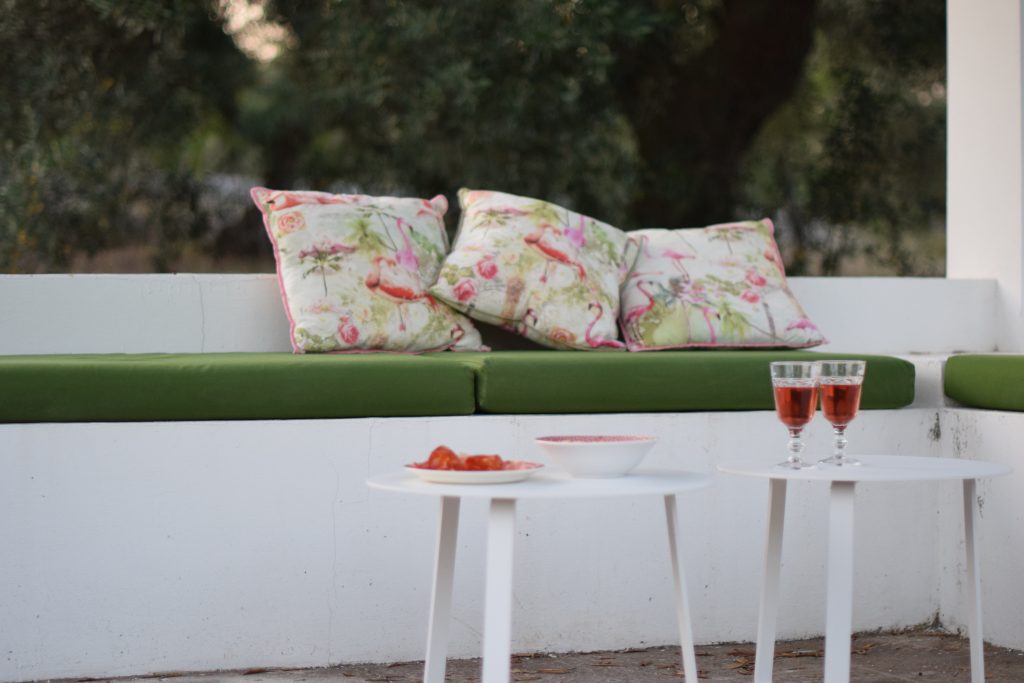 The wooden side tables I made last Spring turned yellow because of the varnish, so I painted new ones, didn't varnish them anymore, just painted the grinded tops with white oil.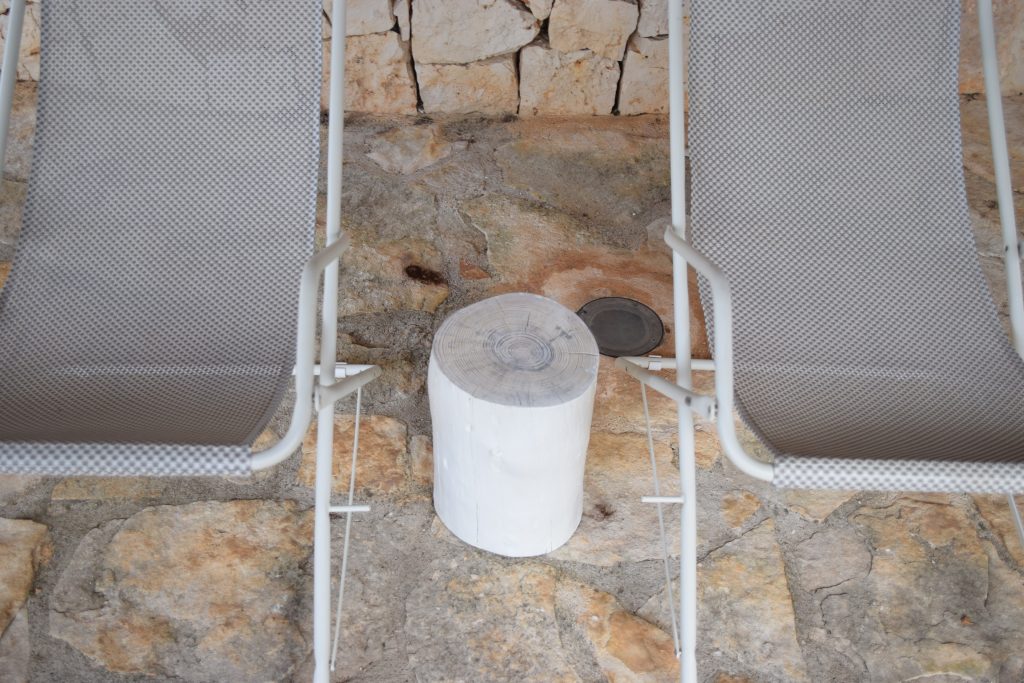 Since it was a rush of coming and going of guests, we did a lot of washing and other chores in and around the house.
Yesterday was a lovely day.  We had family over to visit and for the first time we baked homemade pizza! Oldest had tried it in June with his friends and they found it to be the best pizza ever 😉
Did you ever make pizza yourselves? What's your receipe?
Here's how we did it:
Use small dry wood (there's plenty from the olive trees here) together with some paper to get the fire going
Certainly take enough wood (the fire went out a little bit too soon for five pizzas)
Let it burn till the wood has turned into red coal
Move the coal to the sides, so you get an empty space in the middle
Take fresh dough from the bakery here in Ostuni (you get five pizzas out of one kilo of dough). Take the dough out of the fridge one hour before. Cut in pieces and roll into balls. Roll it out on plenty of flour.
Put enough flour on the plate so the pizza doesn't stick to the plate. Put the dough on the plate before you start "decorating."
The toppings: some tomato sauce and any other toppings you prefer (I used peppers, olives, tomatoes, anchovies, capers) and of course mozzarella (ask for mozzarella specifically for pizzas–it must be dryer than the regular one).
Don't over do it with toppings; the pizza might get too heavy, and the crust will fall apart
Put the pizza in the middle of the oven and close the door
Check regularly, and turn the pizza a little bit, so it won't stick to the stone
It takes about fifteen minutes for a pizza to get ready
Buon appetito!