Paris is in fact close to where we live – about 400 kilometers – but we do not go there very often. A shame because it is a sparkling city and has so many interesting museums and expositions… And shops 🙂
Hubby and I hopped on the train in our hometown and got off in Brussels Midi (that trip takes longer than the rest of the journey). Then on the Thalys train to Paris-Nord, a very comfortable high-speed train, only another hour and fifteen minutes! But you pay for it, more or less sixty Euros one way, a person.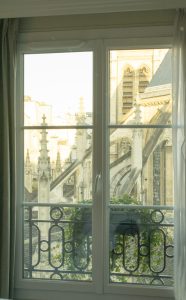 Our hotel Henri IV was located in Rue Saint-Jacques, in the Quartier Latin (one of the districts of Paris), near the Seine, Notre Dame and all these narrow and cozy streets full of restaurants and little shops. Our room was tiny (prices are high all over Paris), but neat and comfortable. Plus a magnificent view!
We were up early and very eager to start our day. This trip was planned weeks ahead, but the unfortunate demise of Johnny Holiday — the French Elvis — almost spoiled our weekend. A million people were expected to walk in the funeral procession on the Champs Elysées this Saturday. So this region was to be avoided.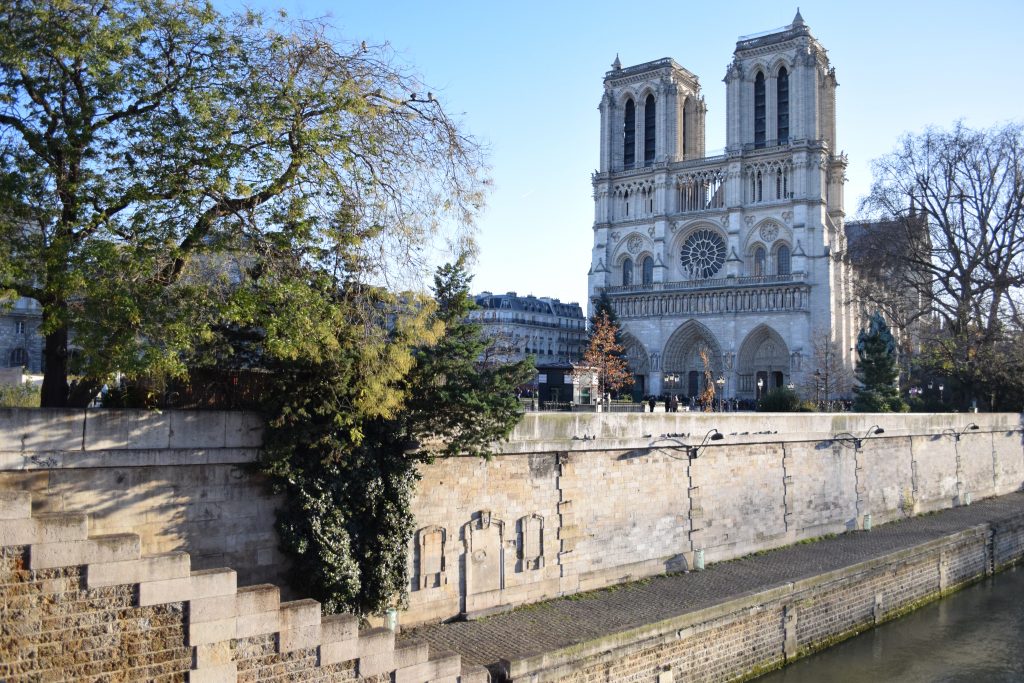 There was a long row of people trying to get in to the beautiful Cathedral of the Notre Dame, so we just walked by and headed for the Bastille, where we enjoyed a coffee in the sun. With this cold but beautiful weather we tried to walk as much as possible. We crossed the Place de Vosges, originally Place Royale, the oldest planned square in Paris and one of the finest in the city.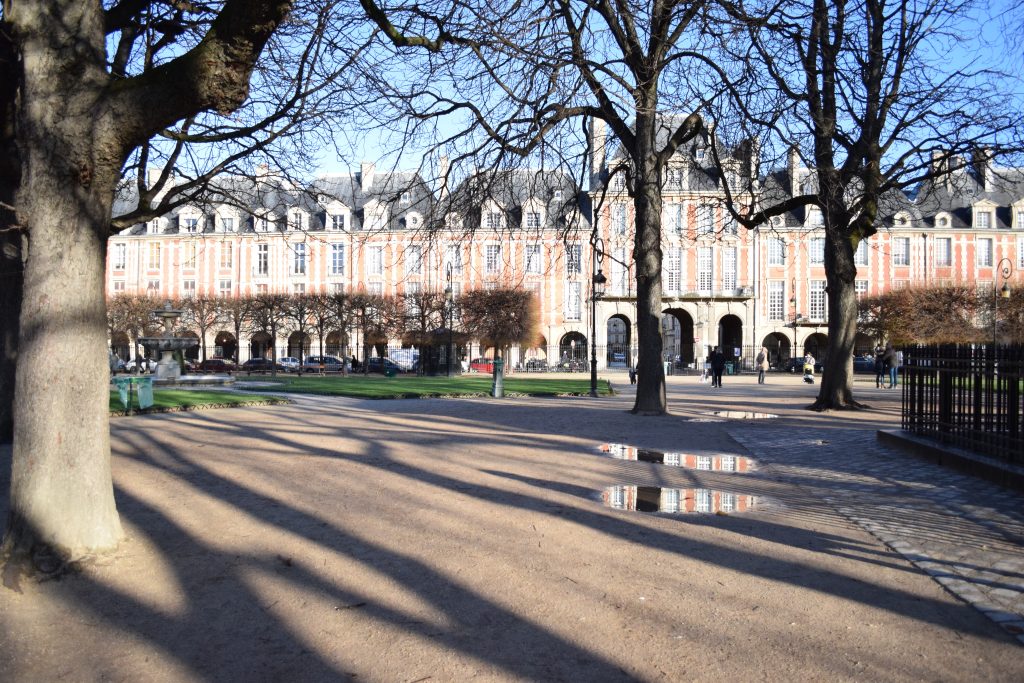 Next stop was the cemetery Père Lachaise, where a long list of celebrities are resting.  Just to name a few: Molière, Edith Piaf, Oscar Wilde, Frederic Chopin and Jim Morrison, though the last can hardly be said to be resting in peace. His grave is fenced because it is still haunted by fans from all over the world. A tree near his grave is stuck with chewing gum (on the left in the photo), a way of saying of his fans 'I have been here' — I don't get it, no. Père Lachaise is a special place, if you can say this of a graveyard. All these old tombs, sometimes overgrown by moss or almost collapsed. It is located on a hill and looks down to the lively city of Paris.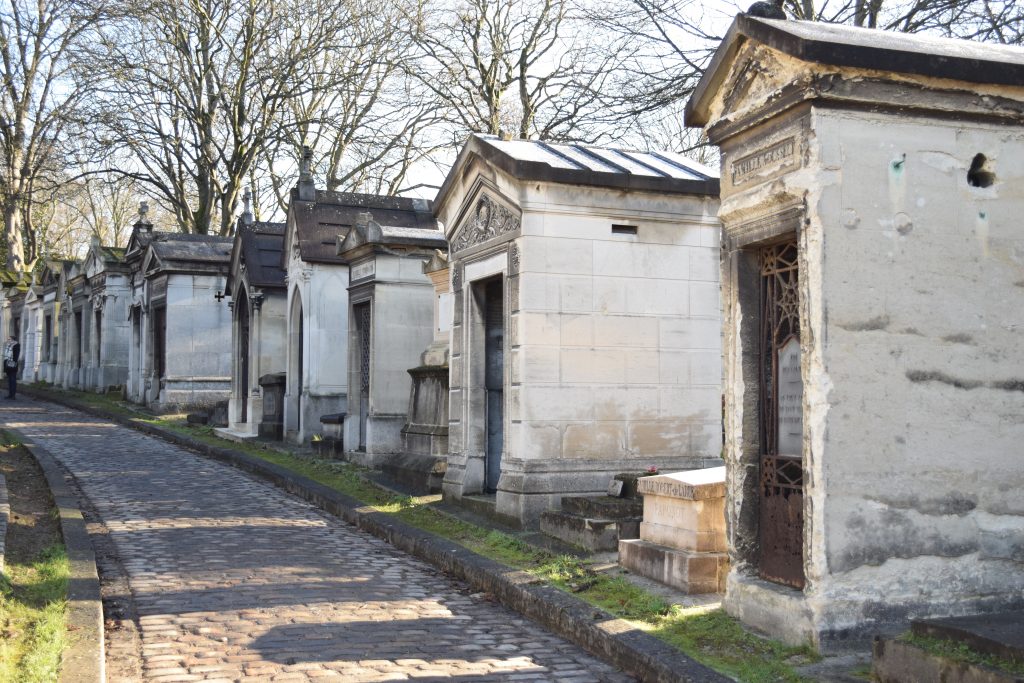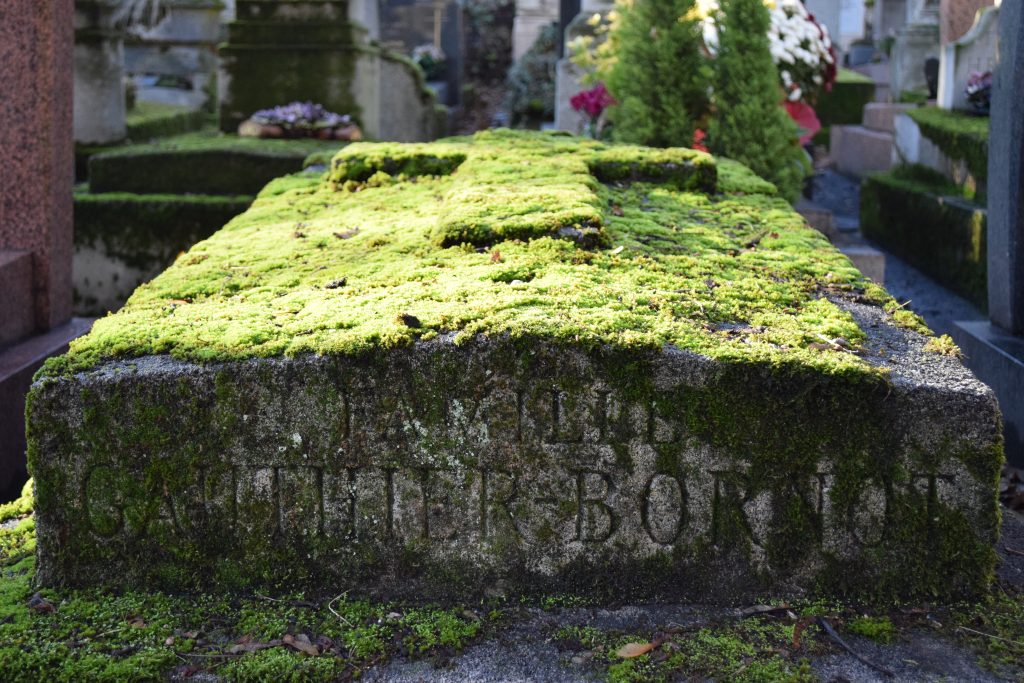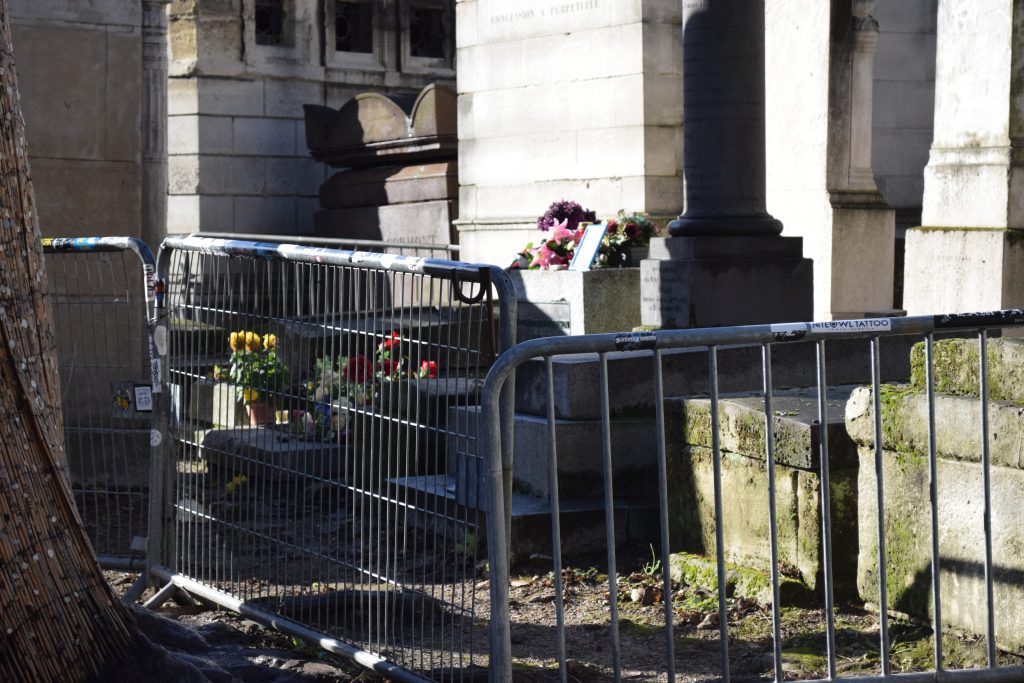 We decided to take the subway to Montmartre, just to save time. The broad steps going up to the Basilica were crowded, and again there was a long line to get into the church. "Montmartre is talked about by Parisians the way New Yorkers talk about the Village: It's not what it used to be. It's like Disneyland," is what I just read in the Paris guide. But it is still worth a visit.  You don't need to feel forced to have your portrait painted on the Place du Tertre, it is fun to just watch the artists drawing or painting.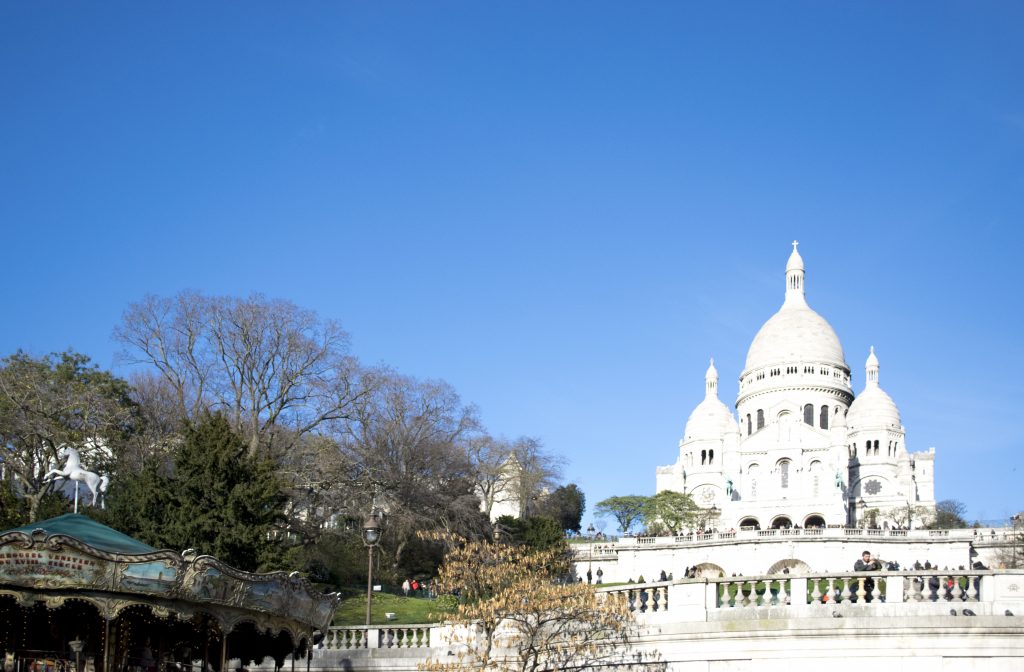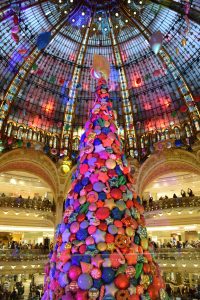 After our lunch – a simple pizza, we were hungry – walking was the best way to burn our calories. The shop windows are magical this time of year, and I dragged hubby into one of the biggest stores of Paris: Galeries Lafayette. It has been an icon since its construction at the end of the 19th century. The interior hasn't lost its grandeur.  Now with a huge Christmas tree with moving decorations under the huge colored glass dome, it was fairy-like. Too crowded to really try anything on, although I felt tempted, all these designers and beautiful brands together.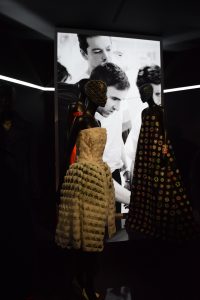 What is Paris famous for, according to you? Fashion! At the moment there is an exposition on Christian Dior. I didn't make reservations, not knowing whether we would find the time. The line at the Rue Rivoli was doable, since it was the end of the day. This meant we only had one hour and fifteen minutes, although two hours is advised. We were happily carried on a voyage in the universe of Maison Dior, starting with dresses of its founder Christian Dior, and followed by all the couturiers who worked for Dior until now : Yves Saint Laurent, Marc Bohan, Gianfranco Ferré, John Galliano, Raf Simons (born ten miles from where we live, in the photo to your right!) and Maria Grazia Chiuri.
The most breathtaking was the "ballroom", a room with high ceilings and reliefs, where the dresses were exposed on high altars and onto the wall. These were all gowns worn by celebrities at one point. There was a movie playing where you could see all the actresses and pop stars radiating in Dior. Photo on top.
One room was all in white, exposing all the pre-designs — first made in white cotton — of the final dresses.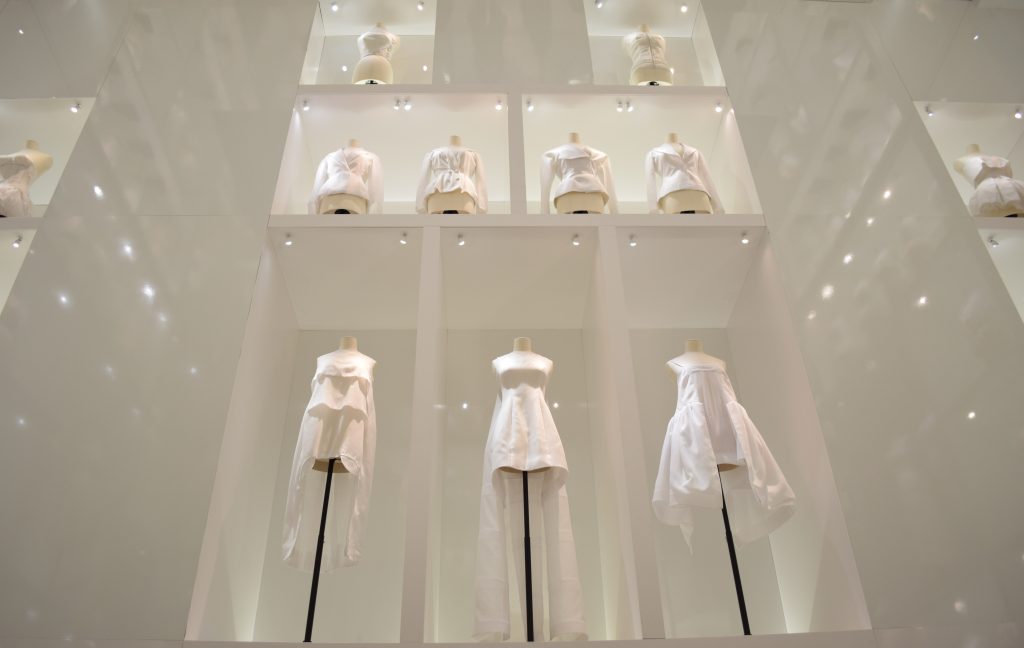 Alongside the dresses you can admire a wide range of atelier toiles, fashion photographs, sketches, advertisements, as well as fashion accessories, including hats, jewelry, bags, shoes and perfume bottles.
Christian Dior was a knowledgeable art lover, and his works only confirm the ties between couture and all other forms of art.
If you are ever in doubt whether fashion is art, you aren't anymore when you leave this exhibition. You may have to rush, because it ends on January 7th. So happy my cousin Marie advised me to go see this!
We crossed the Cour de Napoleon beside the Louvre: an exquisite view of the Palais, the pyramids, the Tuileries and  the Carousel. Over the bridge back into the Quartier Latin. It was eight pm by then, we had done 30.000 steps and 20 kilometers that day! Exhausted and starving, we enjoyed a lovely dinner in a too touristy restaurant.  We didn't have the energy to hunt down a more stylish spot.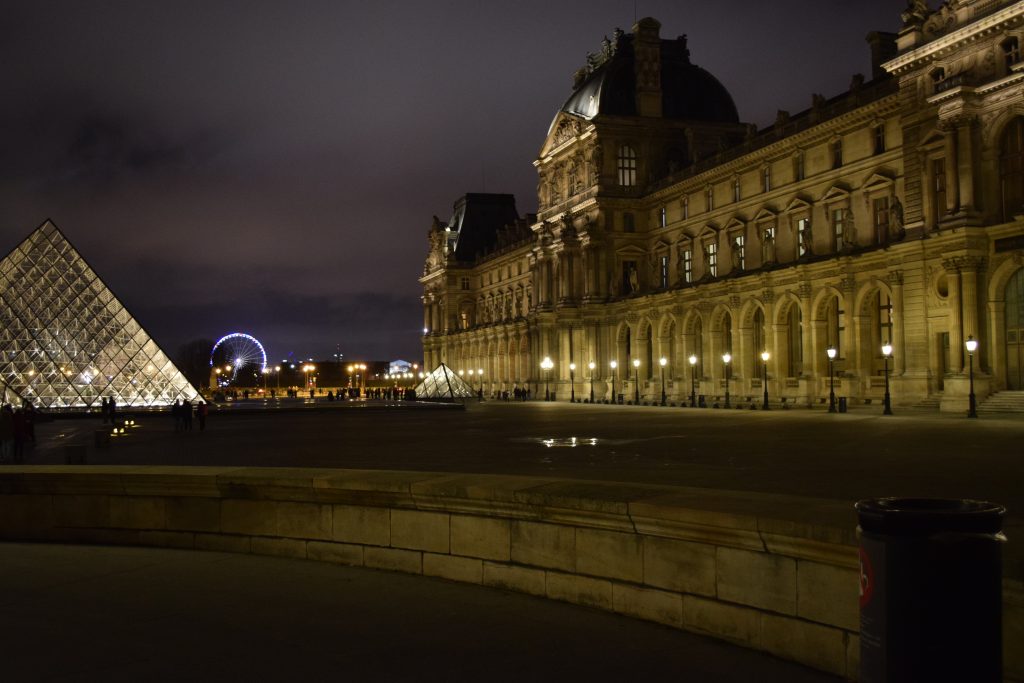 I will reveal our adventures of Sunday next week!
To be continued…