A bit over twenty years ago, hubby and I went on a city trip–in Namur, the south of Belgium, not too far because we had two little kids we left with our family.  On Sunday morning we went to the local antique market. We saw lots of beautiful things, but our eye fell on an old crib. I cannot explain, but for some reason it just drew my attention. Was it the shape or pure nostalgia? It was not too expensive, but on the other hand: why should we buy a baby bed? We had a son and a daughter, a dream family, and no intention of having a third child. We couldn't leave the crib there though and bought it anyway. We thought, well we can always use it for the kids to put their dolls in.
Two years later our minds changed. I became pregnant with our third child. I bought fabric and made sheets and upholstery for the crib. A big baby boy was born and the crib was placed in the middle of the living room. In about six months youngest outgrew the crib and it went down to the basement.
Youngest kept on growing to almost two meters, and the crib – after being moved several times together with our family – was catching dust in the basement. About two years ago I got to know Hala and George, a young couple who fled from Aleppo to Belgium. Their journey to reach this "promised" land was tough. Their dream was to live happily here and to start a family. This summer they announced they were expecting a baby girl.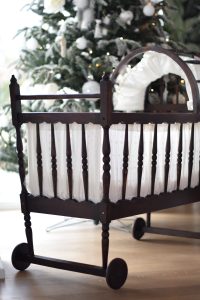 I told them they could use our crib. I finally got it out of the basement, and noticed three of the poles were broken. I asked my neighbor if he could fix it. They couldn't just be glued back on, they had to be made over again. He looked for a carpenter, because the curved poles needed some expertise. Finally he found someone who made three new poles, and my neighbor painted the poles the same color of the crib. I checked the sheets, the mattress and the upholstery and washed and ironed everything. I also found a lookalike fabric and asked my mother-in-law to make some extra sheets. She is a good seamstress.
Last Thursday everything was finished. Oldest and I brought the crib to our Syrian friends. We drank tea and talked about the future.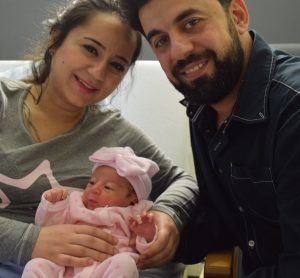 While I am writing this, I receive the special news that baby Maria is born. Beautiful and healthy! A Christmas baby!
My wish for Maria is: to live healthy and happily with her family in a warm and welcoming country, surrounded by loving people. Ever after.
Happy and peaceful Christmas to all of you!