You probably know the song. If not, here it comes – by Camila Capello.  But be aware, it may stick in your ears all day long…
Have you ever visited Havana or Cuba? Well, we came back yesterday, and my heart is still there. Such an amazing city and such an impressive country. The colors, the people, the culture, the nature and the crazy feeling you have been catapulted back in time.
We had such a beautiful vacation, I will be writing on this the next weeks. Our holiday was organized by Connections in our hometown Lommel. And I can recommend them!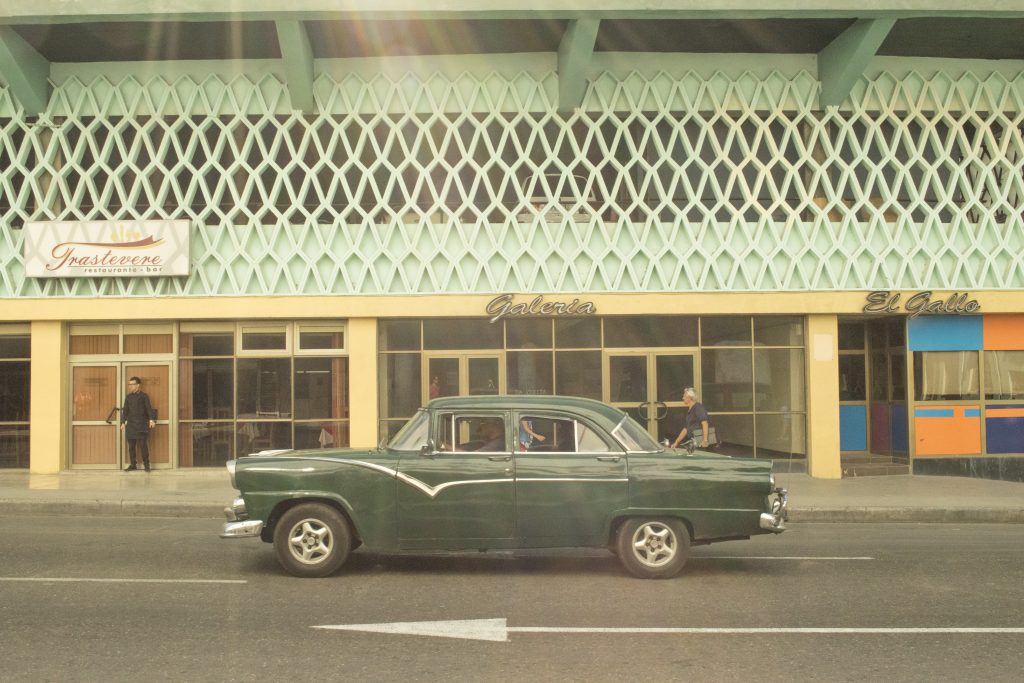 About a month ago we went to a play here in our hometown: the philosopher Karl Marx was on stage – he was resurrected – talking about his ideologies and his life. He meant well!  He spent most of his life in extreme poverty, fighting for his vision of more equality among people and the abolition of the exploitation of the working class. He never lived to see his fame or his ideology turn into a communist doctrine in many parts of the world.
So this was a perfect backdrop for our trip.  Traveling means entering a country with a positive and open-mind. What did communism do to Cuba? Hard to compare, since we do not know how it would have been without the revolution of 1959.
But here are some advantages we came up with (there are surely more), if we were to live in Cuba:
Almost no cars, so no traffic jams
Digital Detox: you need to buy an internet card (with one hour credit) and find a spot in a public park where there's Wifi.
No tiresome choices: supermarkets and other stores have limited brands and products.
You learn to be creative. Amazing what people can achieve with very limited sources
Free and equal education and medical care
No stressing over ecological footprint, you simply learn (and this happens quickly) to do with less.
We spent three full days in Havana. The first two days and the day before we left. I wrote a travel journal – good that I didn't bring my laptop! – in a small notebook. To help me remember.
Overall impression? A magical city with an astonishing history, old colonial buildings, happy and helpful inhabitants, typical American old cars in flashy colors, cozy little squares overrun by beautiful tropical plants, old cafés with bands playing Cuban music all day, delicious food and both old grand and fancy new restaurants, an amazing choice of exquisite cocktails.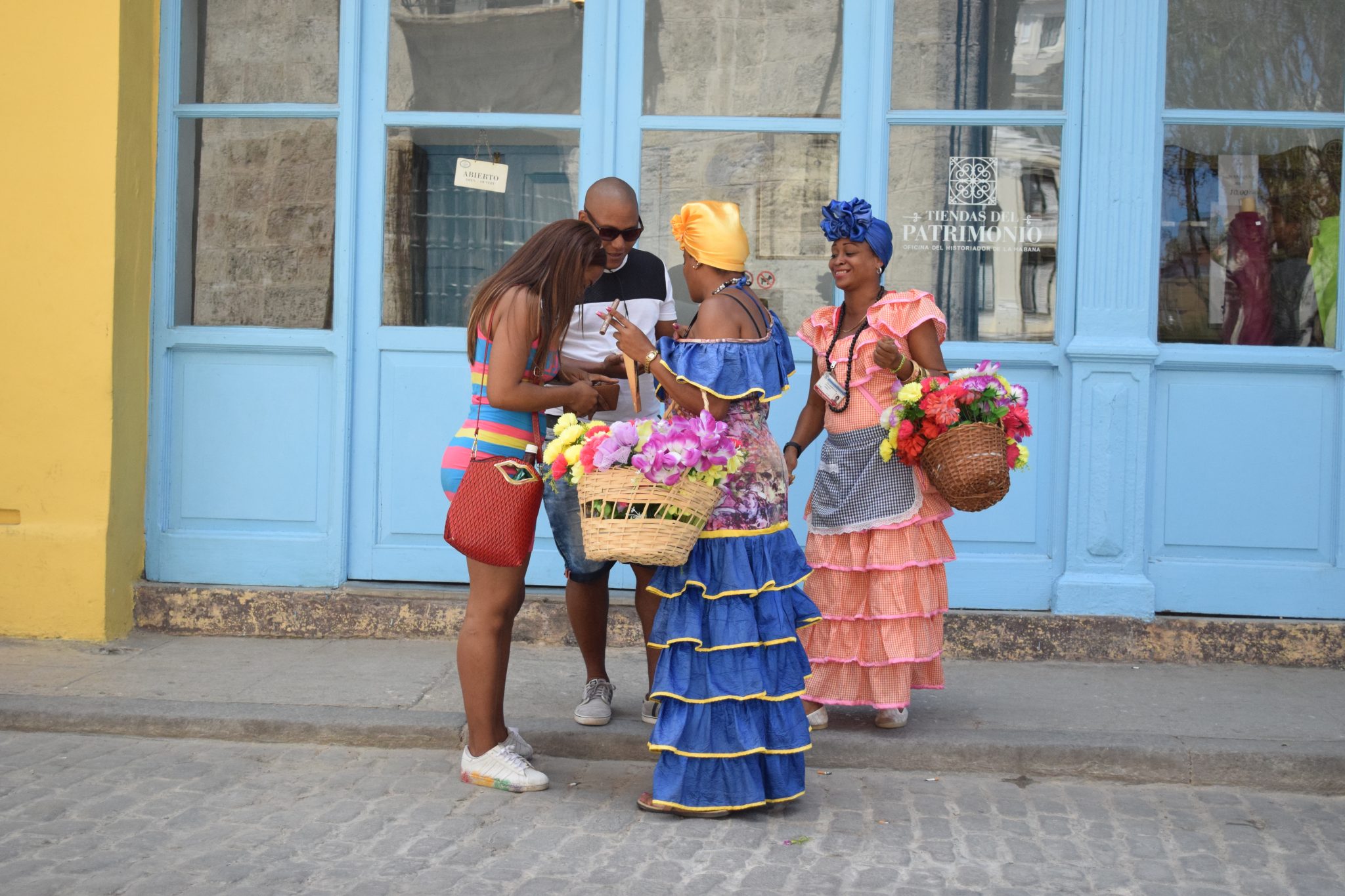 We used the book "The 500 Hidden Secrets of Havana" a lot, by Magalie Raman. Apparently they are not so hidden anymore, because the places to eat often had a waiting line… They were never disappointing though! Here are a few must-go's:
The first day we spent the morning in Habana Vieja, the most historic and beautiful area. We took a quick siesta in our hotel, an old authentic building in the middle of Habana Vieja. Time to move on: Havana Centro! You find the Capitolio here (you can see it in the picture on top, taken the first night) and a little farther east the more impoverished part, where you can witness the everyday life of the people in Havana. Photo here underneath.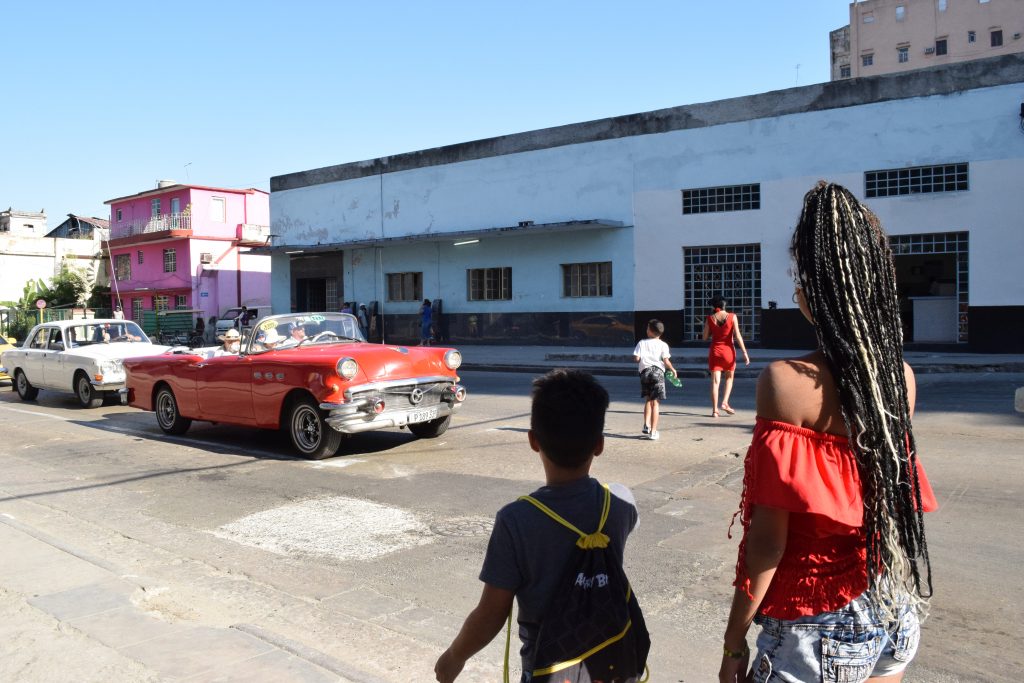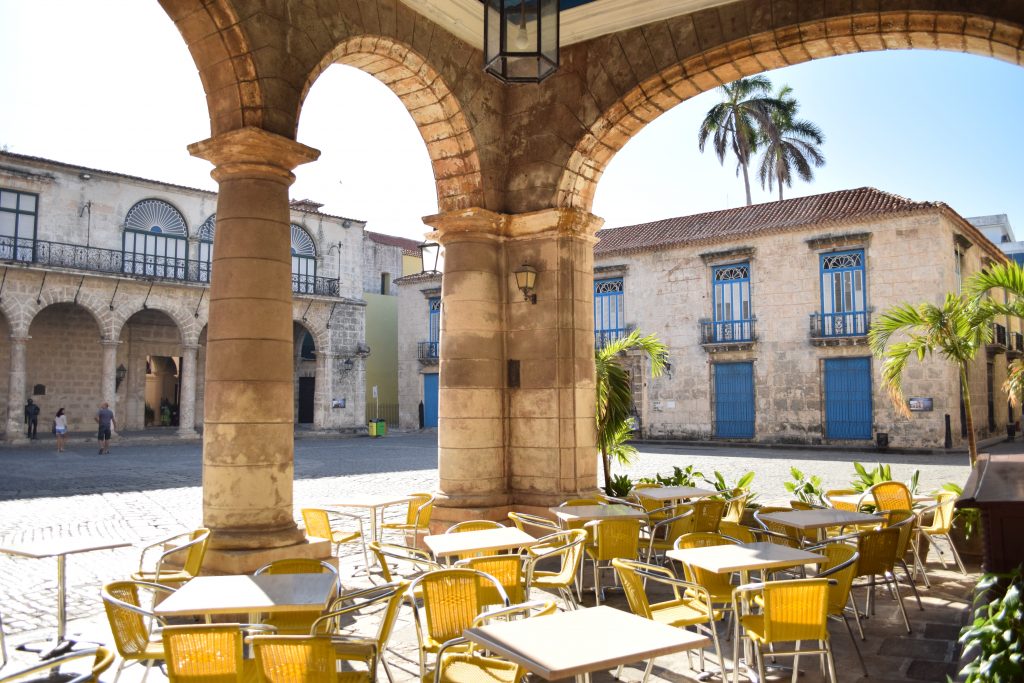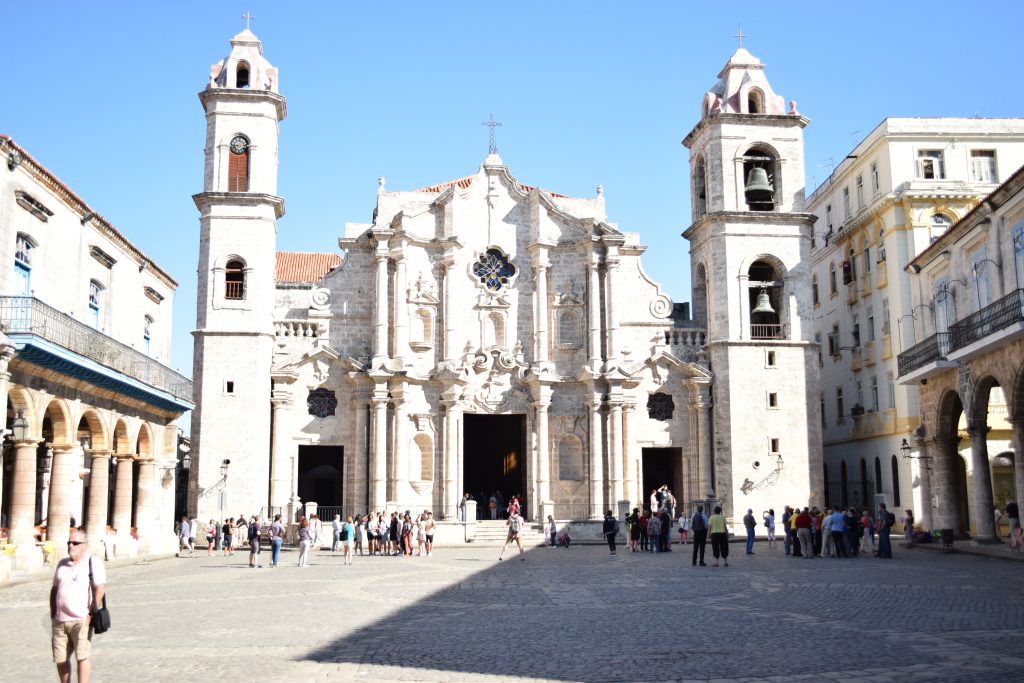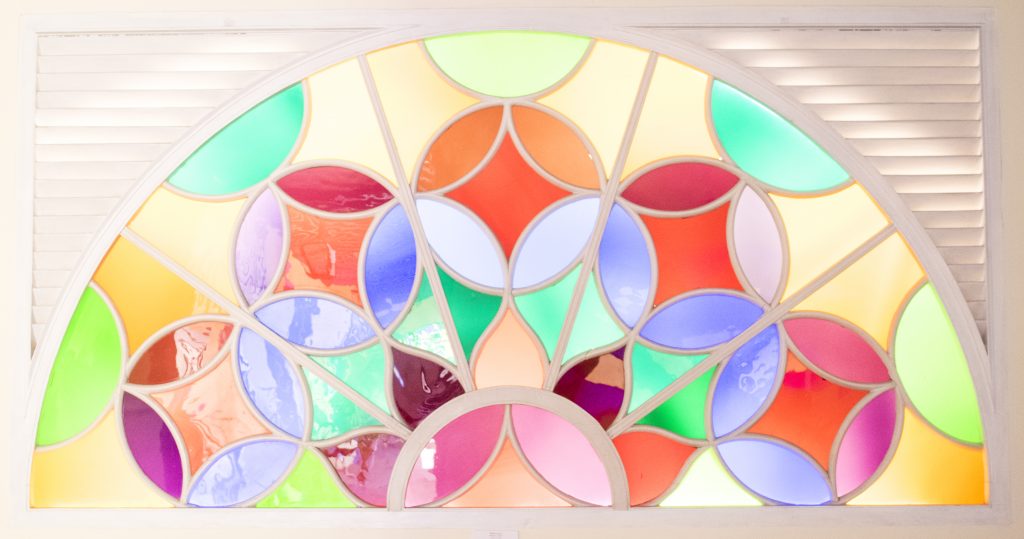 A more elaborate quest in Habana Vieja the next day: Catedral de San Cristobal and il Museo de Arte Colonial – both on the beautiful Plaza de la Cathedral. See three pictures above. Then we took the old elevator in the hotel Ambos Mundos. This is where Ernest Hemingway used to stay, his old typewriter is still in his room, number 511. In La Bodeguita we sat down at the bar to inhale the atmosphere. You can see the frame (on the left on top) with the photo of Hemingway meeting with  Castro. See pictures underneath. For lunch we  devoured the offerings of the Creolian kitchen at Dona Eutimia.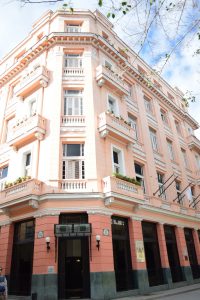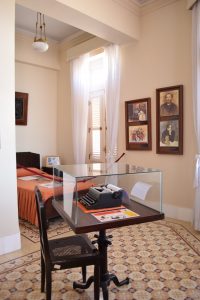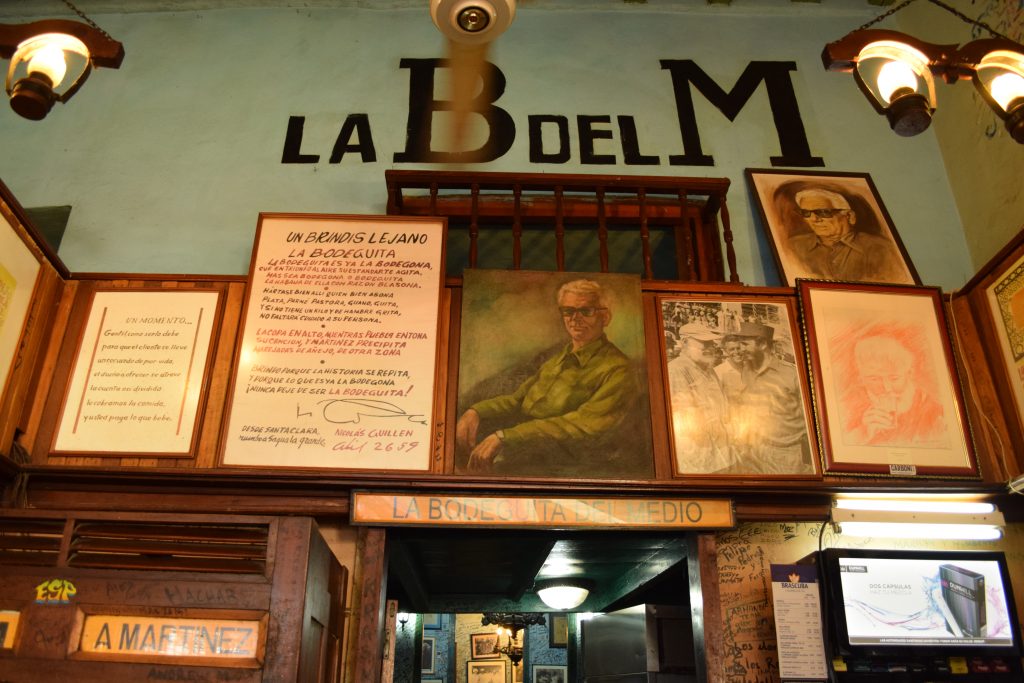 In the afternoon we picked up our rental car.  The office was located in Vedado, a prestigious residential area for many of the city's leading families in the beginning of the 20th century. Now all these majestic houses are falling apart, except for the ones on the Calle Paseo.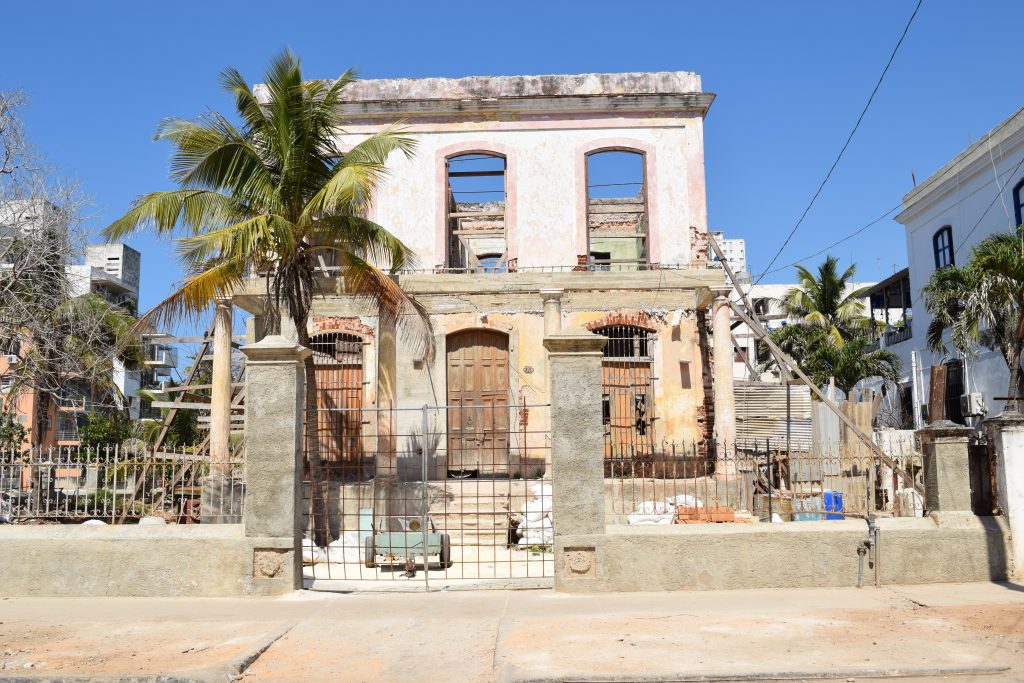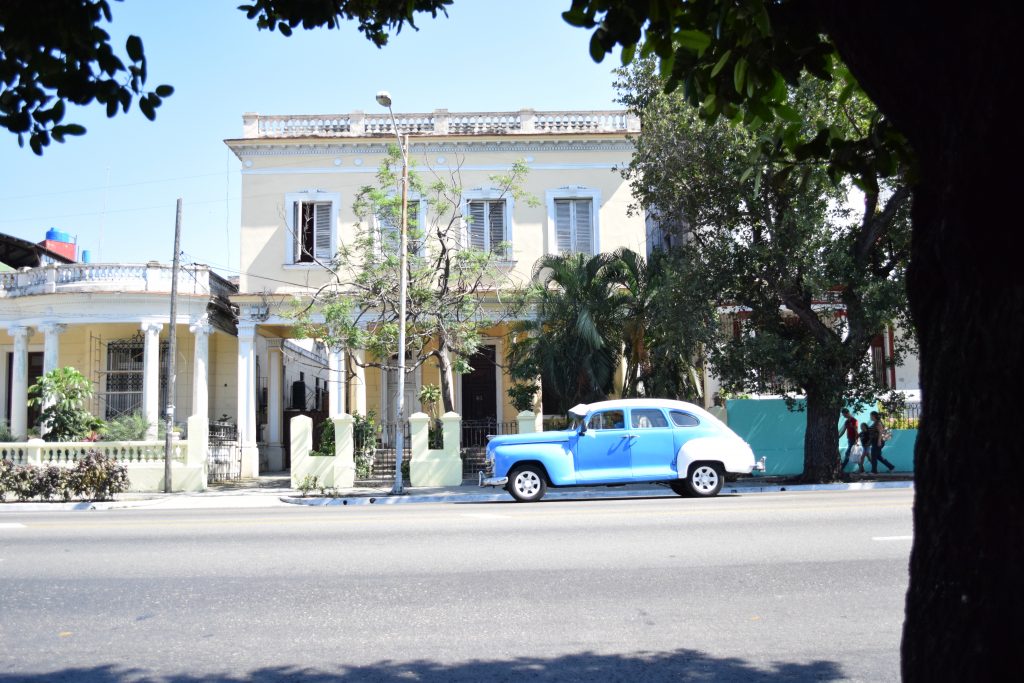 The rental office was in front of the Malecon, the big boulevard on the seaside. I took pictures while waiting.
The rental company is run by the government. Two polite guys helped us out, along with Celia, from our tourist organization. We were warned upfront: it is hard, almost impossible, to get a decent car. With agony I looked at the cars in the parking lot. Two small types of four wheel drives got my attention, they weren't over ten years old and therefore looked reliable! We were led to a flashy red Geely, made in China, about twenty years old, with a weak engine, full of bumps and rust (the two reliable ones were owned by the guys from the rental car office). It had a flat tire. The guy gently offered to get it replaced before we left. While hubby checked the car for more possible defects, I chatted with Celia. She talked about the time when Fidel came into the picture. Rich families had to give away most of their properties, and most of them fled to the US. Celia's family still owns one house. She lives there with her parents, her two daughters, and her sister and family. Education in Cuba is good and free. She started university but had to give up early, to earn money for her family. People in Cuba often don't get to see the rest of the country, she also confessed. Most of them don't own a car and hotels or other places to stay are meant for tourists,  far too expensive for them.
The last day in Havana was also the last day of our vacation.  We went to the Palacio de los Capitanes Generales, constructed around 1790 and a splendid example of Cuban Baroque. It is now a museum of the history of Cuba.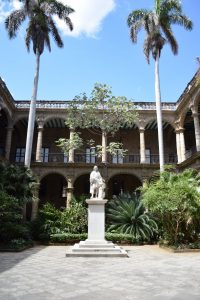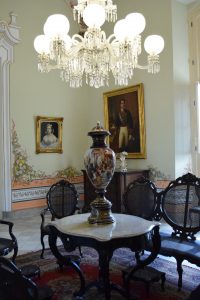 The rest of the day we enjoyed Havana by just strolling around, sitting on a terrace on a square, watching people or drinking a beer in one of the old cafés, enjoying the live band.
The dog is just sleeping!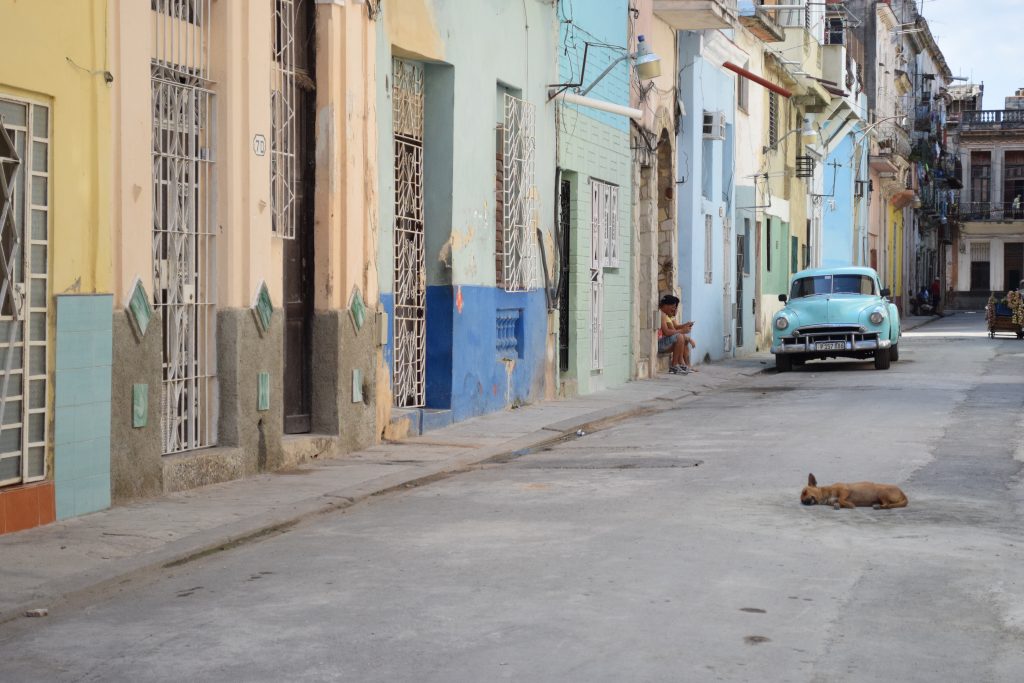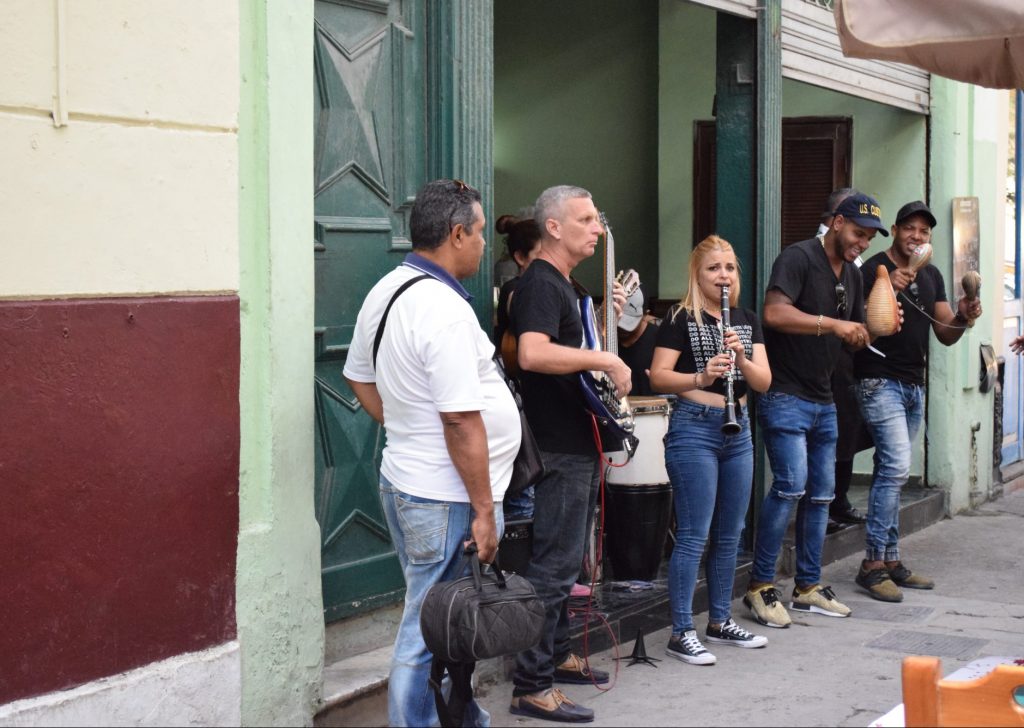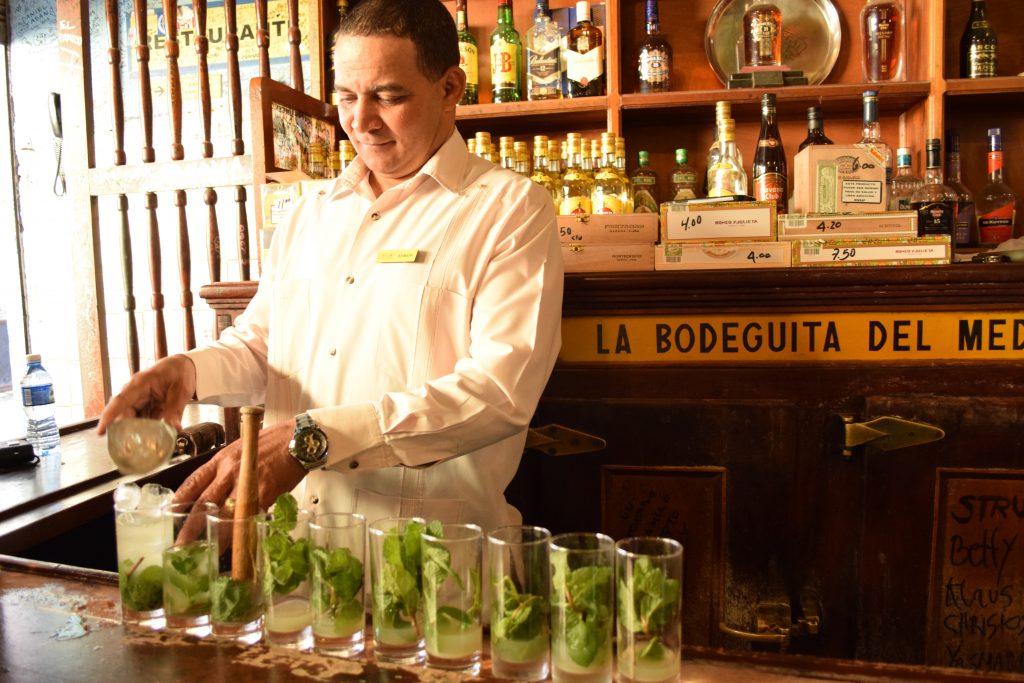 Will you travel into the rest of Cuba with me? Next week we move on.