Hi Everyone!
Well, the best of Cuba is yet to come. Although, to be honest, everything was captivating to us, in many ways…
It is a personal taste, but I preferred the city of Trinidad over all the places. These colors, Ah! I have never been to such a photogenic place before. Breathtaking. Such a cute little town. Again, it was as if we were zipped back in time.
On the way to Trinidad we stopped at the Jardín Botánico, fifteen kilometers from Cienfuegos. Because of my addiction to tropical plants, we couldn't miss this one, right? It surely was worth a visit, especially because we were there in the Spring when all these plants were blooming. But they (it is now owned and run by the government) could have made a lot more out of it. We were given no information, just simple nameplates would have been enough.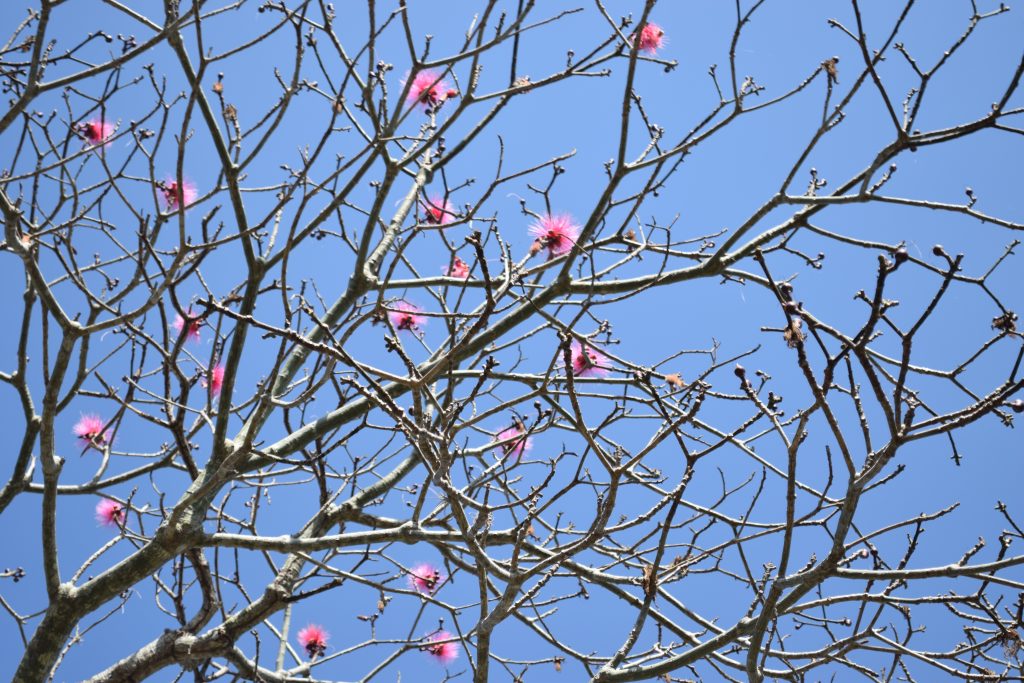 Then off to Trinidad. It was only about eighty kilometers but we couldn't drive very fast. At one point we were stopped by a colony of cows, accompanied by a few real cowboys.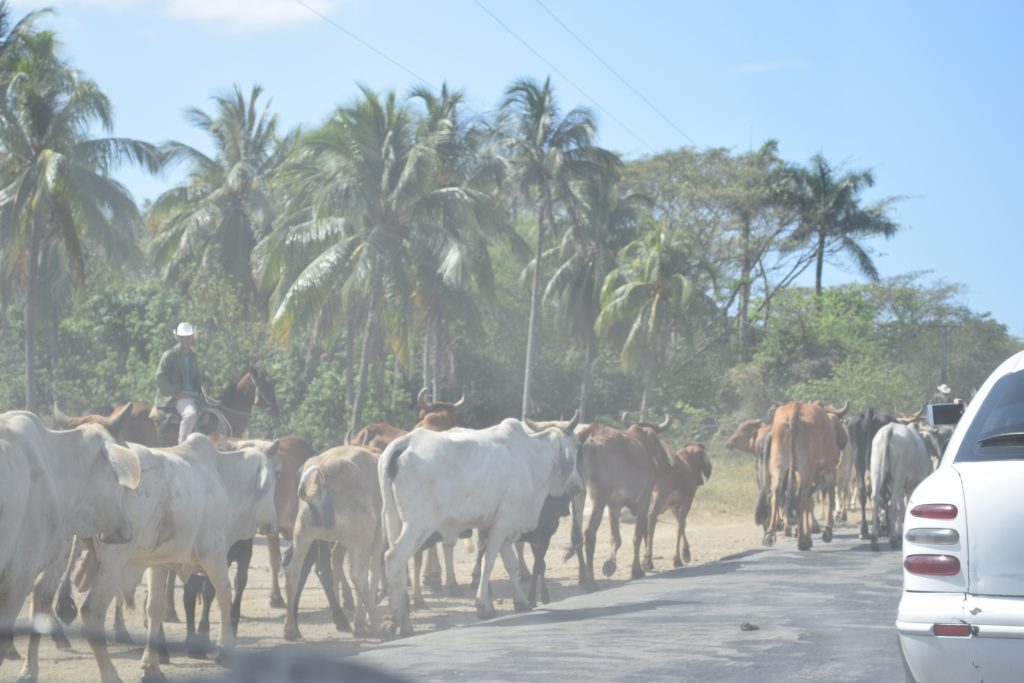 We felt suspicious when we were entering Trinidad. It looked impoverished and the roads from cobbly old stones were terrible – later we heard they were about two hundred years old and imported from Boston! After asking four times we found our hostal: Casa de la Trinidad. I can recommend it, a peaceful – although in the middle of town –  very stylish and well maintained little hotel.
We savored a lovely lunch in la Ceiba, took a nap, and I enjoyed a long internet session for about half an hour, exceptional to have such a good connection. But after only thirty minutes it appeared my new bought internet card of two hours, was used up. Apparently if one person logged in to the hotel Wifi, all neighbors could surf on this account. The community for all 😉 What did you expect, in a communist country?
It was Good Friday that day. We were walking in the little park – Plaza Mayor – in front of the church when we noticed a lot of bustle. When we tried to get into the church, there was a line. Once in, we saw all the people kissing the knees of the statue of Jesus on the Cross.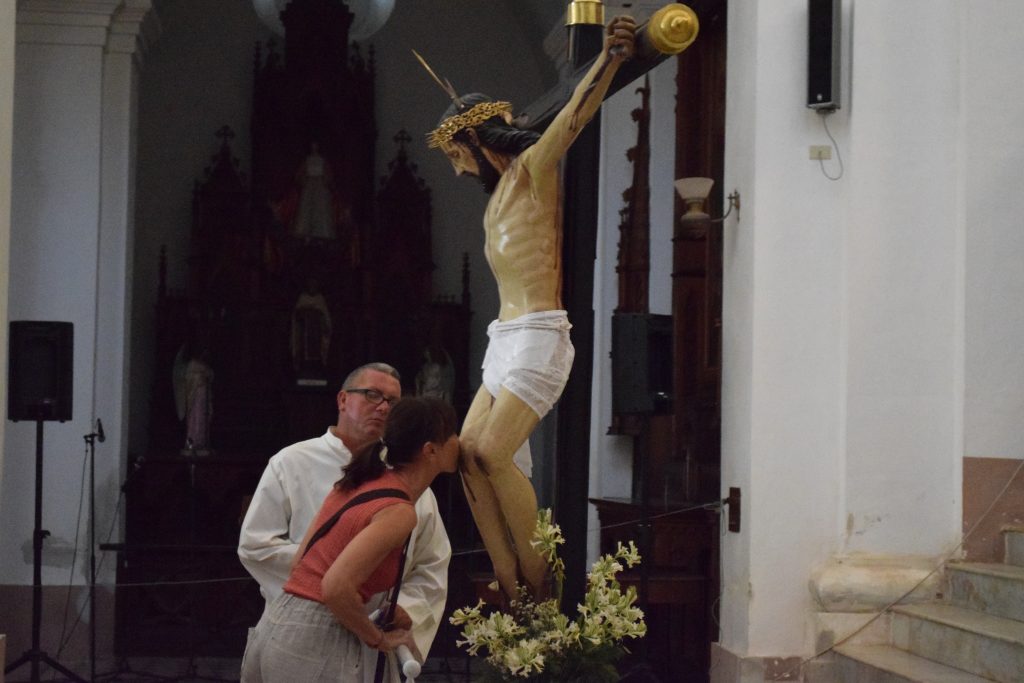 Different religions co-exist in Cuba as the result of its history. Both the Roman Catholicism of the Spanish conquerors and the practices imported by the African slaves have survived. The most widespread of the African faiths is Santeria, also called Regla de Och. In order to be able to worship their gods despite the persecution of the Spaniards, Yoruba slaves, originally from Nigeria, merged their gods' identities with certain Roman Catholic saints. Pure Roman Catholicism today is not a widespread religion in Cuba, while Santeria is so strongly felt that is is an important part of the national identity.
In the evening, we witnessed a procession in the streets of Trinidad. The statue of the dead Jesus and the statue of Mother Mary were the head of the endless line of followers. We stuck with our backs to the walls in complete astonishment. The streets seemed too narrow to swallow the flood of religious people, each one of them holding a candle in his hands.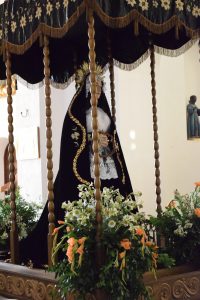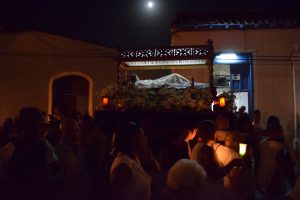 It felt good to stay two days in Trinidad. Breakfast was delicious in Casa Trinidad and situated in such a perfect spot between the plants in the quiet patio.
We had a whole schedule planned to explore as much as possible. But first, a stop at the Supermercato. In fact you could drop the word "super." It was a small store, and the choice of products on the shelves even smaller. What a difference! In our world we are overwhelmed by all the different brands, making it hard to choose. No such problem over here. You need tissues? Just one kind. Makes life easier, doesn't it?
Next visit was to the Museo Histórico Municipal also known as Casa Cantero. It is a big mansion with some rooms still decorated as it was in the old days. The grandiose structure also has a watchtower.  It was tricky to climb the steep stairs, but my god, what a magnificent view over Trinidad!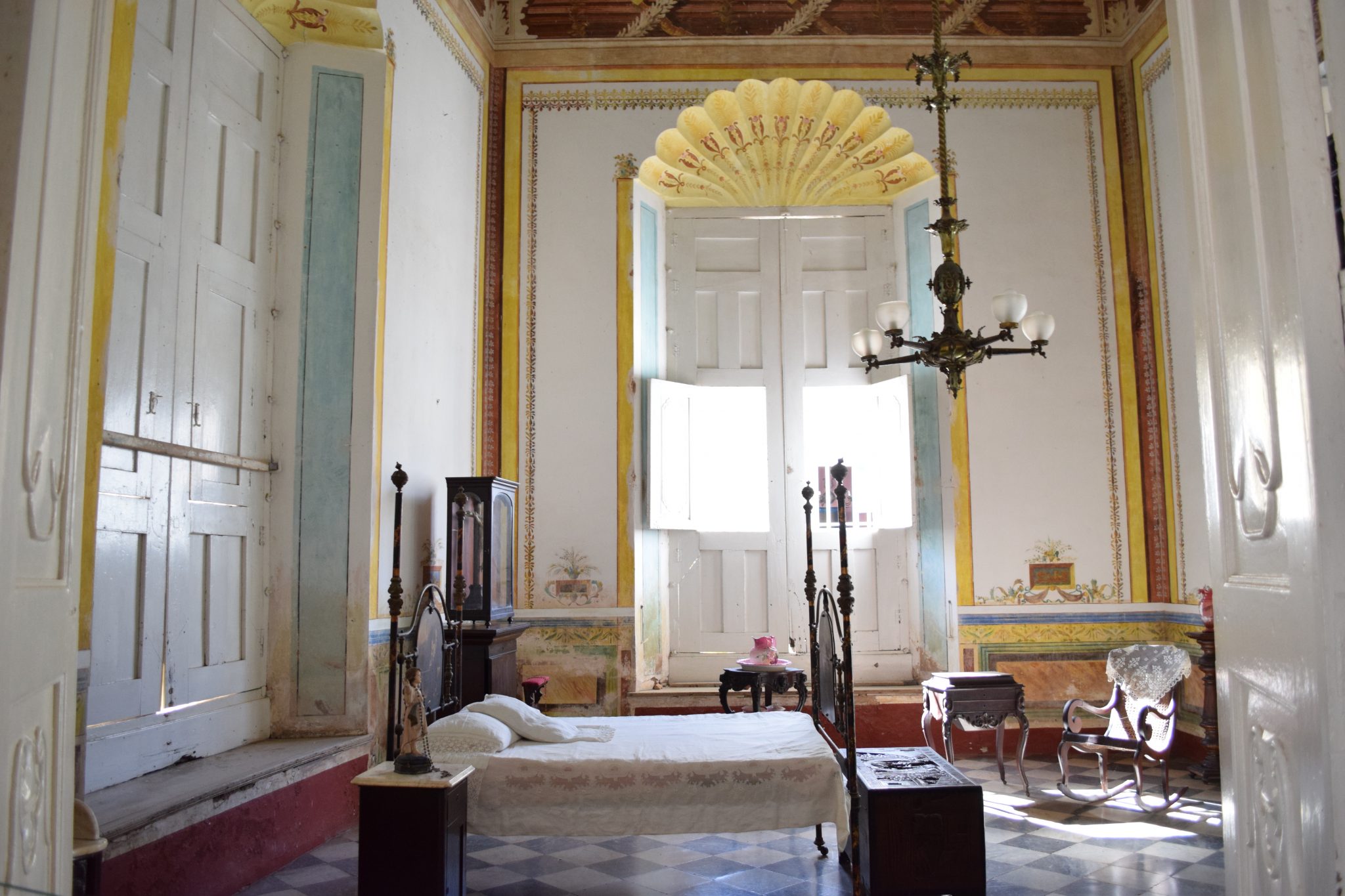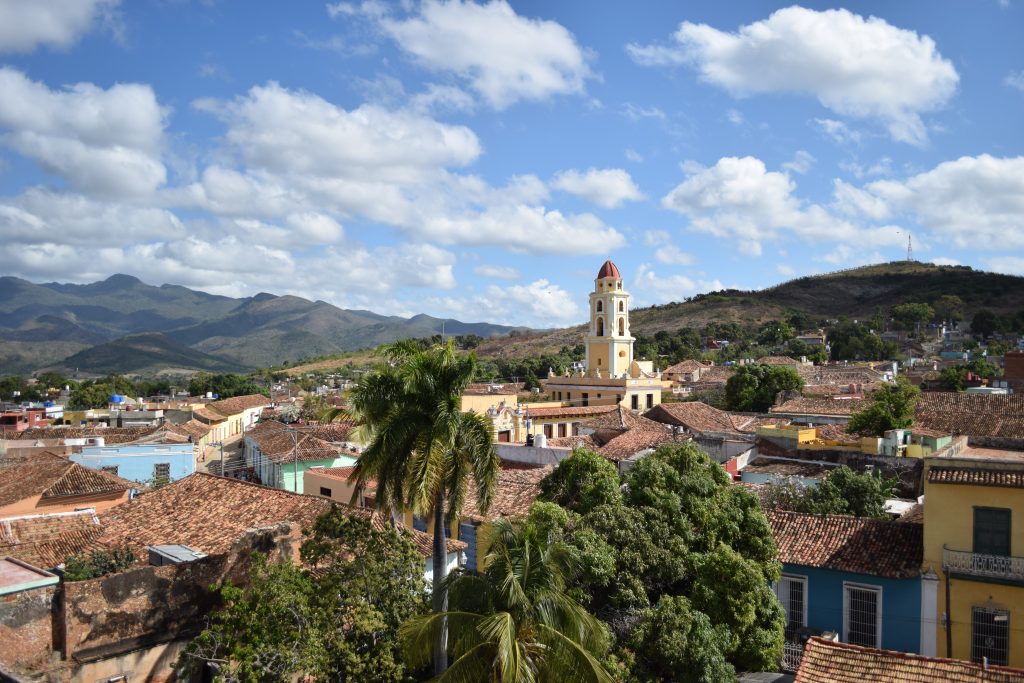 For our lunch we headed back to Bistro Trinidad, where we drank our last cocktail of the day the previous night on the rooftop. Now we decided to sit in the old living room. We chose the Today's special, what a treat: grilled octopus with rice, black beans, fresh lettuce and fries made of a kind of sweet potato (not the orangy one we know here). We had a nice talk with a Norwegian guy who was staying in this bistro, as it was also a B&B. He definitely recommended it.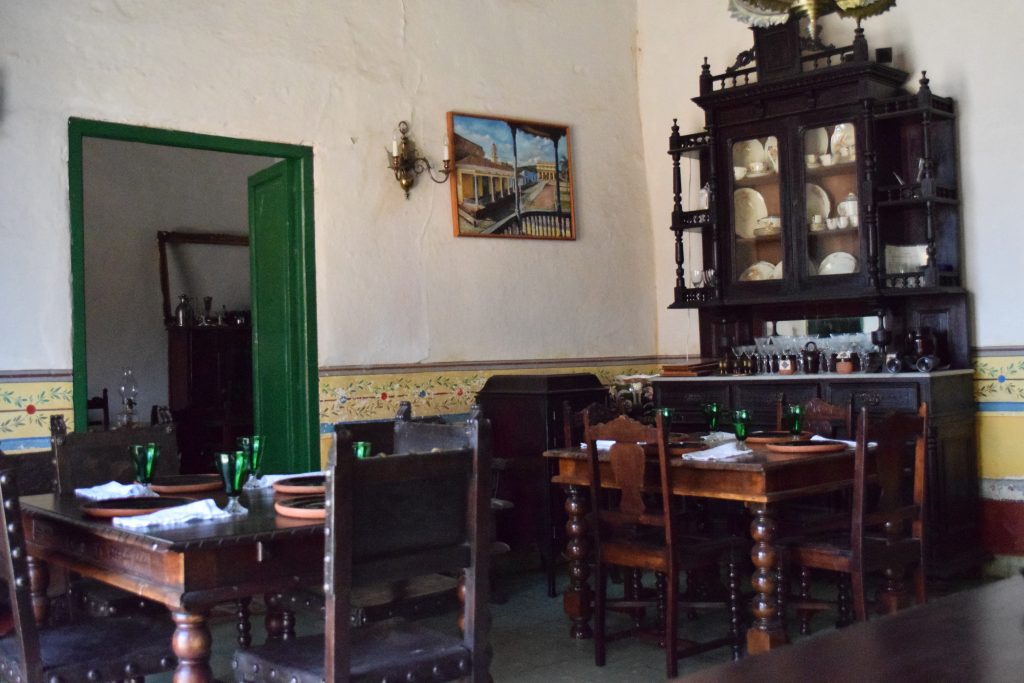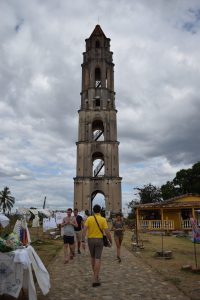 In the afternoon we took the car and headed for the Valle de los Ingenios. This is where the big sugar plantations used to be: a big Finca (house of the landowner) surrounded by small slave houses and the fields of sugar cane. There was a forty five meter tower too – only hubbie climbed up – where the planter could control his land and workers. Yes, I know, horrible times this colonial period.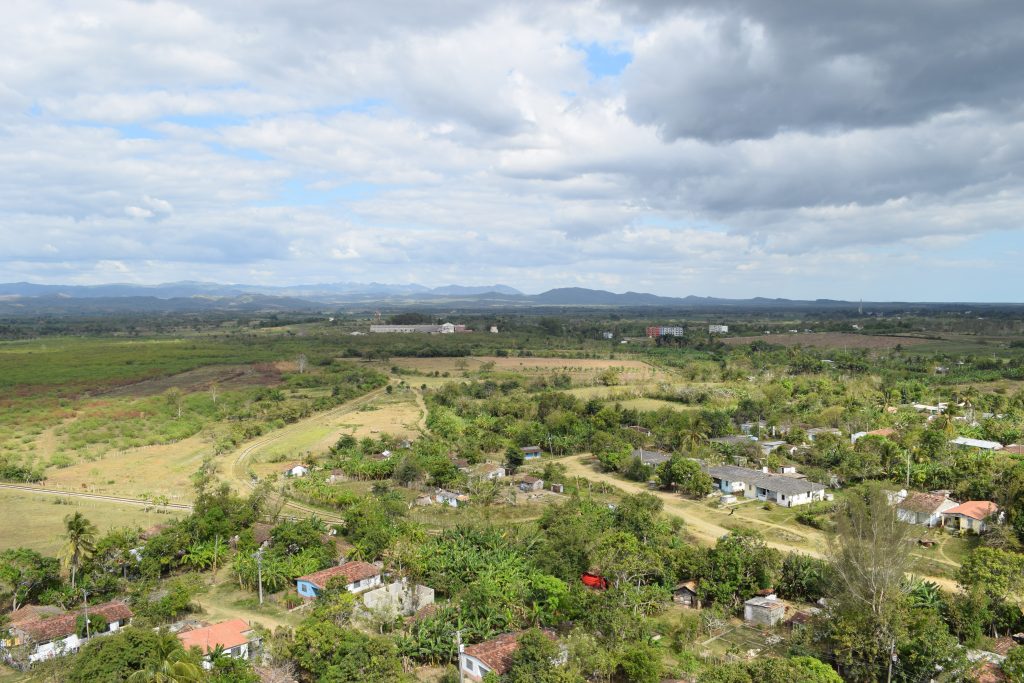 Strolling through the streets, trying to take pictures of the locals, we truly enjoyed every bit of this marvelous town. Then it was time for dinner, and we had no reservation. The day before we had noticed a quite exceptional restaurant that used to be a house and they kept it that way.  For instance, one of the rooms just remained the bedroom, having a bed in the middle, tables around it. It is called Sol Ananda, and although it seemed full, we tried our luck. If we could wait? Sure! Waiting in the overgrown patio, sipping a sublime Pina Colada, was not a punishment. Six of us were waiting. Two talkative French girls, one of them, Gaëlle, works at the Embassy in Havana. The couple that was sitting in front of us later joined us at a long antique table – what a great idea to just put people together – was from around Dublin. We had an interesting talk too.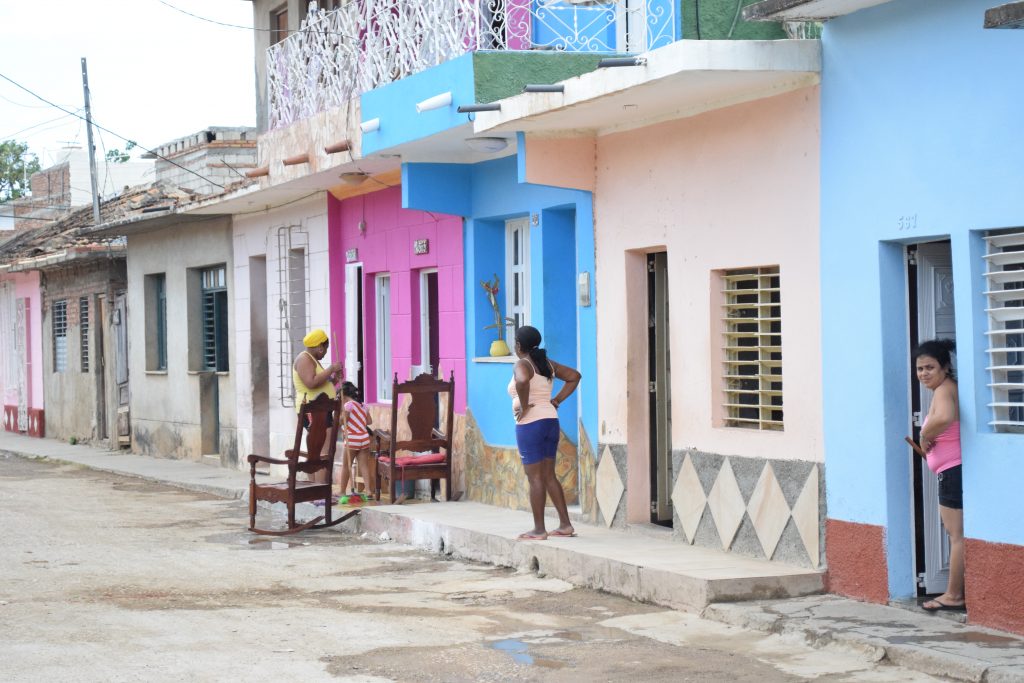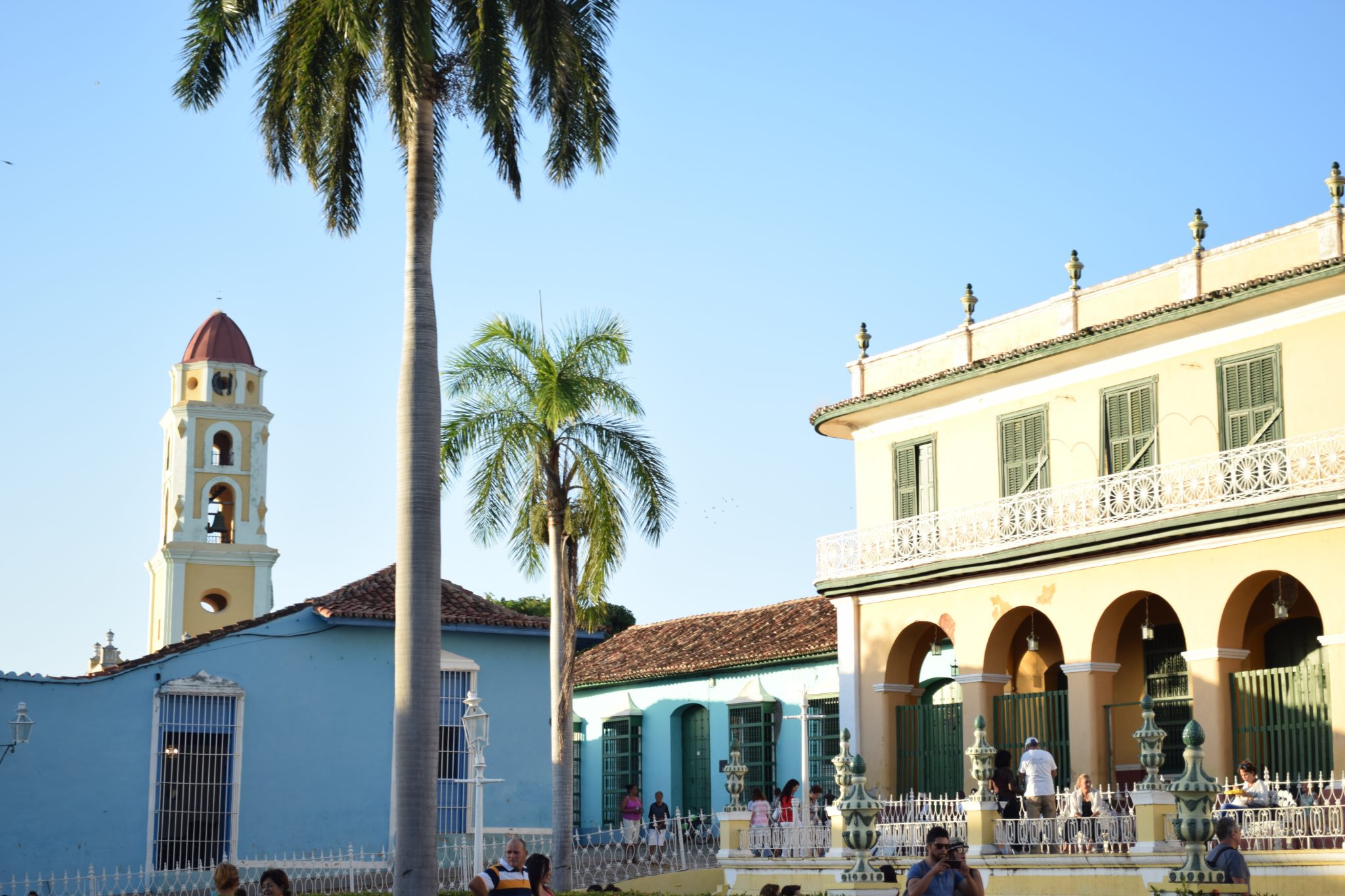 Don't you think one of the greatest things of traveling is meeting new people, from all over?
And so, one more fascinating day had ended. Plus two marvelous days in this gorgeous town.