Just a year ago we – my husband and I – threw ourselves in a big adventure. We bought a vacation home in the heel of Italy.
Have you ever visited this remote part in Italy? Well, I will lead you to all the small, marvelous towns of Puglia and will tell you about all of our experiences – disasters at some point – we met along the way.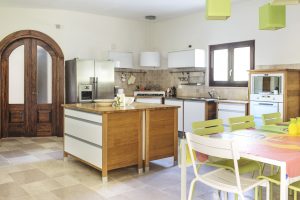 At this moment we are redoing the kitchen. I didn't really like the old one. It had solid separate cabinets, which were still kind of good, but the kitchen didn't have any character. In December I went to check on the work twice. The old kitchen was removed, and the base and pipes for the new kitchen installed. I discussed the plan for the cabinets with the carpenter. When he's ready to install the kitchen, by mid February, I will go back and share some pictures with you.
I am very curious to see the new tiles. I chose cement tiles in five different colors.  Most of them will be plain and mixed with five different tiles with a pattern, also with the same colors: old pink, grayish blue, beige and two shades of green. The floors and the top of the kitchen are from 'pietra di Trani', a natural stone that comes from a mine in a beautiful city a little bit up north in Puglia.