Hi there,
Still half in Puglia with my head but I don't mind. This will be my last post on when I was Puglia, but not so much on Puglia though.
The Thursday I am going to write about was such a perfect day. Almost cloudless sky, in great company with my friend Leen, and visiting an exhibition of a man I really admire – there aren't many of them, besides Hubby of course, and the Great Writer 😉
You know I love photography. But this man wasn't merely a photographer, but also an artist and a visionary. He combined so many disciplines of art. Do you believe in coincidence? I don't. I mentioned this artist in one of my older posts already. And then, as we were walking in Ostuni I noticed this poster of the exhibition, in Puglia, of all places. I was thrilled!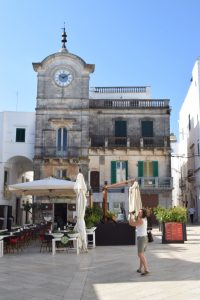 We started that day in Cisternino, which has a beautiful little market place, adorned with a belltower. And, as in so many small towns in the Itria-valley, it is located on a hill. We devoured our cappuccino and cornetto (croissant) there.
Half an hour further was our next stop, Conversano, not too far from Bari. The center is known for its old Castle and here was our goal of the day: the exhibition.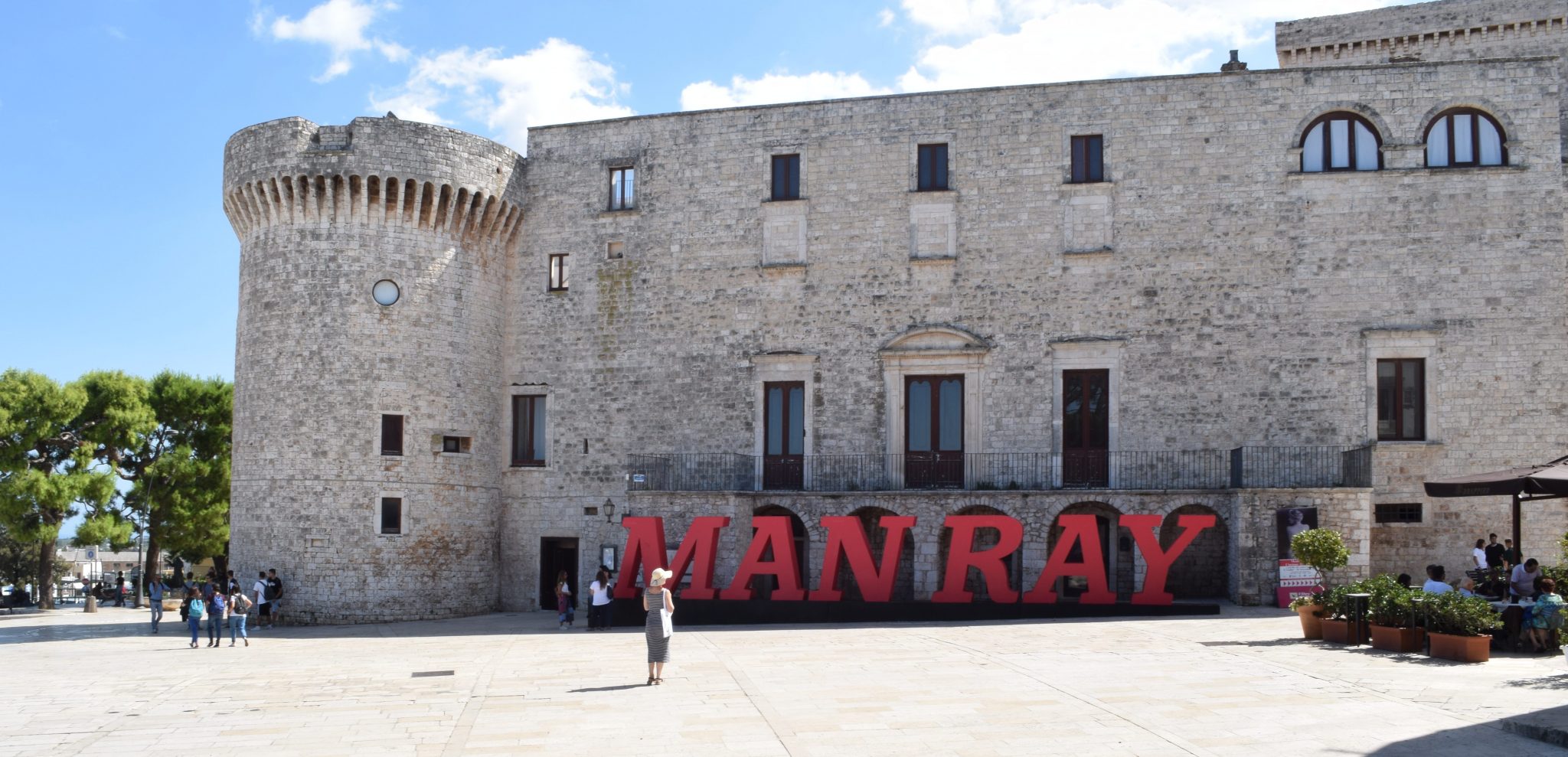 I paint what cannot be photographed, that which comes from the imagination or from dreams, or from an unconscious drive. I photograph the things that I do not wish to paint, the things which already have an existence.
Man Ray
Emmanuel Radnitzsky was born in Philadelphia in 1890 and died in Paris in 1976. He was the son of Jewish-Russian immigrants. The family changed its name into Ray, out of fear of anti-semitism. And Emmanuel's nickname Manny became Man: Man Ray was born! The family moved to Brooklyn, New-York during Man Ray's youth. After having studied art at the Ferrer School in NY, he moved to an artist colony in New Jersey. Alfred Stieglitz, art gallery owner annex photographer, introduced Man Ray to photography.
The exhibition focuses on eight thematic areas which analyze, in chronological order, the different styles and techniques Ray explored. These areas often coincide with one of the places he lived at that time.
It begins with "New-York 1912-1921", which shows the works of his first period, illustrating the multiple techniques and means of expression he adopted. The revolving doors, geometrical shapes in bright colors, are part of this time frame.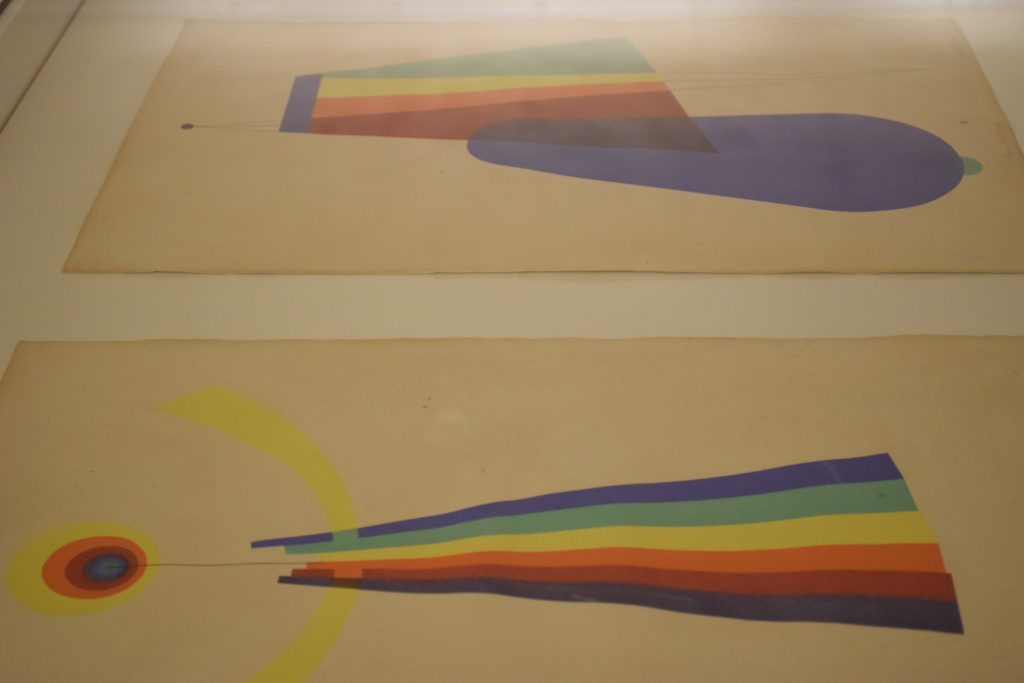 His lifelong "friendship with Marcel Duchamp" and how they worked together and inspired one another is presented in the second section.
Subjects three and four underline the main features of Man Ray's photographic work, his portrayals of people who inspired him:
"Artist friends and self-portraits"
When he lived in Paris between 1921 and 1940, he was part of the art scene and met  Pablo Picasso, Dalì, Gertrude Stein, James Joyce, Jean Cocteau.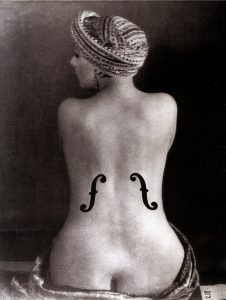 "Muse and Models"
One of the famous muses and lovers in this period were Kiki de Montparnasse and Lee Miller. Kiki is the one who's body represents a violin, one of the most known works of Ray.
The Violin of Ingres, 1924
"The Dadaism and avant-garde"
Dadaism was a revolution within the art scene, transforming its focus to a total and irreverent freedom of expression. With Duchamp, Ray made multiple attempts to promote Dada in New York.
One of the works we see in the exhibition is an iron with nails on it: Cadeau.
"Reality and Fiction – Voyeurism and Sadism"
These are works made through experimental techniques. One style was photograms – he called them rayographs: images obtained by placing objects directly on sensitive paper, without using a camera.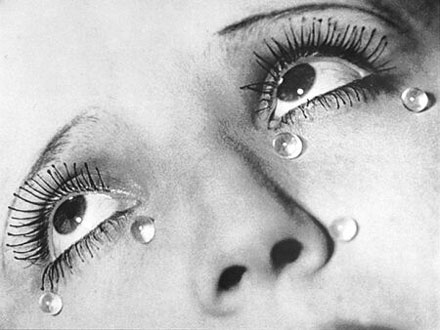 the glass tears 1932
"Juliet" and "Return to France"
These last two sections focus on Ray's last period in life. "The Fifty Faces of Juliet" are a clear hommage to his last wife. In 1940 he had to return to the U.S., because of the war in France. He moved to Los Angeles where he met Juliet Browner.
In Hollywood he had a successful career as a photographer, but he felt the city lacked stimulus and the kind of appreciation he desired. Even though he was back home in the U.S., Ray thought American critics could not understand him.  He believed his ability to go from one medium to another and his success in commercial photography confused them.  Ray longed to go back to Montparnasse where he felt at home, and he eventually returned in 1951.
Of course, there will always be those who look only at technique, who ask 'how', while others of a more curious nature will ask 'why'. Personally, I have always preferred inspiration to information.
Man Ray
Last but not least, the title of the exhibit was inspired by one of the works on display: L'Homme Infini (1970). The infinite is interpreted as a challenge to the complexity of everyday life, as a conquest of the multifaceted possibilities of integration and coexistence of diversity.
My personal admiration goes to the portraits made during his Paris episode and his fabulous imaginative work, Observatory Time: the Lovers, featuring the lips of his departed lover, Lee Miller – picture on top.
A creator needs only one enthusiast to justify him.
Man Ray
Sources:
The leaflet of the exhibition www.manrayconversano.com
Internet:
https://www.theartstory.org/artist-ray-man
https://www.brainyquote.com/authors/man_ray