Yes, I'm back home.
No, I'm not happy when I look through the window now: hazy shades of grayness brought to life with some sparkling drops of rain. One clarification though: I am happy, overall. The warmth just comes from my family.  It felt good to see them again and catch up.
Besides the climate, I love Italy for the food. Probably pizza and pasta come to mind first, but what I like most are the pure and tasteful ingredients. Tomatoes taste so much better when they have been shimmering in sunshine. Here they taste like water.
At Casa Vita we usually eat lunch at home:  tomatoes, fresh mozzarella or the typical burrata (so creamy, delicious), prosciutto crudo, grilled zucchini and eggplant, olive oil extra vergine…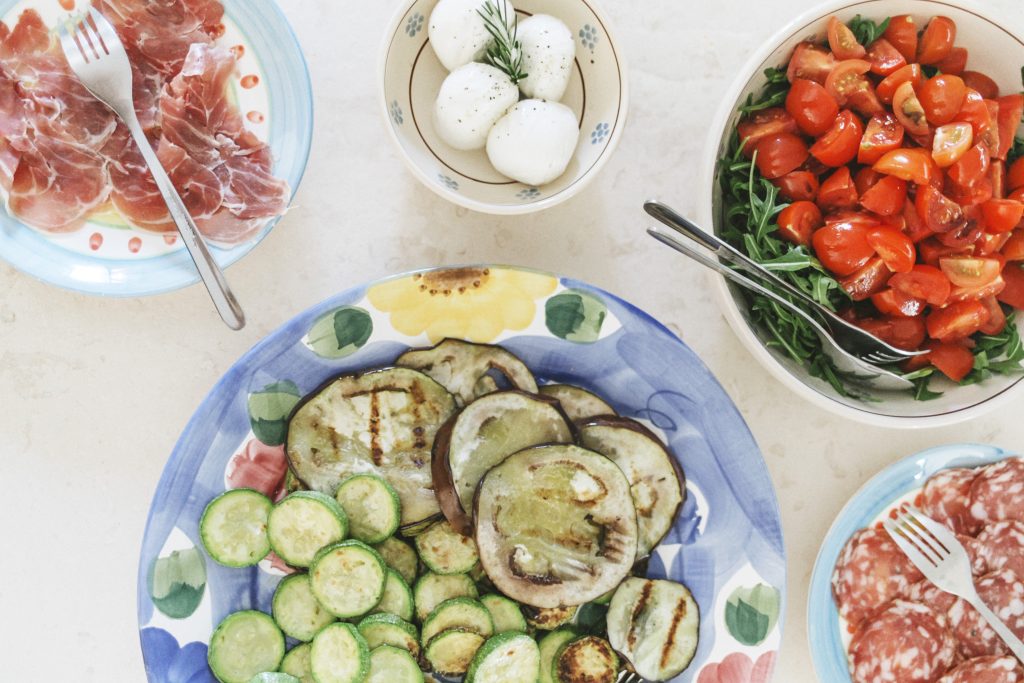 photos by Marie Bouly Photography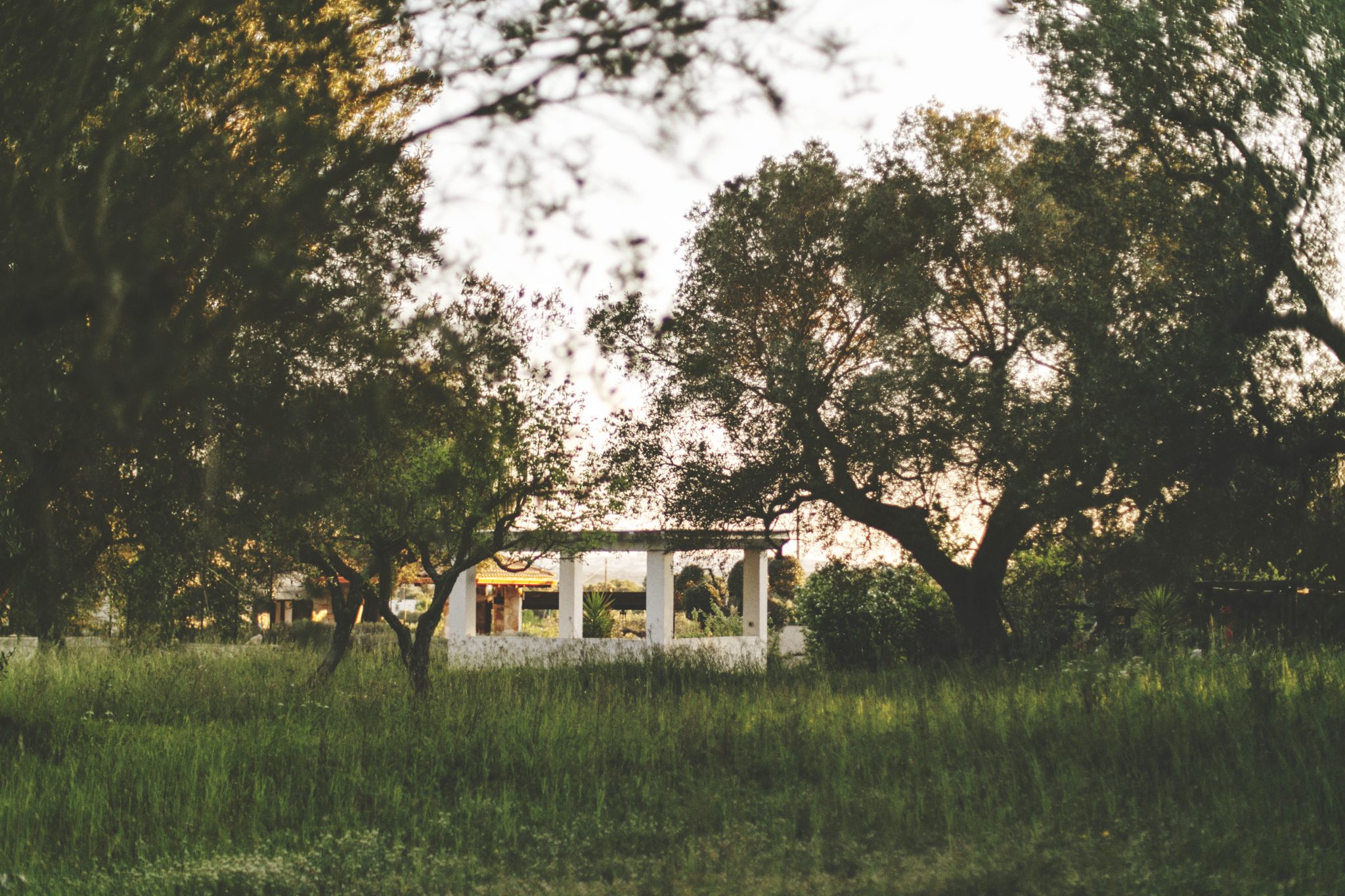 After a siësta on the swing bed, a jump in the pool, some reading on the lounge chairs – if I really feel the need to do some extra intellectual effort ;-), we start thinking of some cocktails. Best spot is on the white patio where you can see the evening sun squeezing between the olive trees.
Going out to dine is a treat in Puglia! So many good restaurants. I am just going to name a few. It is up to you to try as many as possible, and let me know if you discover some good ones. To be honest, we have never had a bad meal.
My favorite in Ostuni is Taverna della gelosia. The location is gorgeous, three levels outdoors, you are surrounded by trees and overgrowing plants. Their tableware is such a great combination of colors. Last but not least, they have a sublime choice of antipasti! In fact, if you order pasta for each of you, you have eaten plenty.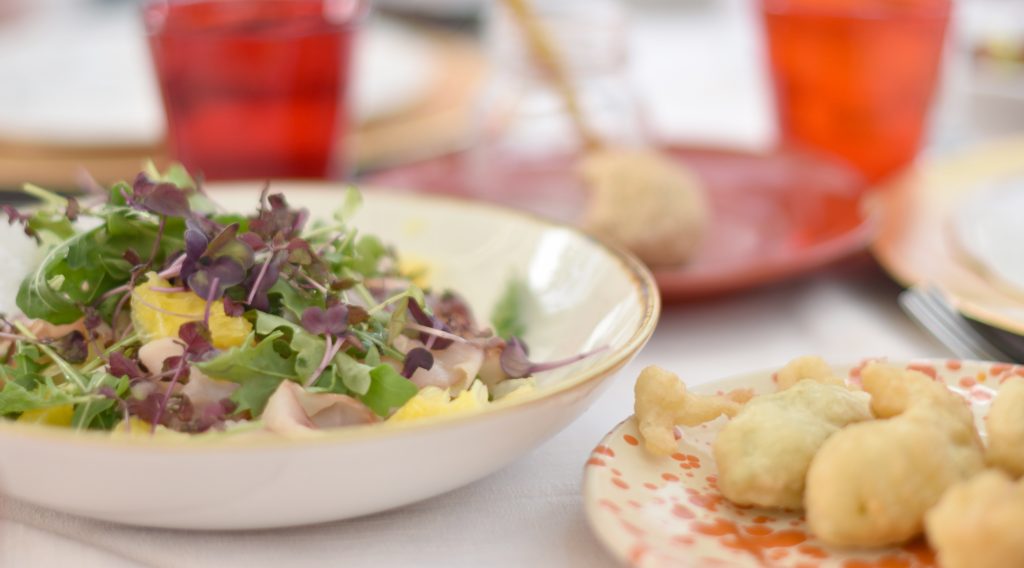 Still a bit higher up into the narrow streets is Bella Vista, great view if you sit outdoors. And inside it has a glass floor where you can see through onto the rock floor. They have great white pizzas (without tomato sauce).
If you turn in one of the narrow streets off the main road from Ostuni to Ceglie (SP 22), close to Casa Vita, you discover Antimo. This is a biological farm as well as a restaurant. Delicious food and marvelous surroundings. They also offer cooking classes.
Good restaurants I can recommend in Martina Franca are Garibaldi Bistrot and Nausikaa, both in the centro storico (old town).
The owners – a family- of Garibaldi bistrot are such nice people and they have excellent local wines.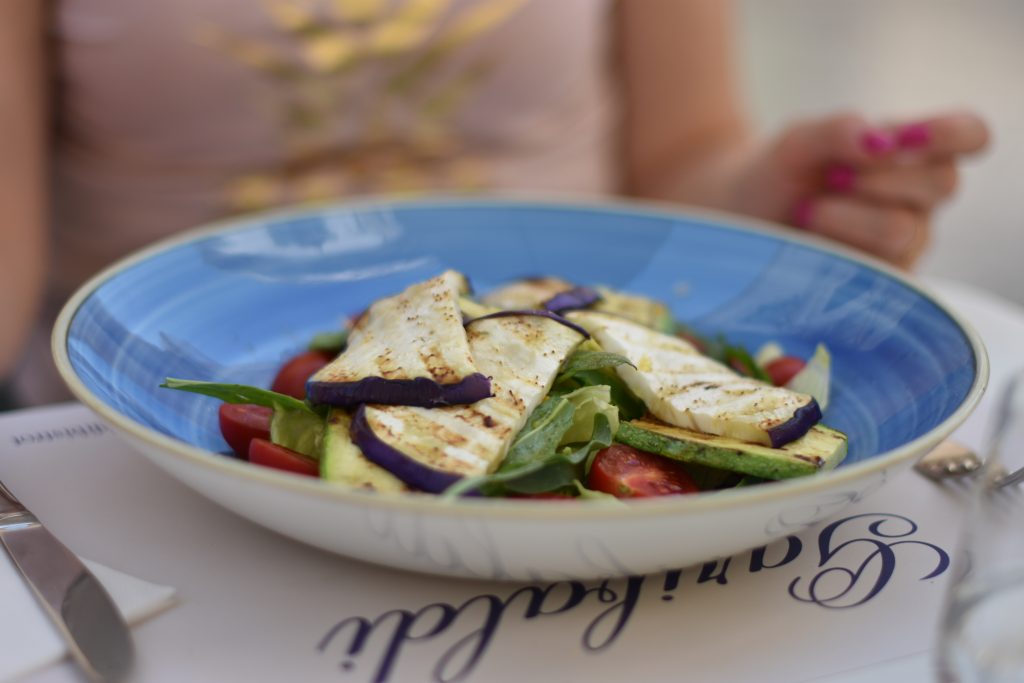 A little outside of Alberobello you can find Fidelio.  It has a beautiful big garden, fantastic to sit in the summer, and it has a cosy interior too. In Locorotondo you need to dine in U Curdunn, also a beautiful interior, and in the warm months, they just set the tables in the narrow streets. In U Curdunn you find mostly meat on the menu.
In Cisternino you can devour all the best the Puglian land has to offer in Terra Madre (vegetarian).
Of course, if you insist on a unique setting, you can always try to get into the caves of Polignano a Mare. The expensive restaurant I told you about in my story on Polignano, remember?
Oh dear, now I am getting hungry again, looking at and thinking about food.
Buon appetito!
Sophia